The following graph from
econompic
 is telling a sad story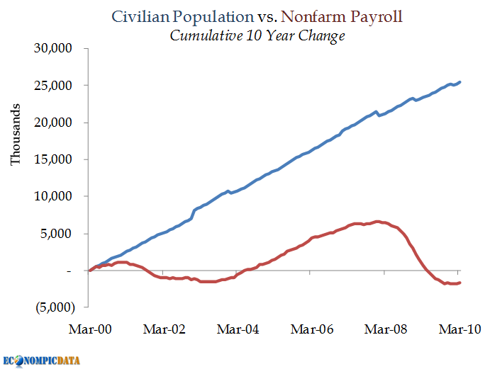 While non-farms payrolls grew by 162,000 last month, population grows by more than 200,000 per month, on average.  With a civilian labor force about 50% of the total population that means that more than 100,000 additional jobs are needed each month just to keep up with population growth.
Since there are more than 8 million fewer employed now than before the recession started, we would need to continue to average 162,000 added jobs per month for 11 years to account for population growth and regain the 8+ million lost jobs.
So, 162,000 added non-farm payroll jobs are nice, but they don't get us very far toward what we used to think of as normal.
Hat tip to Barry Ritholtz at 
The Big Picture
. 
Disclosure:
No stocks mentioned.