David Rosenberg, Chief Economist at Gluskin Sheff, continues to stay in the deflation camp.  Thursday he published several graphs showing declining inflation as well as the following chart showing the lowest core inflation three-month rate of change in 50 years.  Actually, as the chart title indicates, the change of rate is  negative, although you need a better eye than mine to see it.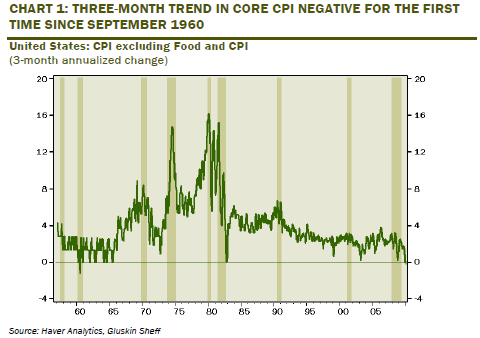 Rosenberg says:

  Deflation remains the primary trend, notwithstanding the bounce in commodity

prices that surely are going to act as a significant margin squeeze for retailers.

The headline CPI inflation rate came in at a mere +0.1% in March and the core

was unchanged. When oil prices first broke above $80/barrel back in 2007, the

inflation rate was closer to 4%. Then again, the unemployment rate was below

5% and CAPU rates approaching 80%, not near-10% and 70% respectively as is

the case today.

The economy may be doing better but it could take years to absorb all the slack

evident in the labour, product and housing markets.


 He offers some general advice regarding investment strategy, as well:

• Focus on safe yield: High-quality corporates (non- cyclical, high cash

reserves, minimal refinancing needs). Corporate balance sheets are in

very good shape.

 

• Equities: focus on reliable dividend growth/yield; preferred shares

("income" orientation). Starbucks just caught on to the importance of

paying out a dividend.

 

• Whether it be credit or equities, focus on companies with low

debt/equity ratios and high liquid asset ratios – balance sheet quality

is even more important than usual. Avoid highly

leveraged companies.

 

• Even hard assets that provide an income stream work well in a

deflationary environment (ie, oil and gas royalties, REITs, etc…).

 

• Focus on sectors or companies with these micro characteristics: low

fixed costs, high variable cost, high barriers to entry/some sort of

oligopolistic features, a relatively high level of demand inelasticity

(utilities, staples, health care — these sectors are also unloved and

under-owned by institutional portfolio managers).

 



Disclosure: No positions.