Here is an interesting post by Calculated Risk.  It contains the following graph:

Click here for larger image.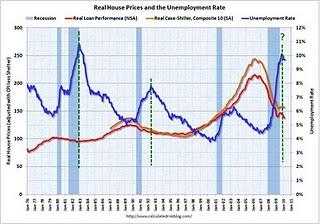 Calculated Risk says this graph suggests that house prices have 10% or more further to fall.  This is similar to, but a little greater decline, other recent estimates that home prices could drop 9% to 11% from December, 2009 levels (5% to 7%) from here.

I am always suspicious when too many projections start to line up in agreement.  I think of Murphy's Law:

"Whatever can go wrong will go wrong."

Or, what about the Lounsbury Corollary:

"The more uniformity of opinion the greater the likelihood of error."



Disclosure: No stocks mentioned.