Economic activity in 49 states was down year-over-year in February.  Clusterstock Business Insider Chart of the Day has this in a graphic: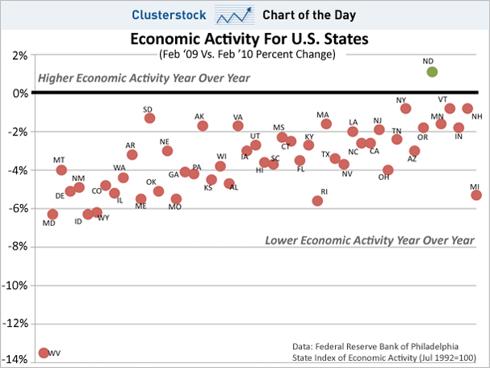 Based on GDP and employment data, I have suggested that the NBER (national Bureau of Economic Research) will eventually decide that the recession ended sometime between July, 2009 and January, 2010.

Looking at this data I can understand why NBER members have recently been equivocating about where they might place the end date.  It is possible that I may have made the 7-month window too narrow and possibly too early, as well.

How can the NBER date the end of the recession in a time period when only one state has a year-over-year growth in economic activity?  It looks like February has now come into the window for the official end of the recession.  If March data shows an significant improvement for the states, it could be enough to declare February as the bottom.

The Philadelphia Fed has published the state-by-state coincident economic indicators for March.  Here is a graph showing the three-month change for each state:

Click here for larger image.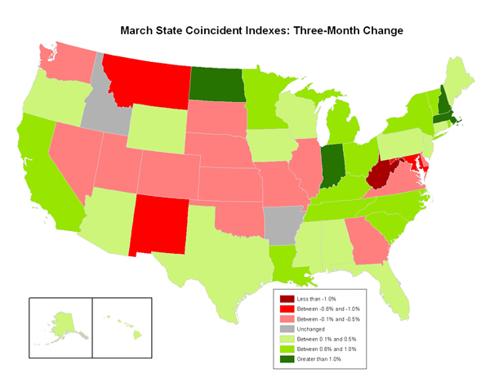 As I reported previously, in February only 18 states showed a a 3-month growth.  In March the number of states with 3-month economic growth increased to 31.

Note:  I am working up some related data and will update and add to this post tomorrow (Thursday Friday).  Sorry for the delay -  some days just don't have any breaks.

Disclosure: No stocks mentioned.