David Rosenberg, chief economist at Gluskin Sheff, still sees deflation on the horizon.  And he offers data to back up his opinion, as seen in the following graph: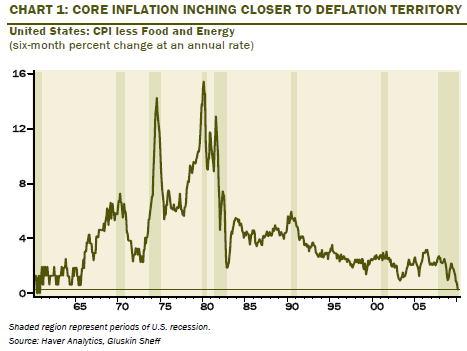 Of course, as I have said before, if you don't eat, drive to work, heat your home or get sick, there is no inflation.  The core CPI leaves out three of these four items.  When the full CPI crosses below zero Rosie's case will be much stronger.
In the same letter today, Rosenberg stated that the latest market action is the exclamation point on the end of the one-year rally within an ongoing bear market.
Nothing but bright outlooks (my satire!) from Rosenberg.  But these are outlooks that must not be dismissed.  I remain in the muddle through low GDP growth recovery camp with a trading range market for the next 12-18 months.  However, I also remain in another camp with those who have made inaccurate economic projections in the past.
A related post by Vincent Fernando and Kamelia Angelova at Business Insider Clusterstock shows the
ten-year data
 for the total and core CPI: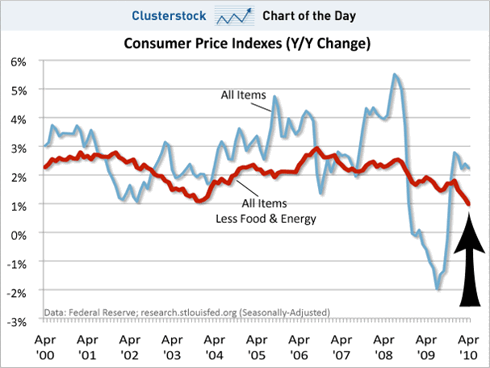 The title of the 
article
 is "Inflationistas on Life Support".
An important thing is being missed by those fearing immediate inflation.  They are missing the fact that the unwinding of a credit bubble is an intensely deflationary process.  All the monetary and fiscal stops have been pulled out in an attempt to offset some of the deflation.  All these efforts may soften the loss of value as leverage is wrung out of the system, but it is unlikely that all of the deflation can be avoided.  It certainly hasn't been avoided in real estate.  In spite of the massive stock market rallies around the world, significant valuation has been  has been lost in equities.  In the U.S. we currently have a loss greater than 25%.  In the U.S. we have even seen wage deflation.
Unwinding massive over leverage takes years.  Inflation just can not occur while deleveraging still has a significant way to go.  
Disclosure:
Long several S&P 500 stocks.