Weekly Initial Unemployment Claims reported by the U.S. Dept. of Labor have been "stuck", fluctuating around the 450,000 level for six months.  Calculated Risk has a graph giving historical perspective:

For large image, click here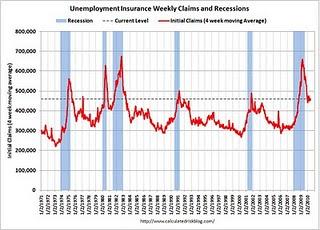 Such a "stuck" range often occurs in a recovery.  This time the length of time the number has stayed in such a tight range for this long a period of time has not been seen before.  See 1975 and 1983 for previous "stuck" points which lasted much less than six months.

The two year high claims levels following the 1990-91 an 2001 recessions showed much more fluctuation than we have seen so far here.

It is distressing that the "stuck" level is near the peak values for the two recessions prior to 2007-09.

Disclosure: No stocks mentioned.