For the seventh time in eight weeks, mortgage applications for home purchases declined.  Calculated Risk has the story and graph:

For larger image, click here.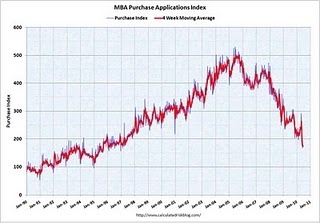 Applications are at levels not seen since the end of 1996.

Applications for refinancing have been rising as mortgage interest rates keep falling (4.67% for 30 years with 20% down last week).  None the less, refi applications are still only about half the number of a year ago.

Disclosure: No positions.