Last week Daveid Rosenberg, Chief Economist for Gluskin Sheff (Toronto), posted the following graph: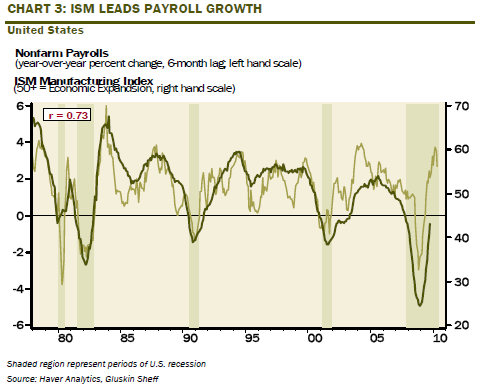 Calculated Risk has shown a similar relationship in a different graphic: 

For large image, click here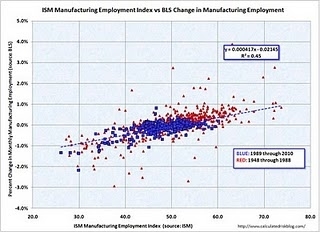 The Rosenberg graph shows a correlation coefficient of 0.73 (R-squared = 0.53) for year over year changes in payroll employment to the ISM Manufacturing Index shifted forward by 6 months.  This indicates a fair correlation (my definition of correlation quality) for ISM Manufacturing Index as a 6-month leading indicator for employment.

The Calculated Risk graph is a plot of monthly change in manufacturing employment vs. the ISM Manufacturing Index.  Here the the correlation coefficient is 0.68 (R-squared = 0.46) which (agaon, my definition) is weak approaching the boundary with fair correlation.

The inference is that manufacturing payrolls are a leading indicator for non-farms payroll employment.

Disclosure: No stocks mentioned.