The following graph from the Consumer Metric Institute shows how their economic activity model is progressing for 2010 compared with 2008 and 2006.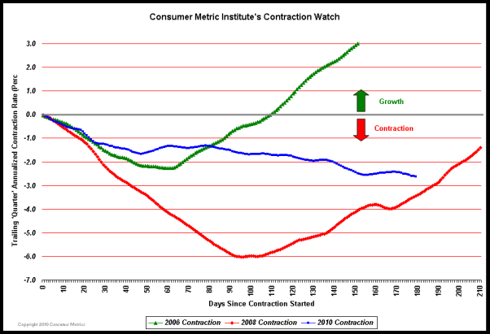 The CMI calculates by an area under the curve technique that 2010 has a contraction that is twice the size of 2006 and over 1/3 that of 2008.  The 2010 contraction is still advancing (or, more correctly, declining), progressing far longer than in the preceding two years displayed.

You will not see this on the CMI web site because it is information available by subscription only, but CMI's Rick Davis revealed to Larry Doyle in an interview that CMI predicts GDP for the next two quarters at - 1.5% and -2%.

If the CMI projection is only partly achieved, it is impossible to see how a significant market downturn will not ensue.  CMI is definitely outside the main stream box which is debating whether GDP for the second quarter will be under +2%, 2-3% or over 3%.  If CMI is correct there will be a major psychic shock.

Disclosure: Long several S&P 500 stocks. Long and short positions in several NasDaq stocks.