I have reported on the inflation adjusted earnings chart from www.chartoftheday before here and here.

Here is a set annotations different from those used previously.  In one previous article I discussed interpretations that could be used to argue that S&P 500 earnings might have room to move higher based on long term trends.  Here is a different set of annotations that could be used to argue that earnings have gotten ahead of themselves.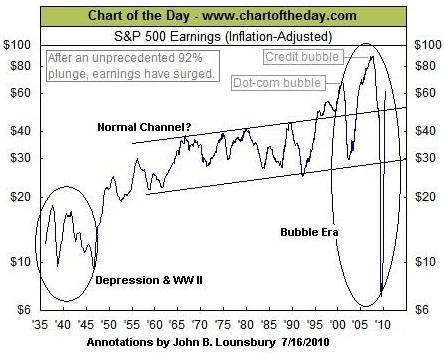 While these historical patterns may give perspective, where earnings will actually go in the coming quarters will depend on the prospects for the individual companies comprising the S&P 500 index and the strength or weakness in the world economy that will affect revenues.

On another point, as has been discussed previously, the upward sloping trend in inflation adjusted earnings could be replotted normalized to population and the trend would be down over the past half century.  Whether that has any significance is a matter for debate, but it is certainly an interesting curiosity.

Disclosure: Long several S&P 500 stocks.