The following graph accompanies a comprehensive report from the Environmental Law Institute.

For large image with notes, click here.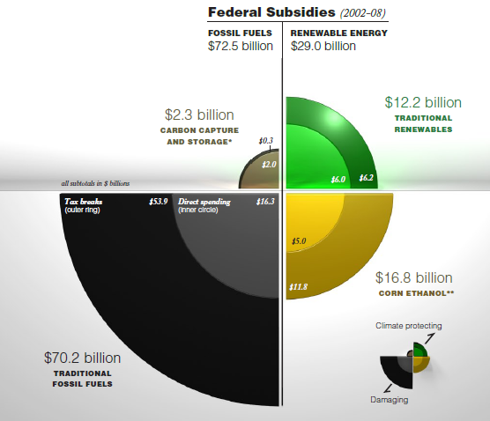 Almost 6x as much subsidies are associated with fossil fuels as for traditional renewables.  The subsidization of corn ethanol is greater than that for other renewables.

This work was funded by the Energy Foundation, a partnership of major donors interested in solving the world's energy problems.  On their website they state:

Our mission is to advance energy efficiency and renewable energy — new technologies that are essential components of a clean energy future. 


The Environmental Law Institute states on their website:

The Institute's mission is to advance environmental protection by improving environmental law, policy, and management. Since 1969, ELI has played a pivotal role in shaping the fields of environmental law, policy, and management, domestically and abroad.

Support for the Institute comes from individuals, foundations, government, corporations, law firms, and other sources.


Well, I guess I wouldn't have expected this report to come from the oil, natural gas or coal lobbies. 
 
Hat tip to Barry Ritholtz at The Big Picture.

Disclosure: No positions.