There is a comprehensive review today by Dana Priest and William M. Arkin in The Washington Post of a two year investigation of a hidden world that orbits what is known as Homeland Security.

Here are a few highlights:


These are some of the findings of a two-year investigation by The Washington Post that discovered what amounts to an alternative geography of the United States, a Top Secret America hidden from public view and lacking in thorough oversight. After nine years of unprecedented spending and growth, the result is that the system put in place to keep the United States safe is so massive that its effectiveness is impossible to determine.
The investigation's other findings include:
* Some 1,271 government organizations and 1,931 private companies work on programs related to counterterrorism, homeland security and intelligence in about 10,000 locations across the United States.
* An estimated 854,000 people, nearly 1.5 times as many people as live in Washington, D.C., hold top-secret security clearances.
* In Washington and the surrounding area, 33 building complexes for top-secret intelligence work are under construction or have been built since September 2001. Together they occupy the equivalent of almost three Pentagons or 22 U.S. Capitol buildings - about 17 million square feet of space.


It seems that there are reasons to question the "security" and clearly room to doubt "control".  Some of the other things mentioned include:

*  There is astounding redundancy.
*  Many of the 50,000 reports generated each year are ignored.
*  Some reports are massive.
*  Many reports just rehash known information.
*  Enormous data bases are not connected to each other.
*  Very few individuals are authorized to see wide swaths of data and there is no way they can assimilate even a small part.
*  A retired pentagon officer said basically no one is in charge.
*  Failure to connect the dots gave rise to the Christmas bomber and the Ft. Hood shootings. 
*  CIA Director Leon Panetta says the levels of spending on intelligence and security since 9/11 are not sustainable.
*  Retired Adm. Dennis C. Blair, former director of national intelligence (resigned in May), has previously said he did not believe there was overlap and redundancy in the intelligence world. More recently he said  "After 9/11, when we decided to attack violent extremism, we did as we so often do in this country," he said. "The attitude was, if it's worth doing, it's probably worth overdoing."
*  Many new buildings are more like "pyramids" than utilitarian office buildings.
*  The largest government construction project since the Pentagon is about to be started in northern Virginia to house the Dept. of Homeland Security.

Read the Washington Post article in its entirety and visit the WP data base on for this project:  http://www.washingtonpost.com/topsecretamerica.
One of the areas of the data base lists all the companies who do business with Homeland Security related agencies.  Among the largest companies with the most contracts are:
General Dynamics (NYSE:
GD
) 32 government clients
Northrop Grumman (NYSE:
NOC
) 27 government clients
Lockheed Martin (NYSE:
LMT
) 23 government clients
Raytheon (NYSE:
RTN
) 19 government clients
Hewlett Packard (NYSE:
HPQ
) 18 government clients
Verizon (NYSE:
VZ
) 12 government clients
Boeing (NYSE:
BA
) 11 government clients
International Business Machines (NYSE:
IBM
) 11 government clients
Which of these companies can gain business if the Homeland Securities Department is reorganized and which will use if efficiency is introduced?
The geographic distribution of government locations and private contractors associated with Homeland Security is shown in the following map from the
Washington Post
:
For large interactive image, click
here
.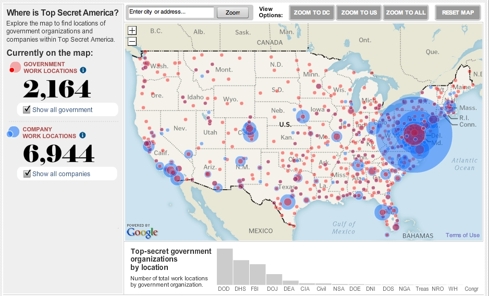 The corporate side of the homeland security activity is covered in part two of the
WP
series
here
.
Disclosure:
Long VZ and IBM