The 5-Min. Forecast has the following graph that shows the massive dividend cutting that took place in 2009: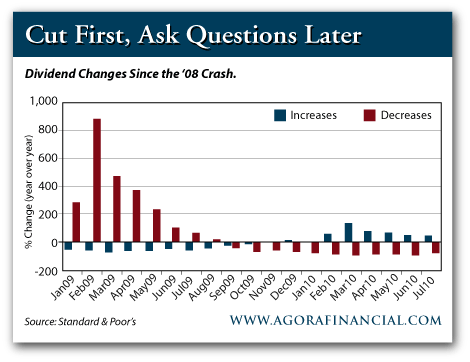 The 5-Min. Forecast points out that the S&P500 dividend yield is now nearly 2.4%, while the 10-year Treasury yields 2.6%.  The dividend yield is 90% of the 10-year yield.  The historical average is 42%.

To reach the historical norm, stocks would have to rise to S&P500 2020 (with the current 10-year yield) or the 10-year yield would have to be 5.0% with the current dividend yield.  To equal the historical average at current interest rates, the S&P500 would have to double.  This would put it way above the all-time high of 1565 on October 9, 2007.
 

Disclosure: Long several S&P 500 stocks.