More excellent information from Barry Ritholtz at The Big Picture.  Exhausted unemployment benefits are those for people who leave the insured unemployed roles because their benfits ran out rather than because they got another job.  Here are a couple of graphics: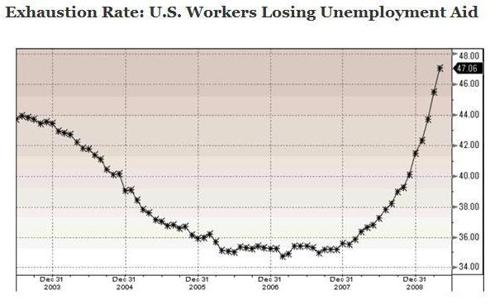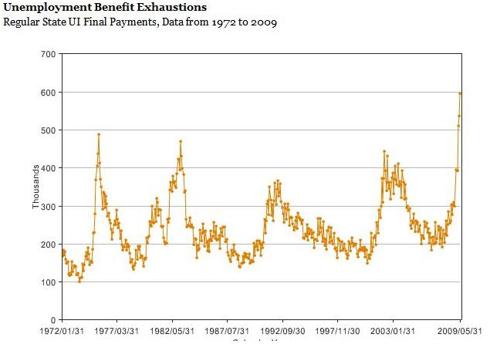 The latest report (not included in the graphics) on May 31 was above 49%, another new record.
Some interesting historical relationships:
As was noted by Transor Z earlier:
Since Exhaustion Rate was first reported for the 6/72 data set, the average value has been 34% and the median value has been 33%.

In 37 years there have been 44 monthly values of 40% or higher. Only 7 of these were NOT in the period 2002-2009 and the highest of these was the 8/31/83 set with 40.83.

38.3 was the peak for the 1970s — 11/30/76.
40.83 was the high for the 1980s — 8/31/83.
40.11 was the high for the 1990s — 11/30/92

Until 3/31/09, the previous all-time high was set in 7/31/03 with 43.9. The March, April, and May figures have set successive all-time highs. You have to go back to 1/31/91 (29.87) to find a rate under 30%.

When you plot 12-month average benefits duration on the same graph, you see a clear correlation between the two. One question the data raise is that, during the early 80s recession, the average went over 17 weeks from 5/31/82 to 3/31/83. The 27 year average is 14.76 weeks. The latest figures put us only at 15.67 weeks. Given that even the "green shoots" crowd is predicting a jobless recovery at least in the short term, a 17+ week average would seem likely to follow, sending the exhaustion rate to further 27-year highs.