US stock markets fell on tuesday 26th of July.
Silver and Gold closed higher, with Gold reaching a new all time high and closing at $1,618.80 per ounce.
The Euro was higher by over 1 figure vs the USD.
West Texas Intermediate Crude Oil closed above $99,50 per barrel.
The Big Picture
On tuesday 26th of July US stock markets closed lower with continuing debate about the debt.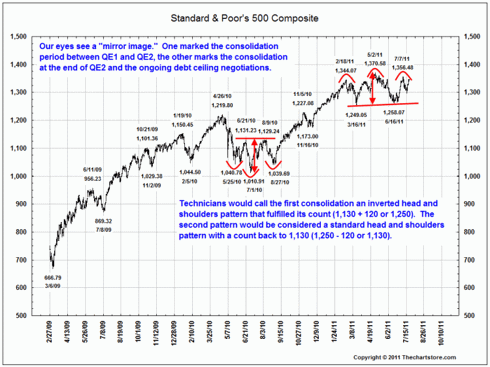 Short term the S&P 500 presents resistance at 1360 to 1371 and support at 1300 to 1286 points.
Source: Dshort


Visualization of US Debt

$15,000,000,000,000- Unless the U.S. government fixes the budget, US national debt (credit card bill) will topple 15 trillion by Christmas 2011. Notice that for reference and scale the semi truck and Statue of Liberty. You might think no big deal. However, each tiny square in that stack of cash is a pallet of $100 bills, each worth $1 million.
Source: wtfnoway.com
  Read more and watch top financial clips:   
TAO Investo
r