The recent run in the market has been kind to many investors. Total S.A. (NYSE:TOT) shareholders have not reaped the rewards of this upswing. One major reason for this was the recent problems with its North Sea Elgin platform gas leak. This problem is currently factored into the stock price.
The downturn has provided a significant buying opportunity.
Total S.A. - "TOTAL S.A., together with its subsidiaries, operates as an integrated oil and gas company worldwide. The company operates in three segments: Upstream, Downstream, and Chemicals."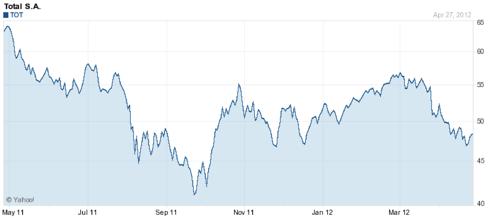 The following indicators illustrate how TOT will take off.
Yahoo has a 1-year price target of 62.68 or more than 40% increase of the current stock price. According to Yahoo, TOT has 3 Buy and 2 Strong Buy ratings and NO Sell ratings this month. Most analyst that cover TOT are very bullish.
Trailing twelve month earnings yield is at 13.91%
It's P/E (next year estimate) is lowest compared to its competitors at 6.2.
It has the highest dividend yield among its competitors. The yield currently sits at 6.25% (as of 4/27/12).
All recent technical indicators point to a short-term bullish run in the stock.
Disclosure: I am long TOT.