That bump we all heard this week was possibly the beginnings of an rally from extremely oversold levels in the equity markets.  Not surprisingly, the frothy bond markets were the primary victim, due to their recent negative correlation with stocks. Note that at this time, nothing yet suggests that the equity rally, if it materializes, will be a resumption of the bull market.

Chart of the week: Vanguard Small Cap Value (NYSEARCA:VBR):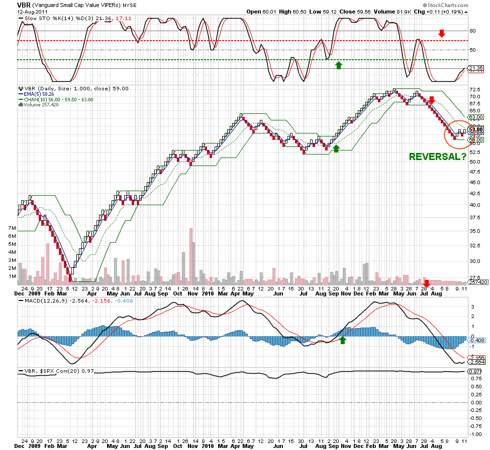 This chart shows a Renko reversal pattern, which is an uptick after a higher low.
I'll be watching the short term moving average for a crossover on the price channel midline this week.  If this occurs, a long position might be taken.

Note that a similar pattern is emerging in the Vanguard US REIT ETF (NYSEARCA:VNQ).

What's happening here?  Small cap equities turned down this year before large caps, and they may be leading the bounce.  When stocks turned up in 2009, bonds had already started a steep decline.  The US dollar is not strong, but may be stronger than the Euro at present, and small cap companies have less exposure to currency exchange issues - this may be the reason that small caps are showing a bit more strength.

So here's one way to play the oversold rally and protect profits:

- Establish collars on fixed income positions: ( TIP, TLT, WIP ).  International Treasuries (NYSEARCA:BWX) are holding up well enough that we won't hedge this particular position.

- Carefully watch Small Cap Value (VBR) and US Real Estate (VNQ) for buy signal confirmation early in the week.

- Watch XIV for the beginnings of an explosive upside rally from distressed levels, and dump any VXX positions.

The real issue here is watching volatility levels. I think we've made our way through a compressed 'bad news cycle' with the good jobs report and retail sales casting a bit of doubt on the recession front.

I do not expect a return to solid growth in the economy any time soon, but we don't have clear recession evidence yet.  In this kind of market, we will be looking for income / dividends / writing covered calls to boost returns soon.


Disclosure: I am long TLT, TIP, BWX, WIP, VXX.

Additional disclosure: I may be establishing long positions in VBR and VNQ in the next week.