Yesterday it was announced that Tellurian was in talks with Chesapeake Energy  (NYSE:CHK) to purchase up to $2B of property located in Louisiana. 
Here is a clip from Schwab.

I know it seems like I am a perma bull on CHK. I am at  this point. After the last earnings report, I believe the stage is set for a rally back to the $5 level in short order.
Here is a chart that in my view shows right now as a great entry point.
I am adding to position at $3 and feel like the days are numbered when you can buy this under $3.50.
The stock has pulled back over 10% from the previous rally level on the earnings beat. In my view $3 is a total joke and way undervalued.
This stock should be trading over $4 right NOW!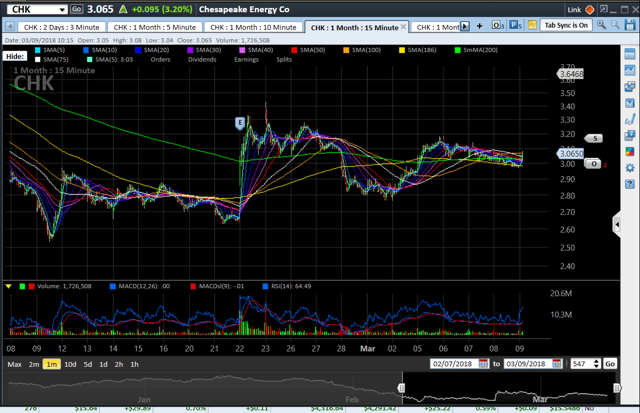 Any large players out there could squeeze shorts right now at teh $ level for option expiration.
BUY BUY BUY.
How about we take this over $3.50 today?
IT is my belief at some point in the very near future they will announce a sale that will take the stock back to the $5 level. 
Enjoy the weekend and look for this to rocket higher in the coming weeks.
Stay off margin people! You know who you are.
Disclosure: I am/we are long CHK.