Lloyds Banking Group (LYG) is trading at the yearly low as MR. market unfairly punishes the UK's number 1 digital bank. The company is down 11% since posting a £3.1B profit through 6 months.
Look at these numbers.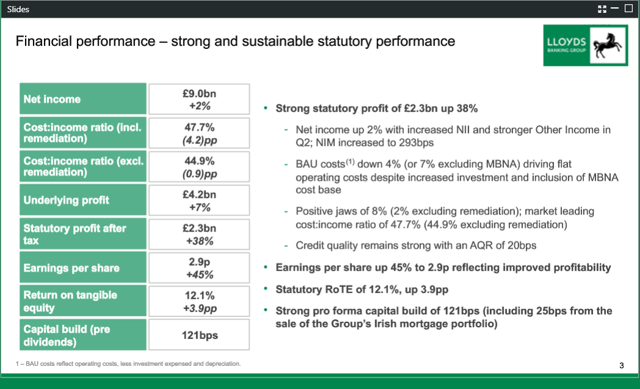 What the heck is going on? Is Brexit the end of the world for the UK?
I don't think so, however I do think there is a fleecing of weak shareholders going on as we speak. 
Mr. Market is trading Lloyds Banking Group at $3.03 as I write this.
In my view: this trading action is big players working hard to wipe out anyone on margin.
Look at this head fake from the last week. 
A 60 minute 2 month  chart.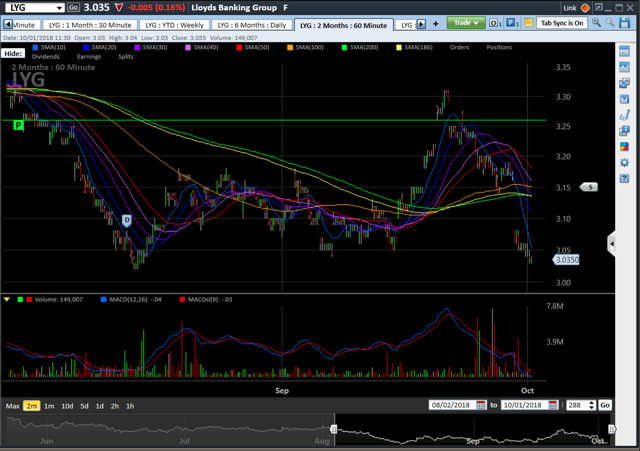 In my opinion the move to the upside is where the stock is heading, but it might take a little while as Brexit negotiations ramp up this month. Why would anyone sell it down here unless they are forced into it.
Here is one more chart on a 60 minute that goes back to May.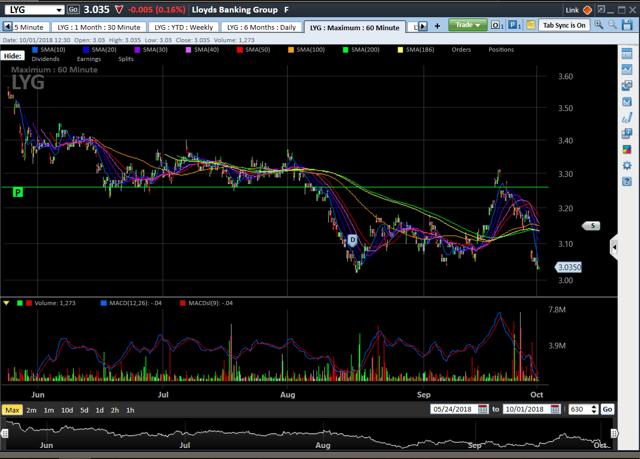 I have been trading for decades and I will tell you this. This sell off on Lloyds, a blue chip company is way over done.
IF this $3 level holds then watch out for another gap up and rally back to $3.50 pronto.
I expect the market makers to try and break the $3 level. While it makes zero sense, it is still a possibility.
This is the number 1 bank to buy in the UK in my opinion right now. Max downside is 5% to 11% from this level.
Upside risk to $4 is possible on any given day with any kind of good Brexit news.
Place your bets accordingly and make sure you own this in cash so you don't get the margin call on a break below $3.
Lloyds Banking Group shareholders are being fleeced right now On Brexit fears that are not warranted.
Lloyds is making great profits, increasing dividends and has the right management at the helm to thrive and prosper.
I am long LYG. I will add more on weakness. I see 50% upside on a no Brexit deal in 1 year and 70% upside with a Brexit deal.
Make your own decisions and do a little homework on this beaten down Blue chip FTSE 100 company. 
Disclosure: I am/we are long LYG.