Logiq's Martech Rebel AI Acquisition; Trade Desk, Magnite, Shopify Forewarned
Please Note: Blog posts are not selected, edited or screened by Seeking Alpha editors.
Summary
With the demise of cookies tracking, eCommerce AI marketing has quietly evolved beyond offerings of the largest Martech players.
Logiq's acquisition of Rebel AI brings a new 'cost efficient' marketing tool for millions of SMBs not offered by the Martech giants.
Comments from Logiq CEO; Tom Furukawa,  Logiq CPO; Steve Hartman (Note; both formerly Magnite 'Rubicon' executives).
Official Launch Add of Logiq Digital Marketing features Manny Puentes Founder Genius behind Rebel AI.
In 2022 Google (GOOG) will no longer support third-party cookies for browser users. Understanding a cookie is a small piece of code that gets stored on your device, be it a computer or smart phone every time you visit a website. Take for example one of my son's favorite sites to browse Shopmrbeast.com, a cookies tracking message pops up before you can shop. With the understanding 98% of online retailers use cookies tracking, the open market today for Martech/Adtech companies with a solution to the end of cookies is immense. In 2021 the programmatic industry in the US alone is expected to reach nearly $100 billion in add spend, making up 69% of digital media advertising.
David Temkin, of Google stated recently, "Today, we're making explicit that once third-party cookies are phased out, we will not build alternate identifiers to track individuals as they browse across the web." With Googles announcement, a marketing headwind is bearing down on the eCommerce world, cookies track all the information digital marketers want to see, in turn this announcement has Martech and AdTech stocks like TradeDesk (TTD) and Magnite (MGNI) under the microscope from investors. Both stocks have pulled back significantly from recent highs on Googles reiteration of the demise of cookies, albeit this news was known to savvy investors for over a year. Today marketers and advertising professionals are scrabbling for solutions for customer acquisitions. From an individual's perspective, as a user, you will not experience much difference. Brands will still be able to hone in on audiences and properly target those with ads. The benefit to a user is that their information will go into what is known as a "privacy sandbox" where everything is anonymized.
From a brand and advertising perspective, especially small to medium businesses 'SMBs', the demise of cookies impacts the reach that they have staying in front of existing customers who have visited their site and then go on to view another site. This is also known as retargeting or remarketing. In addition, those purchasing their ads and media across third-party sites and ad exchanges will be impacted. Those types of networks rely heavily on the type of information only shared by third-party cookie data. Without that level of information, it becomes much more difficult for the advertiser to position their brand in front of the right audiences.
In 2018, Trade Desk introduced the Unified ID, an open-source ad-tracking technology platform that doesn't rely on third-party cookies or personally identifiable information. In describing the company's value proposition early last year, CEO Jeff Green noted, "Advertisers know that we can help them do their modeling work with a limited amount of data or a vast amount of data. If we operate in a world with less data, we're darn good at that. Our whole system is built around making objective choices with limited data." Green went even further, saying, "Cookies don't matter much to the fastest growing areas of the digital advertising ecosystem, such as CTV [connected TV]." Magnite has taken the stance it won't be any worse off than The Trade Desk. As the world's largest independent sell-side advertising platform, Magnite announced late last year that it endorsed and was adopting Unified ID 2.0, meaning it will have access to the same platform and ad-targeting data The Trade Desk has.
Investors should realize Trade Desk and Magnite cater to the top 500 eCommerce brands. "Today, it's just NOT cost feasible for SMBs to access Trade Desk and Magnite's Adtech, Martech solutions."
CAC - The "Live or Die" Metric of Growth Marketing
Customer Acquisition Costs 'CAC' today prohibit a brands ability to profitably find new customers. CAC has risen almost 70% in the past 5 years due to market saturation of brands vying for customer attention.
Studies show that by 2040, 95% of all purchases will be facilitated by eCommerce. "Mega Brands" (the top 500 or 0.1%) in the US control almost 70% of the U.S. eCommerce market Amazon (AMZN), Walmart (WMT) Apple (AAPL) eEay Inc (EBAY). This dominance is unsustainable as the number of direct to consumer "D2C" eCommerce companies & legacy retailers coming online increase and become the segment of growth. Today, eCommerce is accelerating its pace of reshaping retail Cross-Channels. Understanding this, "eCommerce marketing" for "new D2C and legacy offline retailers" will be one of the biggest market opportunities in years ahead.
With 30% of all U.S. eCommerce sites powered by Shopify (SHOP), investors should realize there is no gold-standard marketing APP to install that will grow a brand's revenue 'including Shopify'. This opportunity requires a new type of marketing platform 'a paradigm change in marketing' that has just been launched by former Magnite 'Rubicon' executives.
Logiq Acquisition of Rebel AI Levels the Playing Field for SMBs
One company has developed what may be the perfect cost efficient B2C 'brand to consumer' AI digital platform. This company is Logiq (OTCQX:LGIQ) through the integration of Data Logiq, Fixel AI, and Rebel AI, Logiq is quietly pioneering this new digital marketing goldmine. I urge investor to watch this short video to get an idea of what the future holds for SMBs choosing Logiq as there marketing solution.
Slide source; Logiq Roth Conference 2021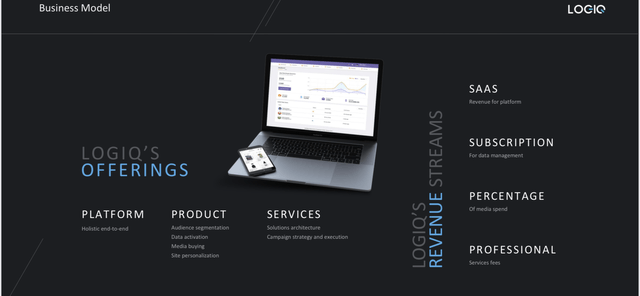 A comparative valuation of peers in the Martech, Adtech space implies a deep value opportunity for investors today. Investors should take notice Logiq currently trades at 2X TTM revenues while peers trade on average 25X TTM revenues. Will Logiq reach a fair inline market valuation in the coming months? As a long deep value investor I strongly believe it will.
Slide source; Logiq Roth Conference 2021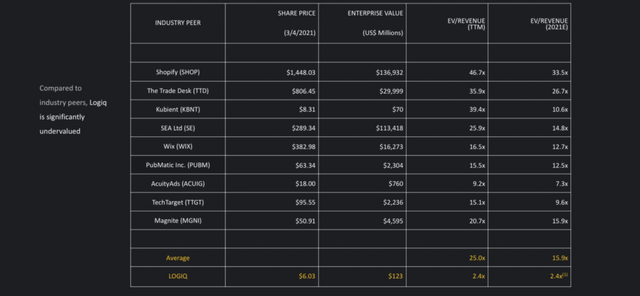 Comments from CEO CPO of Logiq 
Logiq CEO Tom Furukawa;
"Since moving into the CEO role in September 2020, my mission is to transform the company into an ad tech company providing a SAAS platform for digital marketing teams. The Rebel AI acquisition accelerates this mission by at least 4 years with the latest technology and an amazing team with years in ad tech. I believe we have now arrived at a new inflection point in our growth and development, especially with the addition of Fixel AI and Rebel AI. These acquisitions added key pieces to our data driven, digital marketing platform.
Think of us like the Trade Desk but for small and medium sized businesses. It brings enterprise level digital marketing to the underserved small and medium sized brands and agencies. By the way, we are not doing this just because ad tech is so hot, I have been in the advertising technology and digital media market since the early days of Yahoo!, through Magnite, and a handful of startups. Digital media and ad tech is my specialty. I am so glad to see that digital marketing is being recognized as the growth engine for eCommerce. And as we speak, Logiq Digital Marketing is launched and we have already signed numerous customers."
Logiq CPO Steve Hartman;
"According to a US advertising spend study from Publicis Group's Zenith, "Internet" media buying is multiples larger than the distant second-place "TV" category, and the YoY growth rates show that this trend will only increase."
"eMarketer also estimates that US e-commerce sales revenue is expected to reach over $795B in 2021, which is only 15% of all of US Retail sales but also the fastest growing sales channel for retail. E-commerce is fast becoming the primary channel that will determine whether a brand succeeds or fails."
"With Logiq's recent acquisitions of Push Int., Fixel and Rebel AI we have quickly positioned ourselves as a serious e-commerce marketing platform for SMB brands and agencies. Our collective data management and media buying capabilities enables SMBs to compete for customer growth against companies of any size."
Analyst's Disclosure: I am/we are long LGIQ.
Seeking Alpha's Disclosure: Past performance is no guarantee of future results. No recommendation or advice is being given as to whether any investment is suitable for a particular investor. Any views or opinions expressed above may not reflect those of Seeking Alpha as a whole. Seeking Alpha is not a licensed securities dealer, broker or US investment adviser or investment bank. Our analysts are third party authors that include both professional investors and individual investors who may not be licensed or certified by any institute or regulatory body.