Summary: The algorithmic trading with the respective price manipulation is founded following the list of Features of the price pressure and the presence of active algorithmic trading, https://seekingalpha.com/instablog/985477-svetlana_spb/4464906-algorithmic-trading-sinks-american-stock-market
Price movement
On 10 November SUNEDISON INC (SUNE) lost 22% of its capitalization for one day with the day trade volume 116.2M shares, it corresponds 37% of its market capitalization and it is by 10 times more than the average day volume in 1H 2015. The average day volume became triple for 2H 2015. Thus, the algorithmic traders use the share actively. See please the Chart 1. SUNEDISON INC price and volume.
As result
Marginal and option traders lost their working capitals in part or at all.
Value investors cannot see adequate behavior of the share and use traditional analytical methods, thus they cannot invest.
Investors working with loans via banks have to add 4/5 of the share value to their portfolios.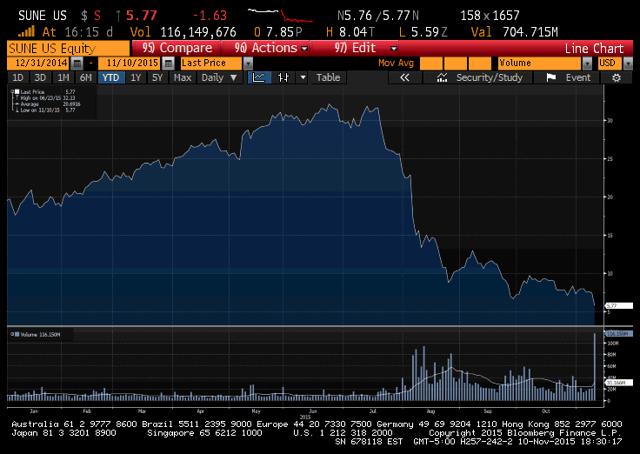 Chart 1. SUNEDISON INC price and volume, YTD.
About SUNEDISON INC.
SunEdison, Inc. manufactures semiconductors and solar energy technology. The Company produces
electronic-grade polysilicon used for electronics, solar cells, and film devices. SunEdison also
develops solar power projects. SunEdison markets its products to corporations, utilities,
governments and chip manufacturers.
On the 10th of November SUNE demonstrated "mixed" Q3 report as Claudia Assis, a San Francisco-based wrote: SunEdison SUNE, -22.03% reported mixed third-quarter results, but most of the negative reaction came as SunEdison's spinoffs, called yieldcos, also reported results that foiled some forecasts. http://www.marketwatch.com/topics/journalists/claudia-assis
Michael Bellusci (Bloomberg) wrote -- Withdrawal of SunEdison from Vivint Solar transaction would result in positive catalyst for SUNE shrs, financing could be deployed in other areas of business, Janney analyst Michael Gaugler writes in note. Says share price selloff seems "overdone" at SUNE Withdrawing From VSLR Deal Would Be Positive: Janney. 2015-11-10 19:41:25.350 GMT
Short Interest =28.47%. The Source: Bloomberg.
The trading details
The maximal day volume on the 10 of November did KCG -14.1M shares and UBS - 13.7M shares. KCG and UBS are owners of 8.1K and 4.4M shares, respectively. KCG holds 350 option positions and UBS holds 19,061 option positions. For H2 2015 KCG did volume 360.1M shares and UBS - 285.6M chares. The amount of SUNE shares outstanding is 316.7M shares.
UBS shows the lowest SUNE price target $9, see please Charts 2.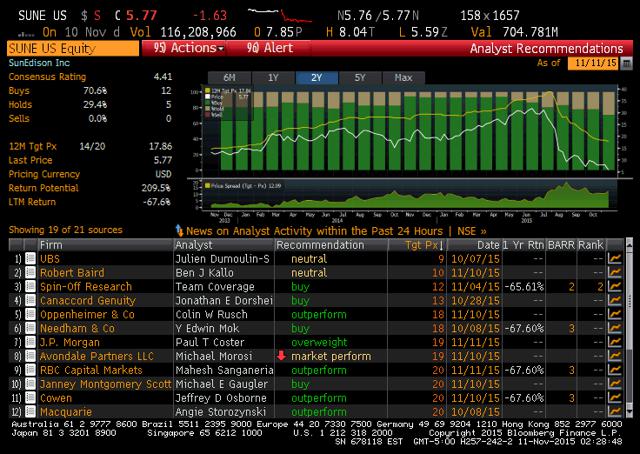 Chart 2. Price recommendations.
Disclosure: I am/we are long SUNE.