Time to Double Down on LVS?
First published on 8/16/2012
It's been a brutal several months for gaming stocks and LVS in particular. It dropped from a high of 62.09 on 4/12/12 to a low of 34.72 on 7/26/12. Since then it has rallied to close at 41.43 on 8/17/12. Unlike past rallies, I think the stock has turned the corner and poised to rally from here.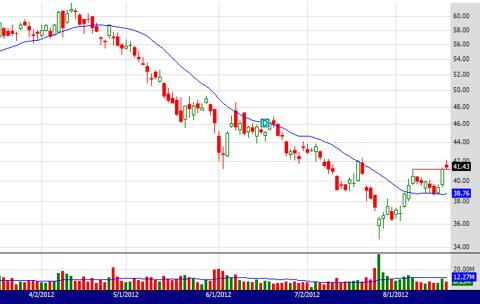 Fundamental Case:
It's a bit pricey on a P/E basis, 24 vs. 18.61 for the industry. On a PEG basis, it's quite attractive, 0.82 vs. 1.44 for the industry. I tend to place more weight on the PEG than the PE. The current price is not pricing in the higher future growth. Assuming all else being constant, an expansion of PEG from 0.82 to 1.44 would give us a price of 72.75. Even with PEG going to only half at 1.13, the price would be at north of 55.
Technical Case:
LVS has recently crossed above the 20 day smoothing mechanism, pulled back and bounced off of it. Furthermore, it just broke through resistance at 41.19. Both these factors add more weight to the bullish case.
Conclusion:
I like this stock both from a fundamental and technical perspective. It's a buy on LVS.