The valuations and rankings of all companies analyzed this week are available in a Google spreadsheet here.
Feel free to go ahead and search for your favorite company. There's a good chance it has been valued.
Data on 1,4219 ranked companies was obtained from Finviz at the market close on January 18, 2013.
Discount
The current discount rate is 8.5%. At this rate, 713 companies included in the analysis were undervalued and 707 companies included in the analysis were overvalued.
Here are the distributions of different valuation percentages: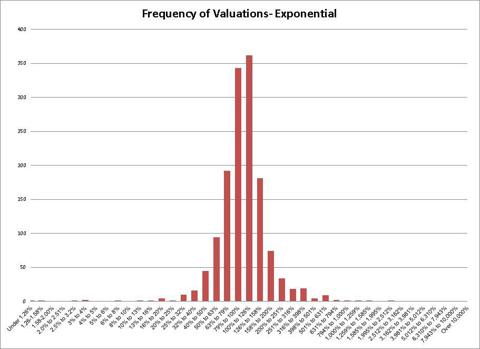 Yes Virginia, valuation does matter
There has been a signigicant change in the methodology this week- I switched from Yahoo! Finance to Finviz for the initial data. Additionally, I am now modeling the net present value of future earnings per share instead of simply future earnings. This eliminates the need to include enterprise value in the calculation.
These changes have drawn the bulk of the curve closer to fair value. This is a positive sign for a valuation ratio. Here is the curve from two weeks ago for comparison: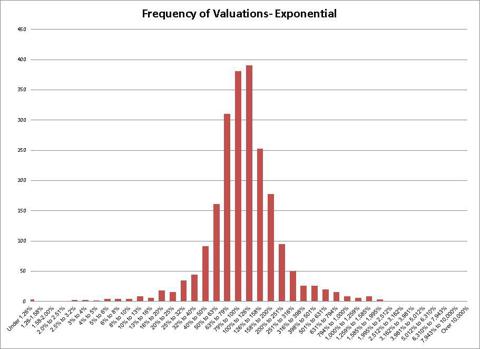 There are three reasons a company may be an outlier on this valuation curve; the market has mispriced them, the analysts have overestimated them, or the valuation calculation just doesn't fit them.
In other words; either the market is wrong, the analysts are wrong, or I'm wrong.
Obviously, I'm hoping that the cause of the undervaluation is that the market is wrong; that is when there's a big payoff. What's less obvious is that my second preference is actually for me to be wrong, because at least in that case I can expect the stock to simply market perform. When the analysts are wrong, the company ends up missing earnings and losses mount.
The Champion And Runners Up
According to the model, the following companies are trading at the absolute greatest discount to their intrinsic value:
5 Most Undervalued Companies
| | | |
| --- | --- | --- |
| Ticker | Valuation Percentage | Target Annual Return |
| CELM | 0.43% | TBD |
| VMED | 1.44% | TBD |
| AMBO | 2.91% | TBD |
| FUQI | 3.22% | TBD |
| MANU | 3.38% | TBD |
Quite frankly, I wouldn't invest in any of these tickers.
With the exception of MANU, they are all Chinese reverse mergers that are categorically suspected of fraudulent accounting. So it makes sense that they are undervalued by the numbers.
Suspected frauds and database errors are some of the reasons that I do not consider the raw list of the most undervalued companies to be the DCF champions. These companies are outliers- a company with an error in the database or encountering any sort of accounting oddity will shoot straight to the top or the bottom of the valuation list along with the more genuine market overeactions.
Because I want to avoid companies that only appear undervalued due to overexuberant analysts I employ a simple estimate quality factor as an additional screen. The following five companies are the most undervalued companies whose projected growth rate is no more than twice the return on assets.
5 Most Undervalued Companies, Conservative Growth Estimates
| | | |
| --- | --- | --- |
| Ticker | Valuation Percentage | Target Annual Return |
| CELM | 0.43% | TBD |
| FUQI | 3.22% | TBD |
| MANU | 3.38% | TBD |
| BTI | 6.95% | TBD |
| ZX | 17.11% | TBD |
Unfortunately, as the quality factor does not screen out frauds or suspected frauds, China Electric and FUQI are still on the list. ZX also appears to be a Chinese reverse merger.
Manchester United and British American Tobacco are worthy of further consideration.
There is less upside for these five companies than for the pure picks, but the valuation should be a bit more dependable. Although due diligence is still warranted.
In the past I referred to all five of these companies as champions. I did this because I believe that a basket of all five picks would outperform an investment in just one company. I still believe that, but on second thought five champions is just plain un-American. From now on, only the top ranked company is the champion.
Although I do NOT intend to buy this stock or think that it is a good buy, I must award the championship to China Electric Motor Company.
Disclosure: I have no positions in any stocks mentioned, and no plans to initiate any positions within the next 72 hours..