I've been slowly buying into Ross Stores (NASDAQ:ROST) since mid May. Yesterday the stock was down over 4% and I purchased another block along the way. My average cost basis is now $65.60, about 5% above yesterday's closing price of $62.15.
On Tuesday this week, Sterne Agee downgraded the stock to "neutral" from "buy" and lowered target price from $81 to $68. The silliness of analysts and Mr. Market are a thing of beauty.
As noted by Dividend Growth Machine in an excellent article published July 15:
With the stock market near an all-time high, it is challenging to find attractively valued investment opportunities.
...
[T]otal revenue grew at a healthy compounded annual growth rate [CAGR] of 10.3% over the past nine years, a period that included a major recession.
...
The EPS growth occurred at a 23.8% CAGR, which is higher than the growth in total earnings. This resulted from a successful stock buyback program that reduced the total share count by an impressive 28.2% over a span of nine years.
...
The company is classified as a Dividend Contender on David Fish's Dividend Champions, Contenders, and Challengers list, having increased its dividend for 20 consecutive years. Even more impressive is the fact that Ross Stores is the only company that has increased its dividend by at least 12% each year for the past 15 years (according to data compiled by Robert Allan Schwartz). The most recent dividend increase was 17.6%, announced on February 27, 2014.
In the comments section of the same article, SA member Sum02006 comments: "The 15-year FASTgraph of ROST is a thing of beauty."
I deeply agree: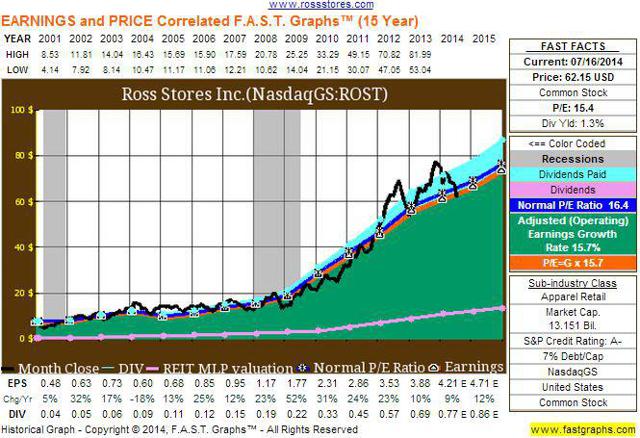 The graph shows that ROST is back to "fair value" (orange line) based on 15 years of returns.
The dividend is puny at 1.3% -- clearly the story is the CAGR on the dividend itself. Again, the 15 year results of this amazing growth are deeply impressive at 23% annualized return with reinvested dividends: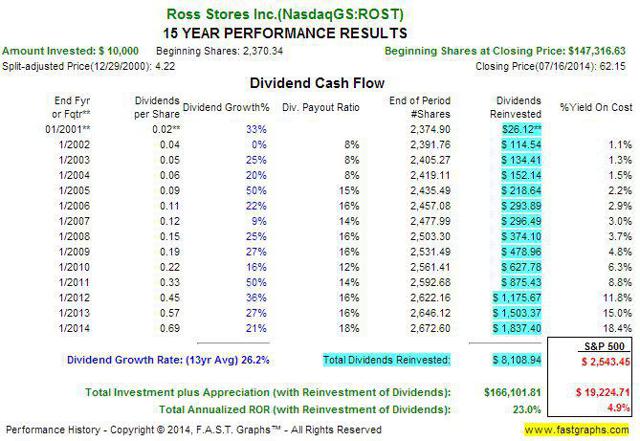 The seven year (last five years plus estimated current and next year) FAST Graph is equally encouraging. The stock is sitting at it's average 15.4 PE and below fair value.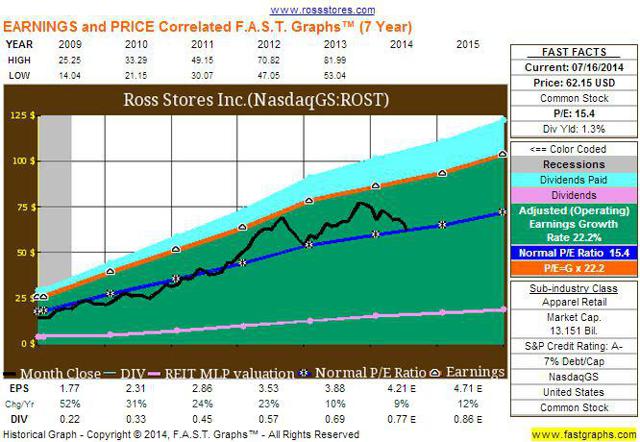 My position in ROST is full and represents slot #10 in my top ten holdings. I will be watching today to see if it continues to slip. Should it drop another 2%-3%, I will likely buy a final tranche.
Disclosure: The author is long ROST.