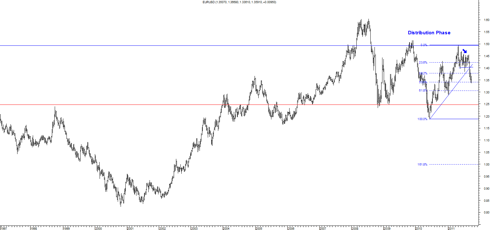 Following chart is from 1997
1.24 and 1.50 is the broad range for EURUSD since 2007 .
Few Exceptions : March 2008 saw extreme buying euphoria taking it up to 1.60. May 2010 saw extreme panic situation taking it down to 1.19
Currently taken support at 1.3410 which is exact 50 per retracement zone taking in the current rise from 1.19 to 1.49.
Althought the backbone seems to be broken and Euro is overall facing a sell-off situation, selling in short term  not advised as bounce back seems likely owing to the sharpness of fall.
Selling advised between 1.40-1.41 with stop loss at 1.45 and a target of 1.30