The yield on the 10-Year has been below its 200-day simple moving average since May 5th and this support is 3.090. This week's value level is 3.142 with my annual pivot at 2.999 and the second annual pivot at 2.813. Gold is trading at a new all time high this morning with this month's risky level at $1443.5. Crude oil traded to a new 52-week high above $90 per barrel. The euro is trading around my quarterly pivot at 1.3318. A close on the Dow Industrials above its November 5th high at 11,444.08 generates another Dow Theory Buy Signal, but this week's risky level is 11,440. A close above 1228.74 SPX violates the 61.8% Fibonacci Retracement of the decline from October 2007 into March 2009. This week's risky level's / pivots are 1236.2, SPX, 2662 NASDAQ, 5110 Transports, 758.57 Russell 2000 and 420.81 SOX.
10-Year Note
– (2.941) Daily, weekly and semiannual value levels are 3.082, 3.142 and 3.479 with my annual pivot at 2.999, and annual risky level at 2.813, and quarterly, semiannual and monthly risky levels at 2.265, 2.249 and 1.949.
Courtesy of Thomson / Reuters
Comex Gold –
($1424.1) Quarterly, semiannual and annual value levels are $1306.4, $1260.8, $1218.7 and $1115.2 with daily and weekly pivots at $1408.0 and $1400.5, and monthly risky level at $1443.5.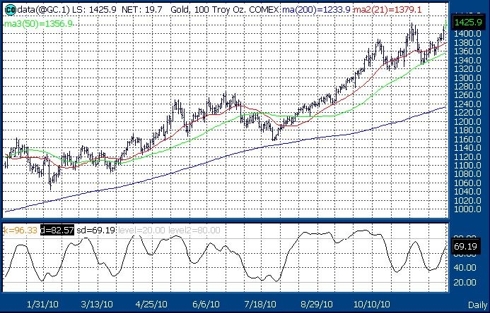 Courtesy of Thomson / Reuters
Nymex Crude Oil
–
($88.84) Semiannual, annual and monthly value levels are $83.94, $77.05 and $75.50 with a weekly pivot at $86.30, and daily, semiannual and annual risky levels at $91.66, $96.53 and $97.29.
Courtesy of Thomson / Reuters
The Euro –
(1.3302) Daily and monthly value levels are 1.3079 and 1.2500 with my quarterly pivot at 1.3318, and Weekly and semiannual risky levels at 1.3473 and 1.4733.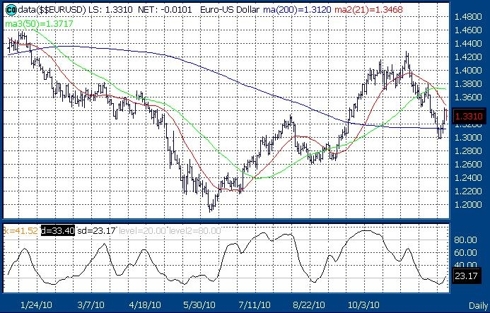 Courtesy of Thomson / Reuters
Daily Dow:
(11,362) Semiannual, annual, monthly and quarterly value levels are 11,212, 10,558, 10,379, 10,325 and 8,523 with annual and semiannual pivots at 11,235 and 11,296, and daily and weekly risky levels at 11,422 and 11,440.
Courtesy of Thomson / Reuters

Data from the FHFA shows a declining trend in Serious Delinquent Mortgages through September 2010. The numbers remain elevated however.
That's today's Four in Four. Have a great day.
Richard Suttmeier
Chief Market Strategist
ValuEngine.com
(800) 381-5576
Send your comments and questions to
Rsuttmeier@Gmail.com
.
For more information on our products and services visit
www.ValuEngine.com
As Chief Market Strategist at ValuEngine Inc, my research is published regularly on the website
www.ValuEngine.com
.
 I have daily, weekly, monthly, and quarterly newsletters available that track a variety of equity and other data parameters as well as my most up-to-date analysis of world markets. My newest products include a weekly ETF newsletter as well as the ValuTrader Model Portfolio newsletter. You can go
HERE
to review sample issues and find out more about my research.
"I Hold No Positions in the Stocks I Cover."
Disclosure:
I have no positions in any stocks mentioned, and no plans to initiate any positions within the next 72 hours.