According to the latest Fed Beige Book, economic activity continued to expand moderately from November through December, but residential real estate remained weak with new home construction slow across all Districts. Nonresidential construction also remained weak. Retailers and manufacturers reported that costs were rising, while labor markets are starting to improve in most Districts. In some Districts construction-related manufacturers continued to report considerable weakness with makers of wood products reporting very soft demand.
The tone was generally cautious with improving economic conditions in 2011, but not strong growth. There is no longer the talk about a possible double-dip. My conclusion remains the same. Economic growth on Main Street USA depends upon construction, both homebuilding and nonresidential. Without this turnaround job creation will remain anemic!
The AAII Central Florida Chapter Presents
"The Death of Buy and Hold, the Rise of Buy and Trade" by Richard Suttmeier
Wednesday, January 19, 2011
6:30 - 7:00 p.m. Registration / Refreshments
University Club of Winter Park
Contact Information – aaiichapter_centralflorida@yahoo.com
Yesterday I predicted that the major equity averages would rally and straddle this week's pivots / risky levels at 11,714 Dow, 1279.8 SPX, 2737 NASDAQ, 5308 Dow Transports and 818.09 Russell 2000.
The Dow and SPX traded above their levels and the NASDAQ closed at 2737.
The major equity averages still straddle quarterly value levels, pivots and risky levels favoring a reversal-oriented first quarter – 11,395 Dow, 1162.5 SPX,
2853 NASDAQ
, 4671 Transports and 765.50 Russell 2000. The NASDAQ has the only quarterly risky level, which is the target if all weekly risky levels become pivots.
The US Treasury 10-Year yield has a weekly value level at 3.636 with the 50-day simple moving averages at 3.079. Wednesday's 10-Year auction was strong at 3.388 with a 3.3 bid to cover and 54% going to Indirect bidders, which includes foreign Central Banks. Comex gold is trading between my annual value level at $1356.5 and my weekly risky level at $1396.2. Nymex crude oil is trying to trade above its January 3rd high at $92.58 with this week's pivot at $91.10. The euro moved back above its 200-day at 1.3070 with my quarterly risky level at 1.3227. The Dow set a new high for the move at 11.782, above this week's pivot at 11,714.
10-Year Note
– (3.355) Daily, weekly, annual and semiannual value levels are 3.439, 3.636, 3.791 and 4.268. Annual, semiannual and monthly risky levels are 2.690, 2.441, 2.322 and 2.150.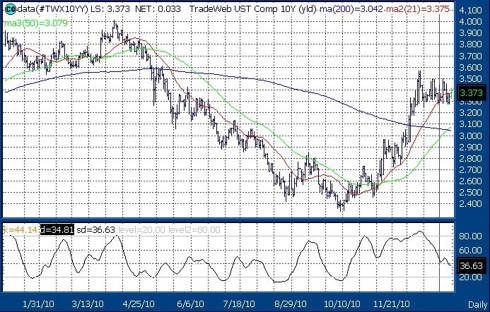 Courtesy of Thomson / Reuters
Comex Gold –
($1385.8) Annual, daily, semiannual and annual value levels are $1356.5, $1342.3, $1300.6 and $1187.2 with a weekly risky level at $1396.2. Monthly, quarterly and semiannual risky levels are $1439.0, $1441.7 and $1452.6.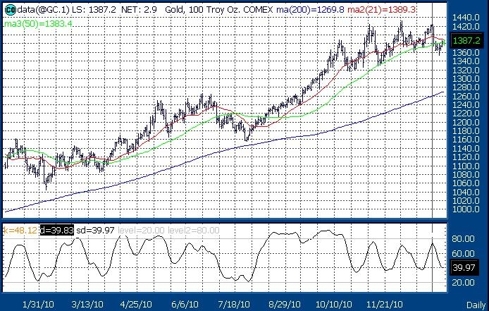 Courtesy of Thomson / Reuters
Nymex Crude Oil
–
($91.86) Semiannual and monthly value levels are $87.52 and $75.74 with daily and weekly pivots at $89.15 and $91.10. Weekly closes above $87.52 targets annual, semiannual and quarterly risky levels at $99.91, $101.92, $107.14 and $110.87.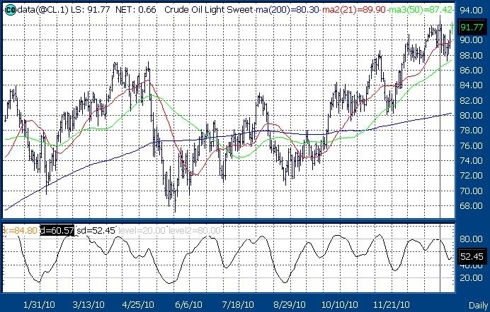 Courtesy of Thomson / Reuters
The Euro –
(1.3131) Daily, monthly and weekly value levels are 1.2820, 1.2805 and 1.2773 with quarterly risky level at 1.3227. Semiannual and annual risky levels are 1.4624, 1.4989, 1.6367 and 1.7312.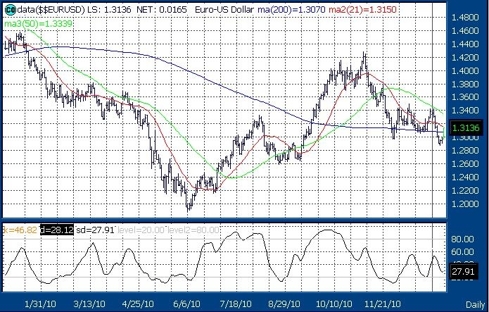 Courtesy of Thomson / Reuters
Daily Dow: (11,755)Annual, quarterly, semiannual, monthly and semiannual value levels are 11,491, 11,395, 10,959, 10,427 and 9,449 with a weekly pivot at 11,714, and daily and annual risky levels at 11,817 and 13,890.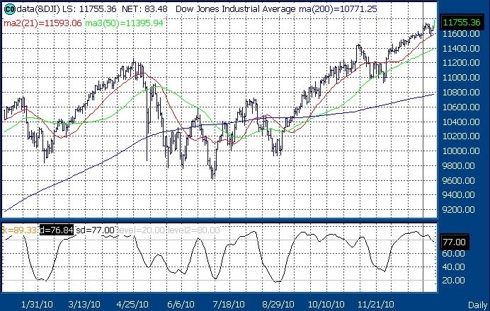 Courtesy of Thomson / Reuters
ValuEngine shows all 16 sectors overvalued with only 35.1% of all stocks undervalued. This continues the "Valuation Warning" for the stock market.
That's today's Four in Four. Have a great day.
Richard Suttmeier
Chief Market Strategist
ValuEngine.com, (800) 381-5576
Send your comments and questions to
Rsuttmeier@Gmail.com
.
For more information on our products and services visit
www.ValuEngine.com
As Chief Market Strategist at ValuEngine Inc, my research is published regularly on the website
www.ValuEngine.com
.
 I have daily, weekly, monthly, and quarterly newsletters available that track a variety of equity and other data parameters as well as my most up-to-date analysis of world markets. My newest products include a weekly ETF newsletter as well as the ValuTrader Model Portfolio newsletter. You can go
HERE
to review sample issues and find out more about my research.
"I Hold No Positions in the Stocks I Cover."
Disclosure:
I have no positions in any stocks mentioned, and no plans to initiate any positions within the next 72 hours.