Reviewing My Number One Theme for 2011 -
Home Prices will resume a decline that began in mid-2006.
We had the home buyer tax credits expire in mid-2010, and government sponsored mortgage modifications provided limited help. In 2011 we face continued foreclosure issues including questionable documentation, and banks have a record high Other Real Estate Owned (OTCPK:OREO). OREO is up to $53.2 billion at the end of the third quarter, up 338.2% since the end of 2007. Depressed home sales are being sold at a 30% to 35% discount, which reduces property appraisals at the county level. Home builders will have to compete with these lower prices and we need a mortgage modification program for all Americans, not just those at risk of losing their homes. QE2 is not working and US Treasury yields are higher causing mortgage rates to rise. "The Great Credit Crunch" began with housing, and that foundation needs repair before Main Street can recover with sustainable job creation.
The S&P / Case-Shiller Home Price Index – Points to lower home prices through November.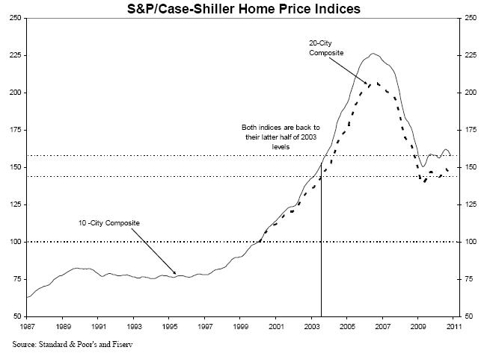 The 20-City Composite is down 1.6% year over year in November and down 1.0% sequentially.
The 20-City Composite is up only 3.3% from its April 2009 low, but remains about 50% above where it began in January 2000.
Atlanta, Charlotte, Detroit, Las Vegas, Miami, Portland (NYSE:OR), Seattle and Tampa hit new lows, below the levels set in April 2009.
The Federal Housing Finance Agency (FHFA) also shows a year-over-year house price decline of 4.3% in November.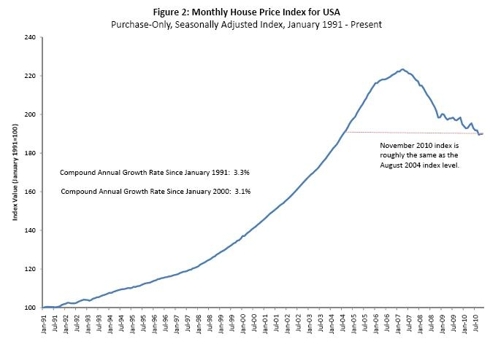 House Prices will continue to decline
as long as the Conference Board's reading on Consumer Confidence remains weak.
The Conference Board's reading on Consumer Confidence jumped to 60.6 in January from 53.3 in December, but keep in mind that the neutral zone for this measure is 90 to 120, so consumer confidence remains extremely weak. Show me readings between 90 and 120 and home prices will stabilize.
Stocks will peak this week, or will confirm recent highs as a peak over the next few weeks
Stocks remain overvalued fundamentally according to ValuEngine
with 15 of 16 sectors overvalued and only 38.9% of all stocks undervalued. This follows last week's ValuEngine Valuation Warning where just 33.3% of all stocks were undervalued. Below 35% is the warning.
All major averages are extremely overbought on there weekly charts
and my Proprietary Analytics show weekly risky levels at 12,162 Dow, 1333.9 S&P 500, 2805 NASDAQ, 5321 Dow Transports, and 828.86 Russell 2000. There is an 85% chance that the Dow will decline to my annual pivot at 11,491 and the Dow Transports and Russell 2000 ended last week below their annual pivots at 5179 and 784.16 respectively.
10-Year Note
– (3.317) The yield continues to trade in a range set in December – Between 3.568 on December 16
th
and 3.247 set on December 20
th
.
Comex Gold –
($1333.3) Gold is now oversold on its daily chart with daily and semiannual value levels at $1316.1 and $1300.6 with quarterly and annual pivots at $1331.3 and $1356.5. Gold is trending below its 50-day simple moving average now at $1378.5.
Nymex Crude Oil
–
($87.82) Crude oil is now trending below its 50-day simple moving average at $87.96 with the 200-day at $80.48. My semiannual pivot remains at $87.52.
The Euro –
(1.3643) This week's value level is 1.3398 with chart resistance at 1.3786 as the euro becomes overbought on its daily chart.
Daily Dow -
(11,977) The daily chart is overbought after setting a new high for the move at 11,985.97 Tuesday morning. This week's risky level is 12,162. My annual value level remains at 11,491.
There are negative divergences for the S&P 500, NASDAQ, Transports, and Russell 2000.
Dow Transports are flirting with a close below its 50-day simple moving average at 5047.
That's today's Four in Four. Have a great day.
Richard Suttmeier
Chief Market Strategist
ValuEngine.com, (800) 381-5576
Send your comments and questions to
Rsuttmeier@Gmail.com
.
For more information on our products and services visit
www.ValuEngine.com
As Chief Market Strategist at ValuEngine Inc, my research is published regularly on the website
www.ValuEngine.com
.
 I have daily, weekly, monthly, and quarterly newsletters available that track a variety of equity and other data parameters as well as my most up-to-date analysis of world markets. My newest products include a weekly ETF newsletter as well as the ValuTrader Model Portfolio newsletter. You can go
HERE
to review sample issues and find out more about my research.
"I Hold No Positions in the Stocks I Cover."