The yield on the 30-Year bond tested 4.66 on Wednesday a new high during the QE2 monetary policy action from the Federal Reserve. In figuring fair values for individual stocks we are benefiting from better than expected twelve month trialing EPS and raised guidance from Wall Street for twelve month forward EPS. This is being trumped by the higher bond yield as stocks become more overvalued, and as stocks are on the cusp of a ValuEngine Valuation Warning.
When you look at the technicals for the Dow Industrial Average, you can make the case for higher stock prices as the monthly, weekly and daily charts are overbought. With stocks overvalued and overbought I use my proprietary analytics to access the risk / reward by blending together the profiles for the major averages; the Dow Jones Industrial Average, the S&P 500, the NASDAQ, Dow Transports and Russell 2000. The most notable negative divergences come from the NASDAQ, Transports and Russell 2000, which lag their Mid-January highs, which is when we had a ValuEngine Valuation Warning.
The Dow Industrial Average should test my monthly value level at 11,759 this month as weekly risky levels form above 12,000. Today's risky level is 12,078. In March we will likely have a monthly risky level around 12,600. If we have a weekly close below 11,759, the risk is to my annual value level at 11,491.
The S&P 500 tested this week's risky level at 1308.5 and a monthly risky level is projected at about 1365.0 in March. The downside is to my quarterly value level at 1262.5.
The NASDAQ is shy of this week's risky level at 2769 with a quarterly risky level at 2853. This month's value level is 2611.
Dow Transports tested 5143 on Tuesday between weekly and annual pivots at 5179. On Wednesday Transports slumped 99 points to 5027 with this month's value level at 4962. My quarterly value level is 4671 with the January 18th high at 5256.80.
The Russell 2000 has been shy of this week's risky level at 809.88 with the January 14th high at 807.89. We have an annual pivot at 784.16 and quarterly value level at 765.50.
I hope this explains why I can't be overly bullish or bearish in the current market environment.
We are close to another ValuEngine Valuation Warning -
16 of 16 sectors overvalued and only 35.17% of all stocks undervalued. On December 19th we had a ValuEngine Valuation Warning with 33.33% of all stocks undervalued, below the important 35% threshold, and all 16 sectors were overvalued.
The US Treasury 10-Year Yield – (3.491)The trading range set in December remains in place between 3.568 and 3.247. Today's risky level is 3.401.
Comex gold – ($1332.1) Daily, weekly and semiannual value levels are $1324.5, $1319.7 and $1300.6 with quarterly and annual pivots at $1331.3 and $1356.5 and monthly, quarterly and semiannual risky levels at $1412.4, $1441.7 and $1452.6. The quarterly and annual pivots at $1331.3 and $1356.5 have gold in a choppy near term pattern.
Nymex crude oil – ($90.86) Daily and semiannual value levels are $88.74 and $87.52 with weekly and monthly pivots at $89.91 and $91.83 and annual risky levels at $99.91 and $101.92. Weekly and monthly pivots at $89.91 and $91.83 have prevented a break-out above $92.00 per barrel.
The euro – (1.3806) Weekly and quarterly value levels are 1.3265 and 1.3227 with a daily pivot at 1.3827 and monthly risky level at 1.4225. The strong euro against the dollar has helped US stocks continue an upward bias.
The Dow Transportation Average
(5026.67) provides a downside warning losing 99 points on Wednesday, a move ignored by the financial media. Only one component rose and that's
Overseas Shipholding (NYSE:OSG)
which is my "stock of the week" and the only Transportation stock in the ValuTrader model portfolio. It seems to me that Transports got hurt by the double-whammy of the huge snow storm in the USA and by the unrest in Egypt. OSG benefits if the conflict in the middle-east closes the Suez Cannel.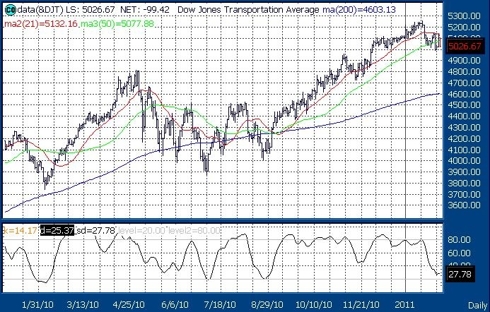 Chart Courtesy of Thomson / Reuters

That's today's Four in Four. Have a great day.
Richard Suttmeier
Chief Market Strategist
ValuEngine.com, (800) 381-5576
Send your comments and questions to
Rsuttmeier@Gmail.com
.
For more information on our products and services visit
www.ValuEngine.com
As Chief Market Strategist at ValuEngine Inc, my research is published regularly on the website
www.ValuEngine.com
.
 I have daily, weekly, monthly, and quarterly newsletters available that track a variety of equity and other data parameters as well as my most up-to-date analysis of world markets. My newest products include a weekly ETF newsletter as well as the ValuTrader Model Portfolio newsletter. You can go
HERE
to review sample issues and find out more about my research.
"I Hold No Positions in the Stocks I Cover."