Japan's nuclear nightmare will stall global growth, which begins with housing and banking in the United States. With the world's third largest economy slowed to a crawl, the impact will be felt around the globe. Here in the United States, I worry about is the housing market and the banking system where problems have been kicked down the road since 2008. The Fed says that the housing market remains depressed! The scars of "The Great Credit Crunch" could be opened as the economic impact from Japan slows business activities here in the United States.
The NAHB Housing Market Index Rose By a Point to 17 -
The National Association of Home Builders Housing Market Index has been 20 or lower since September 2007 after being as high as 72 in June 2005, when I predicted that housing stocks were extremely overvalued and overbought and long overdue for a bear market.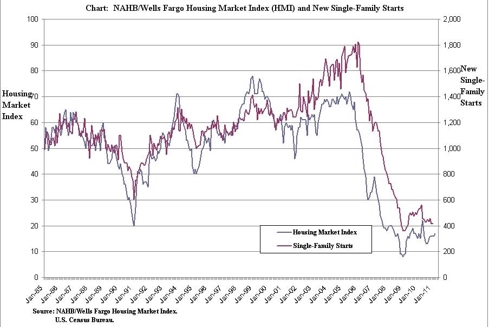 In March the HMI inched up to 17 from 16 where 50 is the neutral zone so home builders have been in a depressed mood since May 2006 when this index first dropped below 50. Today home builders face the same obstacles talked about in the last several reports; competition from short sales and foreclosures, potential new home buyers' inability to sell existing homes, home appraisals falling below the costs of new construction, and tough lending standards for both home builders and home buyers.
Economies on Main Street USA depend upon the construction industry, and the housing market is a major component of this. Community banks are reluctant to lend to home builders, as they still have $321.6 billion in Construction & Development loans on the books, where collections are problematic.
The NAHB Tells Congress that the Housing Market Needs Access to Credit
The National Association of Home Builders tried to give a positive spin on the housing market anticipating an improving job market, but hedge that with the fact that builders cannot get construction credit from community banks. Construction & Development Loans (C&D) declined 9.2% or $32.5 billion sequentially in the fourth quarter and down 28.7% year-over-year. This is a slight acceleration of this component of Commercial Real Estate loans, which is a natural occurrence as the total is down to $321.6 billion. Construction & Development Loans (C&D) are down $307.4 billion since the end of 2007, or 48.9%. Back between the end of 1988 and the end of 1992 this category of Commercial Real Estate Loans declined 54.7%, and "The Great Credit Crunch" we are in today will likely exceed that percentage.
The NAHB is worried that this contraction in construction lending will force more small builders out of business resulting in more job losses industry wide and across the country. I have been saying that construction jobs are the most significant catalyst for job growth on Main Street USA. Keep in mind that housing represents about 15% of our nation's GDP. The NAHB told Congress that residential construction jobs declined by 1.4 million since April 2006.
The NAHB urged Congress to have a solution to the Fannie and Freddie dilemma as an affordable source of credit for housing, and to preserve the mortgage interest tax deduction, and the capital gain exclusion. Without these protections home prices are likely to continue to decline. The NAHB s worried about raising the down payment to 20%, but I agree with that restriction.
The NAHB is way too optimistic forecasting a modest gain in new home sales of 8% to 347,000 units in 2011 with 516,000 units in 2012.
Bank Failure Friday –
Two private banks were closed by the FDIC last Friday, and one had an extreme overexposure to Commercial Real Estate loans.
·

       
25 banks failed in 2008
·

       
140 banks failed in 2009 with a peak of 50 in the third quarter
·

       
157 banks failed in 2010
·

       
25 banks have failed year to date in 2011
·

       
347 banks have failed since the end of 2007
·

       
I still predict 500 to 800 bank failures in total by the end of 2012 into 2013.
The number of Underwater Mortgages Rose at the end of 2010 - According to CoreLogic approximately 11.1 million households or 23.1% of all mortgages were underwater in the fourth quarter of 2010. Another 2.4 million have only 5% of less equity. Underwater mortgages had declined in the prior three quarters because more homes came off the market because of foreclosures. The total negative equity in the mortgage market rose to $751 billion at the end of 2010 up from $744 in the third quarter. The number one cause of underwater mortgages is lower home values. Home prices hit there lowest point of the crisis in 11 of 20 cities tracked by Case-Shiller in December.
Foreclosure Related Notices Decline, but that is Misleading - Foreclosure filings fell to a 36-month low in February because lenders delayed activities against homeowners due to heightened scrutiny over the way banks are handling home repossessions. Information from RealtyTrac shows foreclosures down 14% in February to 255,101 homes, down 27% year over year.
Lenders repossessed 16% fewer homes in February, down 41% year over year to 64,643 units. Once the procedures are streamlined the pace will pickup as homeowners in default stay longer living in their homes. Meanwhile the backlog of potential foreclosure action and repossessions will grow.
The delay of foreclosure actions will likely delay a housing recovery until 2014 into 2015. Meanwhile home prices should continue to slump as around 5 million homeowners are at least two months behind on their mortgage payments.
Quite often an unexpected event from abroad will divert attention away from key market factors, which can expose old wounds!
Fed Policy Statement Implies that the US Economy is not out of the Woods
The Federal Reserve says that the economic recovery is on firmer ground with an overall gradual improvement in the labor market. The key to the Main Street economy is not out of the woods as investment in nonresidential structures remains weak and the housing market continues to be depressed.
The Fed recognizes that commodity prices are putting upward pressure on inflation, but they say that its temporary. They recognize the sharp run-up in energy costs caused by supply concerns, but have blinders on saying that longer-term inflation expectations is stable with underlying inflation still subdued. This theory will be put to a test with PPI released Wednesday and CPI on Thursday. The FOMC still believes that Americans do not need to eat and buy gasoline.
The Fed will continue to expand their balance sheet via the $600 billion QE2, which continues through June and they will continue to buy additional US Treasuries to replace maturing mortgage-backed securities. In addition they are continuing to keep the federal funds rate at zero to 0.25% for an extended period which began December 16, 2008.
10-Year Note
– (3.323) This yield declined to 3.203 on a continued flight to quality. The 200-day simple moving average lines up with my monthly risky level at 3.016 and 3.002.
With the rebound in Japanese stocks overnight this yield is up to 3.351 this morning.
Comex Gold –
($1396.9) The 50-day simple moving average was tested at Tuesday's low at $1380.2. My annual value level is $1356.5 with my weekly pivot at $1404.1, and daily, monthly and quarterly pivots at $1420.1, $1437.7 and $1441.7, and semiannual risky level at $1452.6.
Nymex Crude Oil
–
($97.50) Tested $96.71 on Tuesday versus my monthly value level at $96.43. My annual pivots at $99.91 and $101.92 have been strong magnets. My monthly value level is $96.43 with daily, semiannual and quarterly risky levels at $102.18, $107.14 and $110.87.
The Euro –
(1.3991) My quarterly value level is 1.3227 with a daily pivot at 1.3913, and weekly, semiannual and monthly risky levels at 1.4089, 1.4624 and 1.4637.
All daily charts for the major equity averages are negative – trading below 50-day simple moving averages with declining daily momentum (12x3x3 daily slow stochastic). There are no oversold measures as yet. Tuesday's low was 11,696 and Monday's low was 11,897.
The weekly chart for the Dow Industrial Average remains overbought, but will join the other major averages with momentum (12x3x3 weekly slow stochastic) declining below 8.0 given a close on Friday below 11,856. This will confirm the Friday, February 18th high at 12,391.29 as a cycle high. My prediction has been a March high below 10,600.
Courtesy of Thomson / Reuters
While we are no longer under a ValuEngine Valuation Warning, stocks remain overvalued with 53.4% of all stocks overvalued. This measure needs to fall below 35% to call stocks cheap. Fifteen of Sixteen sectors remain overvalued, but now only one by double-digit percentage.
Key Levels for the Major Equity Averages
The Dow Industrial Average (11,855) My annual value level is 11,491 with a daily pivot at 11,835, and weekly and monthly risky levels at 12,400 and 12,741.
The S&P 500 (1281.9) My quarterly and annual value levels are 1262.5 and 1210.7 with a daily pivot at 1276.3, and weekly and monthly risky levels at 1327.3 and 1381.3. A weekly close below 1284 shifts the weekly chart profile to negative.
The NASDAQ (2667) My daily value level is 2646 with weekly, quarterly and monthly risky levels at 2753, 2853 and 2926. Semiannual and annual value levels are 2363, 2335 and 2172.
The NASDAQ 100 (NDX) (2260) My daily value level is 2238 with weekly, quarterly, and monthly risky levels at 2333, 2438 and 2499. Semiannual value levels are 2006.8 and 1927.6.
Dow Transports (5020) My quarterly value level is 4671 with weekly and daily pivots at 4995 and 5040 with my annual pivot at 5179.
The Russell 2000 (791.33) My quarterly value level is 765.50 with daily and annual pivots at 785.84 and 784.16, and a weekly pivot at 805.37, and monthly risky level at 850.79. Semiannual value levels are 631.62 and 567.74.
The Philadelphia Semiconductor Index (SOX) (421.79) My daily value level is 404.53 with weekly, monthly and quarterly risky levels at 447.74, 453.89 and 465.93. Semiannual and annual value levels are 296.89, 270.98 and 259.30.
Richard Suttmeier
Chief Market Strategist
ValuEngine.com, (800) 381-5576
Send your comments and questions to
Rsuttmeier@Gmail.com
.
For more information on our products and services visit
www.ValuEngine.com
As Chief Market Strategist at ValuEngine Inc, my research is published regularly on the website
www.ValuEngine.com
.
 I have daily, weekly, monthly, and quarterly newsletters available that track a variety of equity and other data parameters as well as my most up-to-date analysis of world markets. My newest products include a weekly ETF newsletter as well as the ValuTrader Model Portfolio newsletter. You can go
HERE
to review sample issues and find out more about my research.
"I Hold No Positions in the Stocks I Cover."