Sign of a Slowing Global Economy as Copper Breaks below 200-day
Please Note: Blog posts are not selected, edited or screened by Seeking Alpha editors.
Banks, Homebuilders, chartest
Seeking Alpha Analyst Since 2006
I am the Founder & CEO at Global Market Consultants, Ltd. I consider myself as a Financial Engineer with an engineering degree from Georgia Tech and a Master of Science degree from Brooklyn Poly. In 1972 I began my career in the financial services industry trading U.S. Treasury securities in the primary dealer community. I became the first long bond trader for Bache in 1978, and formed the Government Bond Department at LF Rothschild in 1981, helping establish that firm as a primary dealer in 1986. This experience gave me the insights to be an expert on monetary policy, which I feature in my newsletters, and market commentary. I formed Global Market Consultants Ltd at the end of 1988 and expanded on my analysis to include proprietary analytics. While operating Global Market Consultants I was the U.S. Treasury Strategist at Smith Barney 1991 through 1995, was Chief Financial Strategist at William R. Hough in St. Petersburg, Florida 1997 through 1999, and was Chief Market Strategist at Joseph Stevens 1999 into 2008. I began covering U.S. equities in 1997 and began to use ValuEngine as my stock screening tool in 2002 before joining them as Chief Market Strategist between September 2008 and November 2014. I was the Chief Market Strategist at Niagara International Capital Limited between December 2009 and December 2014. In 2005 through 2007 I wrote columns on RealMoney.com and authored TheStreet.com Technology Report. My unique coverage called for the housing bubble to pop in 2005 and for regional banks to collapse in 2006 and early-2007. This is when my proprietary analytics became known as value levels at which to buy on weakness and risky levels at which to sell on strength. I became an Expert Contributor for TheStreet.com in April 2012 and currently write one or two stories a day covering subjects such as: The housing market, community and regional banks, momentum stocks, earnings profiles both before companies report quarterly results and provide scorecards after reporting results. Many of my stories we include moving averages, momentum readings, analysts' earnings estimates, and value levels and risky levels. Over the years I made frequent appearances on financial TV beginning in 1993 on CNBC covering the U.S. Treasury auctions and as a substitute for John Murphy on his segment called 'Tech Talk'. I also occasionally appeared on CNN and Bloomberg. On almost every holiday I appeared for an hour covering stocks on a call-in / email-the-expert 'Talking Stocks' show on CNNfn. In 2002 I had my own show on Yahoo Finance TV called, 'Traders' Club with Richard Suttmeier'. When Fox Business began in late-2007 I was a frequent guest on 'Money for Breakfast'. I also made appearances on Reuters TV, Yahoo Finance Breakout and BNN in Toronto. In recent years I shifted my focus to making presentations to various investor groups such as: MBA students at the University of Florida and South Florida, The American Association of Individual Investors, Wells Fargo Advisors, The Executive Form at the National Arts Club in NYC, Investors Roundtable of Wilmington NC, The Market Technicians Association, The Information Management Network when they cover Florida Banks in Ft Lauderdale, and the University of Tampa Investment Club. I was president of the Society for the Investigation of Recurring Events in NYC from 2000 into 2009. My background began on Long Island, New York. I graduated from Bay Shore High School in 1962, and was a member of the Honor Society, Golf Team, Math Team and Band. I graduated from Georgia Tech in Atlanta with a Bachelor of Industrial Engineering Degree in 1966, and was a member of Chi Phi Fraternity, the freshmen Golf Team, and was the captain of the Bowling team. I won the South East Regional Bowling Tournament in 1964 and won the National Intercollegiate Bowling Championship in the Doubles Event that same year. I graduated from Brooklyn Poly in 1970 with a Master of Science in Operations Research, Systems Analysis. My first job out of Georgia Tech was with Grumman Aerospace on Long Island 1966 through 1970 with project assignments on the Lunar Module and F-14 Tomcat Fighter Jet contract proposal. I was with Bank of New York in 1971, as the Senior Systems Analyst for computer applications for the Bank's International Division. When I shifted my to Wall Street In 1972 I became a U.S. Government securities trader at Briggs Schaedle, a primary dealer where my father was Vice Chairman and my brother was Sales Manager. In 1977 I joined Loab Rhodes as a U.S. Treasury trader. Then my career advanced as noted above. I have been married to Linda since June 1969 and we are the parents of Stephen and Jason Suttmeier. Stephen has been married to Jennifer since 2004 and we have a granddaughter Emily and a grandson Robert. We have been living in Land O' Lakes, Florida with Jason and his partner James since June 2009.
Copper gapped lower at Wednesday's open below its 200-day simple moving average. This is a significant negative technical as copper had been above its 200-day since last July. The major equity averages began the day straddling this week's pivots and risky levels.
The Dow Industrial Average remained shy of its weekly risky level at 12,794. The same was true for the Russell 2000 with its weekly risky level at 868.01 and the SOX versus its weekly risky level at 448.29. The NASDAQ was above its weekly pivot at 2856, but ended the day below it. The S&P 500 and Dow Transports also reversed back below their weekly pivots at 1352.3 and 5517 respectively. The yield on the 10-Year note declined to 3.151 after the auction of $24 billion in 10-Year notes. Gold failed at my quarterly pivot at $1523.7 on Wednesday, and is trading below $1500.0 this morning. Crude oil fell from $104.60 to below my annual pivots at $99.91 and $101.92 on Wednesday. The euro broke below its 50-day simple moving average at 1.4299.
The Copper Chart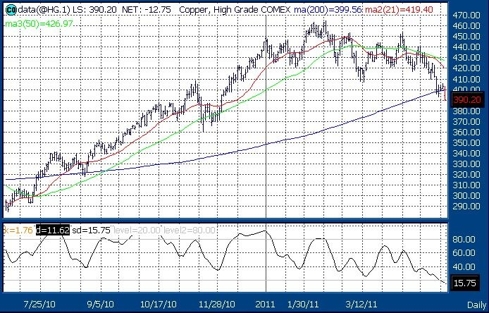 Courtesy of Thomson / Reuters
10-Year Note
– (3.164) Still trading between my weekly value level is 3.304 and today's risky level at 3.103, and the 200-day simple moving average at 3.070.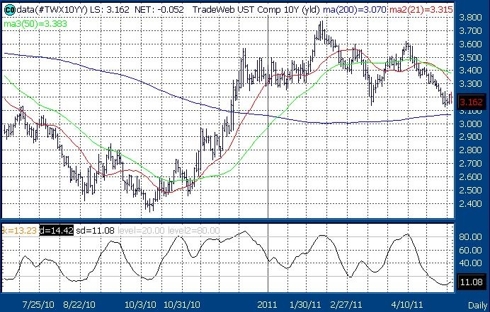 Courtesy of Thomson / Reuters
Comex Gold –
($1502.2) Daily and semiannual value levels are $1459.6 and $1452.6 with my quarterly pivot at $1523.7and weekly risky level at $1536.8.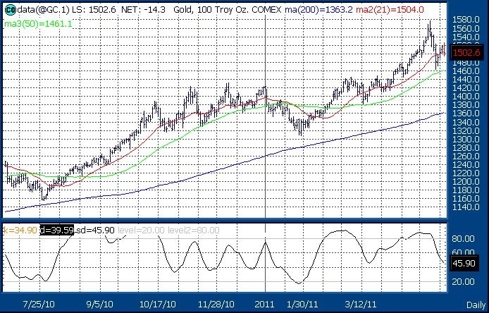 Courtesy of Thomson / Reuters
Nymex Crude Oil
–
($99.09) My daily value level is $94.03 with my annual pivots at $99.91 and $101.92 with my semiannual risky level at $107.14.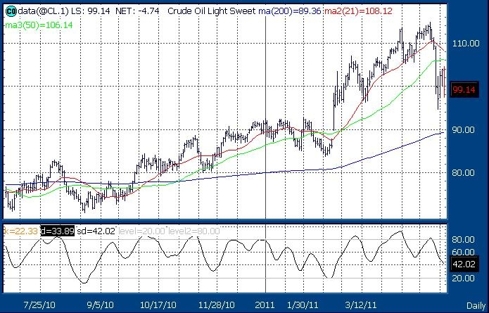 Courtesy of Thomson / Reuters
The Euro –
(1.4201) My daily pivot is 1.4193 with my quarterly pivot at 1.4308, and semiannual risky level at 1.4624.
The euro is now below its 50-day simple moving average at 1.4299.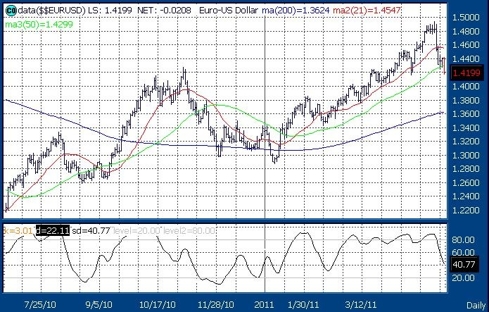 Courtesy of Thomson / Reuters
Daily Dow: (12,630) The five-week modified moving average is 12,427 with a daily pivot at 12,582, and weekly risky level at 12,794. My annual value level lags at 11,491. A close below the 21-day simple moving average at 12,548 would be bearish.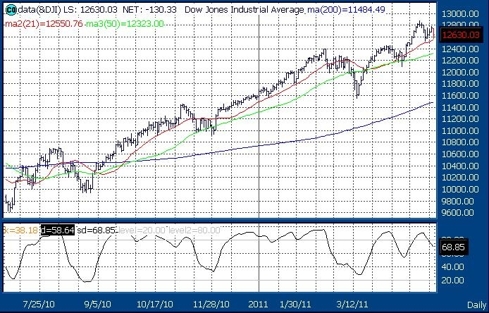 Courtesy of Thomson / Reuters
S&P 500
–
(1342.1) YTD high – 1370.58 on 5/2. My daily value level is 1331.5 with a weekly pivot at 1352.3, and the October 2007 high at 1576.06. The 21-day is 1337.8.
NASDAQ
–
(2845) Multi-year high – 2887.75 on 5/2. My daily value level is 2811 with a weekly pivot at 2856, and the May 2
nd
high at 2887.75. The 21-day is 2816.
NASDAQ 100 (NDX)
–
(2393) Multi-year high – 2417.83 on 5/2. Daily and weekly value levels are 2381 and 2380 with the May 2
nd
high at 2417.83. The 21-day is 2367.
Dow Transports
–
(5457) All time high – 5565.78 on 5/2. My annual value level is 5179 with daily and weekly pivots at 5422 and 5517 with the May 2
nd
high at 5565.78.  The 21-day is 5380.
Russell 2000
–
(840.66) All time high – 868.57 on 5/2. Daily and annual value levels are 817.84 and 784.16 with weekly and quarterly risky levels at 868.01 and 949.02. The 21-day is 840.62.
The SOX
– (440.89) My daily value level is 434.20 with weekly and quarterly risky levels at 448.29 and 498.75.
The SOX is well below its July 2007 high at 549.39.
The 21-day is 439.36.
Richard Suttmeier Speaking Event – The Executive Forum at the National Arts Club in NYC
I will be discussing why "The Great Credit Crunch" continues. The event is on Tuesday, May 17th at The National Arts Club, 15 Gramercy Park South (E. 20th St.) Cocktails 5:45 PM, Dinner 6:30 PM, Presentation 7:30 PM. Use this link to register -
http://www.execforumnyu.org/events.html
Definition of MOJO –
This is my term for technical momentum. I use what's called "12x3x3 slow stochastic readings" from daily, weekly and monthly charts. The scale is zero to 10.0 where above 8.0 is overbought and below 2.0 is oversold.
Richard Suttmeier
Chief Market Strategist
ValuEngine.com
(800) 381-5576
Send your comments and questions to
Rsuttmeier@Gmail.com
.
For more information on our products and services visit
www.ValuEngine.com
As Chief Market Strategist at ValuEngine Inc, my research is published regularly on the website
www.ValuEngine.com
.
 I have daily, weekly, monthly, and quarterly newsletters available that track a variety of equity and other data parameters as well as my most up-to-date analysis of world markets. My newest products include a weekly ETF newsletter as well as the ValuTrader Model Portfolio newsletter. You can go to
http://www.valuengine.com/nl/mainnl
to review sample issues and find out more about my research.
"I Hold No Positions in the Stocks I Cover."
Seeking Alpha's Disclosure: Past performance is no guarantee of future results. No recommendation or advice is being given as to whether any investment is suitable for a particular investor. Any views or opinions expressed above may not reflect those of Seeking Alpha as a whole. Seeking Alpha is not a licensed securities dealer, broker or US investment adviser or investment bank. Our analysts are third party authors that include both professional investors and individual investors who may not be licensed or certified by any institute or regulatory body.