The President wants big financial firms to pay for "The Great Credit Crunch" in a levy I call, "The Wall Street Greed Tax." Last year was a record for foreclosures, 2010 will be worse. Today is round ten of the Dow Title Bout between the Bull and the Bear. The weak groups so far this year.
President Obama wants a "Wall Street Greed Tax." The president proclaims, "We want our money back" when it comes to the estimated $117 billion in TARP losses. He wants to levy the "Wall Street Greed Tax" on all financial companies including; the big banks, insurance companies and foreign branches of global banks, and the broker / dealer community. The tax will total $90 billion over a ten year period.
The unintended consequences include FDIC insured financial institutions that have assets around $50 billion, as these banks may opt to shrink their balance sheets to below that threshold.
In addition the institutions paying the big bonuses will likely discourage risk trading, which is an important component of the underlying features of Wall Street greed. This could reduce market liquidity.
Small community banks are not affected by the "Wall Street Greed Tax" even though nearly 3000 thousand of them are overexposed to C&D and CRE loans, and with 55 community banks reneging on making their TARP dividend payments. Most of the 167 banks that have failed since the end of 2007 are community and regional banks.
The "Wall Street Greed Tax" represents 0.15 percent on the liabilities of the large financial institutions, those with $50 billion of assets, which is estimated at 50 companies.
2009 was a record year for Foreclosures. This negative trend is expected to continue in 2010 following a record 2.8 million threatened with foreclosure in 2009. Foreclosures were up 21% in 2009 versus 2008. One of the best measures of Main Street woes is the drag on homeowners caused by foreclosures and high unemployment.
As the economy supposedly improves 349,000 households received a foreclosure-related notice in December alone, up 14% from November and 15% year over year. This is in spite of the Home for the Holiday pause. Banks actually repossessed 92,000 homes in December up 19% from November.
This process cascades throughout communities as an empty home is not paying property taxes and causes appraised values to decline straining Main Street, USA. This process is expected to worsen in 2010 with another 3 to 3.5 million homes facing some kind of phase of foreclosure during the year.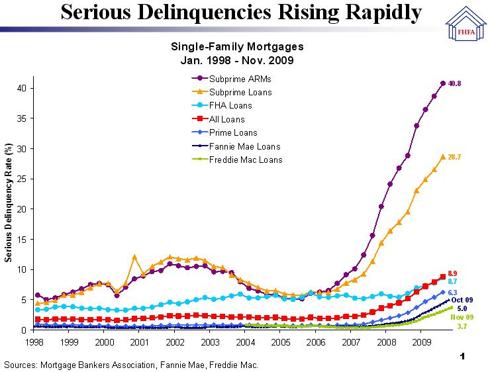 Re-iterating Problems in the Labor Market – The number of employed persons is at the lowest point since 2003. The average duration of unemployment has expanded to 29.1 weeks. The real unemployment rate is at least 17.3%.
Intel Corp (NASDAQ:INTC)
reported a blow-out quarter, but after-hour strength was shy of my monthly risky level at $22.11 as I expected when I profiled the stock in Thursday's ValuEngine Morning Briefing.
Next week I will focus on earnings from several regional banks including: Citigroup, Bank of America, US Bancorp, Wells Fargo, Comerica, Fifth Third Bank, Keycorp, PNC Bank, American Express, Capital One, BB&T, Huntington Bancorp and SunTrust Banks.
The Bull leads the Bear in the Dow Title Bout.
The score stands at 8 to 1 favoring the Bull. My annual support is 10,379 with monthly and annual resistances at 10,997 and 11,235. A knock out bunch by the Bear requires a weekly close below 10,379.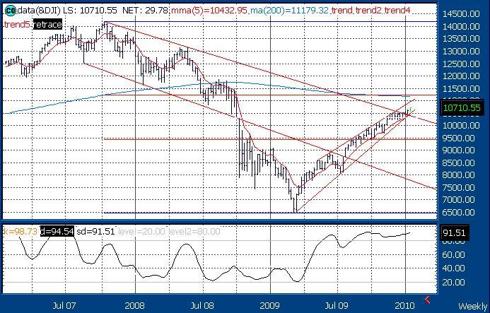 Chart Courtesy of Thomson / Reuters
The weak industries year to date are Semiconductors with the SOX down 0.8% despite Intel's strength, the China 25 Fund (NYSEARCA:FXI) down 0.3%, and the Retail HLDRS (NYSEARCA:RTH) down 0.2%.
Send me your comments and questions to Rsuttmeier@Gmail.com. For more information on our products and services visit
www.ValuEngine.com
That's today's Four in Four. Have a great day.
Check out the latest Forex TV's Markets Review – Live each day at 1:30 PM.
Richard Suttmeier
Chief Market Strategist
As Chief Market Strategist at ValuEngine Inc, my research is published regularly on the website
www.ValuEngine.com
.
 I have daily, weekly, monthly, and quarterly newsletters available that track a variety of equity and other data parameters as well as my most up-to-date analysis of world markets. My newest products include a weekly ETF newsletter as well as the ValuTrader Model Portfolio newsletter. I hope that you will go to
www.ValuEngine.com
and review some of the sample issues of my research.
"I Hold No Positions in the Stocks I Cover."
Disclosure:
No Positions