At the beginning of the year my overall theme was "Main Street Woes Will Trump Wall Street Hype in 2010". I review my top ten predictions for 2010.
"The Great Credit Crunch" will continue in 2010 and through 2012, as Main Street woes trump Wall Street hype. Main Street faces high unemployment, a continuing rise in mortgage delinquencies and another slide in home prices.
As a result the upside for the Dow Industrial Average should be limited to 11,250 to 11,500.  ValuEngine showed ten of eleven sectors overvalued and the weekly chart for the Dow was extremely overbought. When the Dow has a weekly close below 10,375 the risk is to at least 7,500. Since the beginning of the year I refined this to "Dow 8,500 before Dow 11,500." On April 26th the Dow reached 11,258, which was a test of the 200-week simple moving average and the 61.8% Fibonacci Retracement of the rally from the March 6th low towards the October 2007 high. That's a good timing point from which to begin a new Bear Market.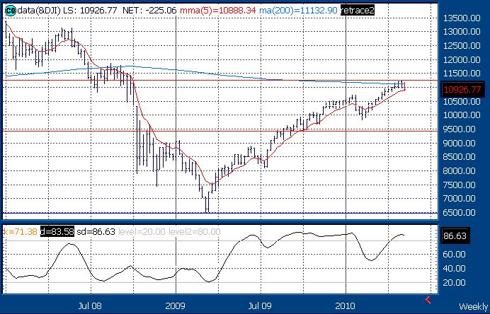 Chart Courtesy of Thomson / Reuters
Richard Suttmeier's Ten Predictions for 2010
Fannie Mae and Freddie Mac will continue to drain taxpayer money as the Treasury provides unlimited lines of credit through 2012. The total cost to date is $125.9 billion, and more is likely needed when the GSEs report their first quarter results soon.
The FDIC will close 150 to 200 banks in 2010 on the way to 500 to 800 by the end of 2012 into 2013. So far in 2010 there have been 64 bank failures in the first four months. At this pace 192 banks will fail this year.
The FDIC will tap its $500 billion line of credit in 2010, as the three year Deposit Insurance Fund prepaid fees of $46 billion will run dry. The Deposit Insurance Fund has been tapped for $15.9 billion year to date versus the $15.33 allocation from pre-paid fees for this year.
Loan Defaults and Foreclosures will continue to rise due to waves of Alt-A mortgage resets and as unemployment pulls prime mortgages into default. The data is not yet available for the first quarter of 2010.
The FDIC List of Problem Banks will exceed 700, as the FDIC attempts to keep up with the nearly 3,000 community banks overexposed to C&D and / or CRE loans. With the fourth quarter FDIC Quarterly Banking Profile showing 702 problem banks, this prediction is already in the bank.
House Prices will resume a decline as the $8,000 and $6,500 tax credit programs sunset for contracts at the end of April and for closings at the end of June. Home prices are still 50% above the levels at the beginning of the 21st century, so there is room for another wave down. The Case-Shiller Home Price Index is showing monthly declines for January and February.
Emerging Markets and China will fail to provide sufficient economic strength to pull the US and global economies out of Recession. China will cut purchases of US Treasuries, as Americans reduce purchases of Chinese goods. The Emerging Markets Index (NYSEARCA:EEM) is now down 2.8% year to date with the China 25 Fund (NYSEARCA:FXI) down 6.1% on the year.
Chart Courtesy of Thomson / Reuters
US Economic Growth will be muted by drags in Housing and Financials, and by the lack of job creation. Banks must gradually raise capital to eventually bring back toxic off balance sheet assets and liabilities to their balance sheets, but the FDIC is allowing this to drag into 2012. There are many time bombs ticking in $213.6 trillion in notional amount of derivative contracts in the US without any regulations to control them. We are starting to see the adverse affects from the Derivatives in the SEC charges against Goldman, and in the Euroland contagion. The Financial Regulations may make it even tougher for those "too big to fail" banks.
The FDIC Quarterly Banking Profile is the balance sheet for the US economy and its deterioration is a leading indicator that economic growth will muted to negative in 2010. In the first three quarters of 2009 total assets declined $596 billion to $13.25 trillion. I see bad loans rising throughout 2010 and beyond. Commercial real estate will be the subprime of 2010. GDP has been up for three consecutive quarters, but the NBER has not yet time-stamped the end of Recession. The Recession began with 4.6% unemployment and today its 9.7%. We will likely see bad loans rising when we see the FDIC Quarterly Banking Profile for Q1 2010 later this month.
The Multi-Year Bear Market for Stocks is over, but a new bull market is not in the cards. There cannot be a bull market for stocks with ten of eleven sectors overvalued according to ValuEngine. The Dow could trade to 11,250 to 11,500, but a weekly close below 10,379 signals at least 20% of downside risk. At the April 26th market high all eleven sectors were overvalued, and the Dow was overbought in all three time horizons, daily, weekly and monthly.
Daily Dow:
There's an up trend resistance line that connects highs going back to November 2009. We now have declining MOJO with the Dow below its 21-day simple moving average at 11,060 and the April 26
th
high at 11,258. Daily closes below 11,060 indicates risk to the 50-day and 200-day simple moving averages at 10,821 and 10,166.
Chart Courtesy of Thomson / Reuters
That's today's Four in Four. Have a great day.
Richard Suttmeier
Chief Market Strategist
As Chief Market Strategist at ValuEngine Inc, my research is published regularly on the website
www.ValuEngine.com
.
 I have daily, weekly, monthly, and quarterly newsletters available that track a variety of equity and other data parameters as well as my most up-to-date analysis of world markets. My newest products include a weekly ETF newsletter as well as the ValuTrader Model Portfolio newsletter. I hope that you will go to
www.ValuEngine.com
and review some of the sample issues of my research.
"I Hold No Positions in the Stocks I Cover."
Disclosure:
No Positions