I present my take of Thursday's stock market massacre. Thursday was a lesson on why you need to use "Good Until Canceled" orders, not market orders. The computer trading platforms need common sense circuit breakers. Bank Failure Friday's have now cost the FDIC $16.1 year to date. I present the weekly chart for the Dow Industrial Average.
My Take on Thursday's Massacre - The stock market had been suffering from a "Case of Complacency" ignoring overvalued and overbought conditions for stocks that led to short-covering, and the bulls ignored the debt crisis in Greece calling it contained. Seems like we heard that story before when the problems in subprime mortgages would not spread to the broader economy. It's happened before in the 21st Century.
Remember "Tech was the only place to be" in March 2000 with the NASDAQ above 5,000.
In October 2007 with the Dow above 14,000 the bulls called it "P/E Multiple Expansion". By Thanksgiving 2007 we had a Dow Theory Sell Signal.
This year I liked the Market for a trade on February 8th but on April 26th I cited that the Dow was testing its 61.8% Fibonacci Retracement of the decline from October 2007 to March 2009. I suggested raising cash to 75% and provided levels at which to short DIA, SPY and QQQQ.
On April 26th stocks were extremely overvalued and overbought and without major supports should a break occur. I re-iterated my prediction "Dow 8,500 before Dow 11,500".
Remember the meltdown of January 2009 into March 2009. When I called for a 40% to 50% rally on March 6th a poll on Fox Business Live had 88% in disagreement with me.
I have not always been a bear. Remember in the second half of 2002 and into October 2002 I was pounding the table to buy as investors were bailing out. I re-iterated a bullish call as our troops began to march towards Baghdad in March 2003.
The bottom line is that when the short base is reduced and the bulls are loaded and do not have bids below the market, the only way is down when the crowd wants to exit.
 "Good Until Canceled" GTC orders worked well in last Thursday's volatility.
My ValuTrader subscribers had 12 short positions covered well below the market, but not more than 60% below where trading occurred during that 15 minute break.

Shorts in the Model Portfolio on DIA from $111.77 on April 23rd and $112.39 on April 26th were covered on May 6th at $104.46.

My Weekly ETF Report subscribers had many shorts covered and some ETF's traded at both Value Levels and Risky Levels during the week capturing a portion of the volatility. Here are some sample ETF trades

SPY was a short idea from $120.49 on Monday, May 3rd.
Last Monday subscribers could have bought TWM at my monthly value level at $17.43.
Last Monday subscribers could have bought DUG at my weekly value level at $54.89.
What we need is circuit breakers in stocks traded on the computer only platforms. I am an engineer by education with a Master of Science in Operations Research Systems Analysis. I designed simulation programs in the late 1960's into 1972. I know how computerization can be biased by the programmers design. I have always opined that Black Box Trading should be banned. The fall-out from Thursday's meltdown will only take more average investors out of the market calling it a Wall Street rigged game. High Frequency Trading needs a human touch or automated safeguards and the transparency to know that below a certain bid or above a certain offer there's a price gap of x%. Knowing this information these gaps are likely to be filled by willing flash traders. If not there has to be a y% threshold where the system stops trading on a stock until liquidity returns.
Bank Failure Friday –
Four banks were closed by the FDIC on Friday. While these were small banks the cost to the Deposit Insurance Fund is now $9.6 billion in the second quarter and $16.1 billion year to date, which exceeds the total bank assessments of $15.33 billion for 2010. 1st Pacific Bank of California (OTC:FPBN) was on the ValuEngine List of Problem Banks.
Only 25 banks failed in 2008, as the FDIC was slow closing community and regional banks.
There were 140 bank failures in 2009 with a peak of 50 in the third quarter.
In the first quarter of 2010 there were 41 failures, and so for in Q2 the total is 27 for a year to date total of 68. 4. At this pace bank closures will be at the high end of my 150 to 200 estimate.
Since the end of 2007, the FDIC has closed 232 banks.
All four of Friday's bank failures were overexposed to C&D and CRE loans.
·

       
Overexposes to C&D loans were between 120.2% and 335.8%.
·

       
Overexposures to CRE loans were between 653.2% and 1048.2%.
·

       
The loan pipelines were 93.9% to 99.3% of loan commitments funded.
·

       
The ignored regulatory guidelines are 100% for C&D loans and 300% for CRE loans.
Risk Aversion has been my call with lower US Treasury yields, Gold above $1200, Crude Oil skidding lower with the euro, and a new bear market for stocks. After testing its 61.8% Fibonacci retracement of the decline from October 2007 to March 2009 comes at 11,238, my prediction remains; "Dow 8,500 before Dow 11,500".
Weekly Dow:
The Dow ended last week below its 200-week simple moving average at 11,130, after testing the 61.8% Fibonacci Retracement of the October 2007 to March 2009 low at 11,246 with the April 26
th
high at 11,258. MOJO remains overbought, but will likely be declining below 80 next week.
A weekly close below the 5-week modified moving average at 10,799 shifts the weekly chart profile to negative.
My annual pivot is 11,235 with monthly and semiannual resistances at 11,274 and 11,442.
I still predict Dow 8,500 before Dow 11,500.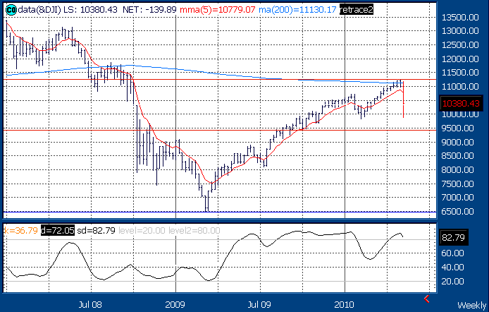 Courtesy of Thomson / Reuters
That's today's Four in Four. Have a great day.
Richard Suttmeier
Chief Market Strategist
As Chief Market Strategist at ValuEngine Inc, my research is published regularly on the website
www.ValuEngine.com
.
 I have daily, weekly, monthly, and quarterly newsletters available that track a variety of equity and other data parameters as well as my most up-to-date analysis of world markets. My newest products include a weekly ETF newsletter as well as the ValuTrader Model Portfolio newsletter. I hope that you will go to
www.ValuEngine.com
and review some of the sample issues of my research.
"I Hold No Positions in the Stocks I Cover."
Disclosure:
No Positions