Data showing that the Foreclosure Crisis is Easing is misleading. The Housing Sector Index (HGX) seems to have topped out as shown on the daily chart. Fannie & Freddie Losses Rise Under Market Radar. Beware of a Potential Key Reversal for Apple Inc (NASDAQ:AAPL).
Data Showing that the Foreclosure Crisis is Easing is Misleading - Foreclosures filings may have fell 2% year over year in April for the first such decline in five years, but that's because bankers cannot keep up with the number of distressed homeowners. Many Americans are in "Modification Limbo" waiting for decisions with regard to getting a temporary loan modification and others are in temporary modifications hoping that they become permanent. While this backlog grows bankers are allowing other homeowners to stay in their homes even as mortgage payments are in arrears, as the process of foreclosures has a building backlog of its own.
As the government programs wind down there will likely be a deluge of foreclosures in the months ahead leading to anther leg down for home prices in many locations throughout the United States. The number of new delinquencies may have stabilized, but banks seized a record 92,000 homes in April, and there are millions of potential foreclosures still to come. According to Lender Processing Services nearly 7.4 million homeowners with a mortgage has missed at least one mortgage payment through March. RealtyTrac reports that 334,000 households received a foreclosure notice in April, which is a big number, but down 9% from March.
Unemployment or reduced incomes have become the catalysts for foreclosure and folks with good credit scores with conventional fixed-income loans are now the fastest group heading for foreclosure.
The Housing Market and Banking System is thus headed for a second leg to "The Great Credit Crunch". Foreclosed homes become OREO at banks, who sell at lower prices, which reduces appraised values in the community. This causes cities, counties and states to lose tax revenue resulting in budget cuts, and the trend is that municipal workers are having workweeks cut to four days from five, which brings additional households into mortgage distress. And the beat goes on!
The Housing Sector Index (HGX) seems to have topped out as shown on the daily chart. On last Thursday's "Flash Crash" HGX came close to a test of its 200-day simple moving average at 106.19 and this week's high did not take out the high of the range of that day, May 6th. HGX failed below its 21-day simple moving average at 121.40 and closed yesterday just above its 50-day at 116.07.
Courtesy of Thomson / Reuters
Fannie & Freddie Losses Rise Under Market Radar - I have been covering Fannie Mae and Freddie Mac in great detail since May 2008, so today I decided to summarize some of my more recent commentary.
Fannie Mae and Freddie Mac
continues to drain taxpayer money as the Treasury provides unlimited lines of credit through 2012. Last week Freddie asked for $10.6 billion and on Monday Fannie asked for $8.4 billion. This brings the total bailout of the GSEs to $144.9 billion.
I have been predicting that Conservatorship of Fannie and Freddie will be the largest cost to tax payers of all of the financial bailout programs, and that will prove to be the case as the GSEs will have unlimited access to the Senior Preferred Program though 2012.
Through the third quarter of 2009, Fannie Mae had tapped its $200 billion line of credit for $60 billion, leaving them with $140 billion. Their final line at the end of 2012 will be $140 plus the losses for the thirteen quarters ending with Q4 2012.
Freddie Mac tapped its $200 billion line of credit for $51 billion leaving them with $149 billion plus all losses through Q4 2012.
This makes the total line for the two GSEs at $289 billion at the end of Q3 2009. Since then the two have tapped the US taxpayer for another $33.9 for Q4 2009 and Q1 2010 ($23.3 billion for Fannie and $19.6 billion for Freddie). Their lines of credit are thus $163.3 billion for Fannie and $159.6 for Freddie with eleven quarters of losses still to be added in.
Under Conservatorship both Fannie and Freddie were to begin to unwind their mortgage portfolios by 10% per year in 2010 to achieve a $250 billion maximum by 2021. That's still the case but the beginning threshold was raised to $900 billion each, which was the maximum that was not achieved by either at the end of 2009. Since both are at around $750 billion, portfolios can actually rise to $810 billion in 2010. This cushion will make it easier for the GSEs to stop buying mortgage backed securities in 2011, and lessons the immediate need to be active sellers.
Statistics from Fannie Mae shows continued mortgage deterioration, which should lead to another dip in Housing Prices keeping the pressures on community and regional banks.
Since May 5
th
Fannie & Freddie cost taxpayers another $19 billion.
According to Fannie Mae home prices in the United States are down 18.4% since the peak.
Fannie Mae Seriously Delinquent Single-Family Mortgage Delinquencies rose to 5.47% at the end of Q1 2010 versus 5.38 at the end of 2009 and 3.15% a year ago, which is a sign that "The Great Credit Crunch is deepening.
Fannie Mae Real Estate owned totaled 109,989 properties at the end of Q1 2010 versus 62,371 a year ago. Acquisition growth has been accelerating from 49,121 in 2007, 94,652 in 2008, 145,617 on 2009 and 61,929 in Q1 2010, which is an annual rate of 247,716.
Alt-A mortgages on the books of Fannie Mae totals $238.3 billion.
Back in May 2008 I opined that Fannie Mae and Freddie Mac be allowed to liquidate and to move the new mortgage issuance to government backed Ginnie Mae. When Conservatorship became the law of the land in September 2008 I predicted that taxpayers would bare the burden. In the entire bailout programs tax payers have been hit by $144.9 billion for the GSEs while mortgage help to US homeowners has been a paltry $90 million. Euthanizing Fannie and Freddie becomes harder and harder as their roles are expanded.
Potential Key Reversal for Apple Inc (AAPL)
-
The daily chart for Apple shows rising
MOJO with the stock above its 21-day, 50-day and 200-day simple moving averages at $257.21, $241.59 and $203.83. My semiannual value level is $216.31 with a weekly pivot at $258.28 and monthly risky level at $262.54.
Apple traded above my monthly risky level at $262.64 giving investors an opportunity to book profits. The weekly pivot at $258.28 proved to be a magnet, and the Thursday's close was below Wednesday's low of $258.70, which qualifies as a daily "key reversal".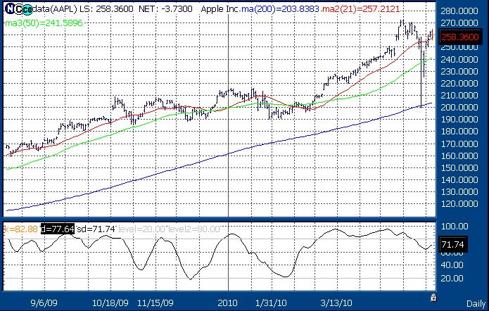 Courtesy of Thomson / Reuters
That's today's Four in Four. Have a great day.
Richard Suttmeier
Chief Market Strategist
As Chief Market Strategist at ValuEngine Inc, my research is published regularly on the website
www.ValuEngine.com
.
 I have daily, weekly, monthly, and quarterly newsletters available that track a variety of equity and other data parameters as well as my most up-to-date analysis of world markets. My newest products include a weekly ETF newsletter as well as the ValuTrader Model Portfolio newsletter. I hope that you will go to
www.ValuEngine.com
and review some of the sample issues of my research.
"I Hold No Positions in the Stocks I Cover."
Disclosure:
No Positions