The yield on the 10-Year US Treasury touched 2.639 overnight with this week's risky level at 2.598. Gold is above my semiannual pivot at $1218.7 with todays risky level tested at $1225.0. Crude oil is below my annual pivot at $77.05. The euro peaked at 1.3334 on August 6th followed by the Dow at 10,720 on August 9th. The Dow is above its 50-day simple moving average at 10,266 with this week's value level at 10,055 and my annual pivot at 10,379. Homes lost to foreclosure surged in July, as appraised values continue to tumble.
10-Year Note
– (2.691) My annual pivot is 2.813 with daily and weekly risky levels at 2.668 and 2.598. My annual value level is 2.999 with quarterly and semiannual risky levels at 2.495 and 2.249.
Courtesy of Thomson / Reuters
Comex Gold –
($1217.0) Weekly, quarterly, monthly and annual value levels are $1159.3, $1140.9, $1133.2 and $1115.2 with a semiannual pivot at $1218.7 and daily and semiannual risky levels at $1225.0 and $1260.8.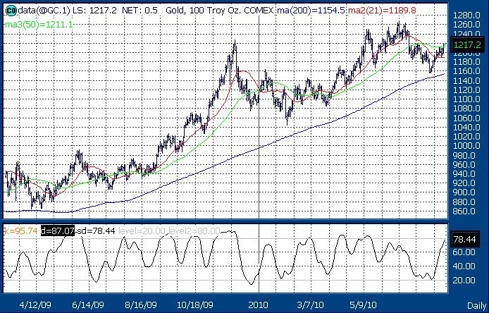 Courtesy of Thomson / Reuters
Nymex Crude Oil
–
($75.46) No nearby value levels with daily, weekly and annual pivots at $75.83, $76.86 and $77.05. My monthly and semiannual risky levels are $80.02 and $83.94. My quarterly value level is $56.63.
Courtesy of Thomson / Reuters
The Euro –
(1.2753) Quarterly and monthly value levels are 1.2167, 1.1486 and 1.1424 with a daily pivot at 1.2814, and weekly and semiannual risky levels at 1.3223 and 1.4733.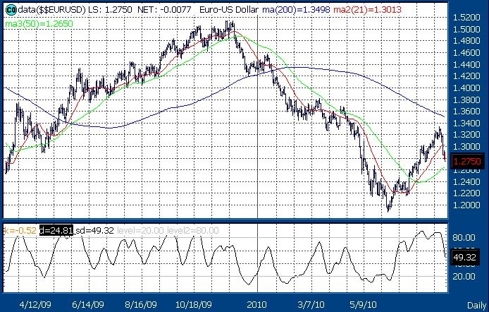 Courtesy of Thomson / Reuters
Daily Dow:
(10,303) My weekly value level is 10,055 with annual and daily pivots at 10,379 and 10,399, and monthly, semiannual and annual risky levels at 10,439, 10,558 and 11,235. My quarterly value level is 7,812. 
My annual risky level at 11,235 was tested at the April 26th high of 11,258.01.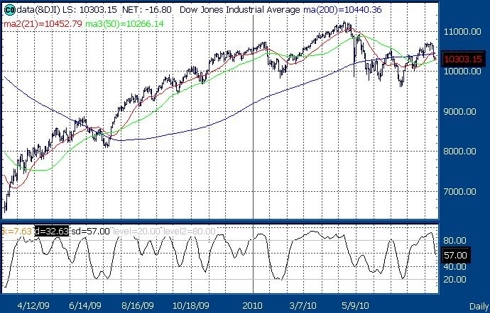 Courtesy of Thomson / Reuters
Homes Lost to Foreclosure Surge in July
According RealtyTrac lenders repossessed 92,858 properties last month up 9% sequentially, and up year over year for eight consecutive months. At the same time homeowners who fall behind on mortgage payments are staying in their homes longer because lenders are reluctant to add to the glut of foreclosed homes on the market. Sales of depressed homes are being purchased well below where various home price surveys are tracking home values. Most home price surveys show that house prices have moved sideways to up since April 2009, but in my opinion this is misleading.
Last week in the TV media I predicted that house prices would decline another 30% by the end of 2014 because of declining appraised values. The problem in reality is that real estate agents and home builders attempt to avoid referencing appraised values claiming that this increasing number of home sales do not represent a home's fair value. I disagree! Home appraised values are based upon actual sales where willing buyers and sellers agree on a price. The County Appraisal Office calculates an appraised value of all homes in a community based upon all sales including short sales and disclosure sales. Sales deemed at prices too low or too high are removed to create an average price per square foot, which results in an appraised value which is used by the tax collector to determine property taxes. There is no better measure for determining a home's value. It's not a home builders asking price and it's not the elevated prices being touted by real estate agents.
In my community, which has 90% of homes with fully paid property taxes, appraised values are down 35.7% year over year when home price surveys show a slight rise. After returning from my trip to NYC last week I went to my Property Appraisal Office and found out that between April 13th and August 13th the value of my home was down another 9.9%. Now that home buyer tax credits are history, 50% or more of home sales will be from distressed properties.
That's today's Four in Four. Have a great day.
Richard Suttmeier
Chief Market Strategist
As Chief Market Strategist at ValuEngine Inc, my research is published regularly on the website
www.ValuEngine.com
.
 I have daily, weekly, monthly, and quarterly newsletters available that track a variety of equity and other data parameters as well as my most up-to-date analysis of world markets. My newest products include a weekly ETF newsletter as well as the ValuTrader Model Portfolio newsletter. I hope that you will go to
www.ValuEngine.com
and review some of the sample issues of my research.
"I Hold No Positions in the Stocks I Cover."
Disclosure:
No Positions