The third quarter of FY2012 saw GME reported total revenue drop of 8.9% year-on-year to $1.77 billion versus $1.95 billion of the previous year. Decrease in sales was the result of softer hardware and software sales and a lack of significant game title launches. The company's net income was $47.2 million versus net profit of $53.9 million in the prior year quarter. Earnings per share (NYSEARCA:EPS) were $0.38, exceeding the high-end of guidance by $0.02 per share. The company has already beaten 6 times its earnings guidance in the last 9 quarters.
Year-on-year revenue growths of the company's products are as follows:
• New Video Game Hardware: down 33.4% to $184.8 Million
• New Video Game Software: down 12.4% to $769.8 Million
• Used Video Game Products: down 8.9% to $496.3 Million
• Other Products: up 31.1% to $321.9 Million
Gross profit margin increased to 31.4% when compared to 29.4% of the same period a year ago, on the back of higher digital revenues. EBITDA (Earnings before Income Tax, Depreciation & Amortization) margin remained healthy but decreased slightly to 7.9% from 8.8% as larger operating expenses weighed on overall profitability. The company recorded goodwill and other impairment charges of $678.8 million primarily to comply with an "impairment test" in managing its share price risk. This impairment test was required to be conducted due to the temporary decline in the company's stock price during the second quarter. Including the impairment charge, the company's net loss for the third quarter was $624.3 million, compared to net profit of $53.9 million in the prior year quarter. This translates a loss per share of $5.08, against EPS of $0.39 in the prior year quarter.
The company has weak liquidity. Quick ratio is maintained at 0.20X which clearly shows a lack of ability to cover short-term cash needs. The company's liquidity decreased from the same period a year ago, despite already having very weak liquidity to begin with. The company has no long term debt except for the remaining $125 million senior notes which was already retired in 2012. To date, $450 Million of the senior notes were settled since its January 2010 issue. Hence, interest cover ratio increased from 17.9X to 27.0X. The company is already debt free from long term bank credit facilities by 2012. Ratio of net debt to equity rose from negative 15.9% in 2011 to 21.5% in 2012. Days inventory mildly climbed from 60.8X to 63.6X while days receivables were maintained 2.5X throughout the review period.
GME has an attractive cash return profile though. GME announced a cash dividend of $0.15 per share in February 2012, and increased that by 67% to $0.25 per share in August 2012. This capital return commitment is expected to continue in the near future, through continued share repurchases and potential dividend declarations. GME's cash dividends and share buybacks provide an attractive cash return to shareholders, thus building in support for equity. GME has returned about 100% of free cash flows to shareholders through share buybacks and cash dividends. The amount returned is over $200 million through buybacks versus an estimated $75 million last 2011. The buyback pacing in 2011 slowed down as compared to the $120 million the prior two quarters, though the authorization was replenished for another $500 million. With 5.5% dividend yield, downside risks to shareholders are tempered in the near term.
% of Free Cash Returned to Shareholders via Debt Retirement, Share Buybacks
& Cash Dividends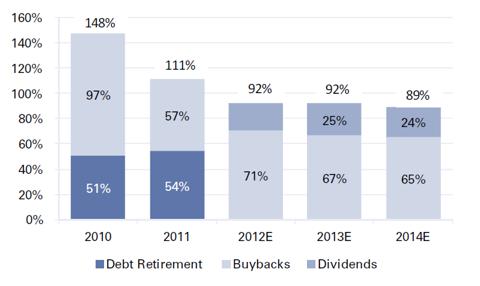 GME has been a strong generator of free cash flows in recent years, converting approximately 60% of EBITDA to free cash since 2005. This has an average of more than $450 million in free cashflow for the last three years. Given the positive expectations, cashflows could hold steady from $500 million to $550 million by end 2013. The Wii U is evidently contributing to revenue growth in 2013, even with only half the software sales of the prior Wii launch in 2006-2007 that were generated. This, along with the presence of Grand Theft Auto, and modest contributions from the launch of a new Microsoft or Sony console in 2013, shall more than offset the 20% forecasted sales decline. Excluding the game sales of The PlayStation 3 and the Nintendo Wii, software sales declined 16.1%.
Looking beyond the Wii U, even a "disappointing" cycle for the next generation consoles (expected to be launched late 2013) will lead to maintaining its $500 million free cash. Console software industry is forecasted to decline by 20% while the Wii U to be flat sales growth. The current Xbox sold 21 million software units in its first full year launch back in 2006, implying the next-generation Xbox can sell less than half of its predecessor to drive stable software sales for GameStop. Conversely, Microsoft only needs to sell four million hardware units over the course of a year with just over two software units per hardware unit to drive nine million software units. Given a near 40 million hardware unit installed, this is achievable.
Average Free Cash Flows ($ Million)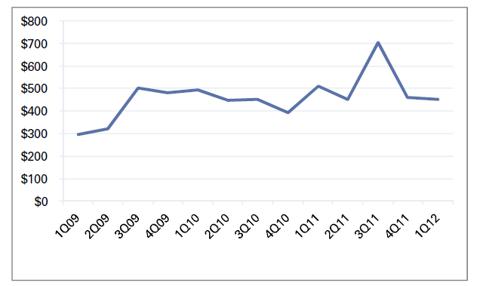 Physical Media Market Share
GME performs in line with the broader retail video game media market in the future, and that it gains no further share. GME though managed to become a market share gainer for more than 3 years, gaining an average of 68 basis points of US market share in each of the last 14 quarters. The company's competitor, Game Group, has left the Australian market and shrunk its footprint in Europe. As such, GME stands to continue gaining market share in those markets as well.
Moreover, GME's market share gains revealed it will receive more favorable upfront allocations from manufacturers including Nintendo. With Nintendo releases that are usually short of supply, this will be an advantage for GME in the early stages of the launch. GME accounted for about 40% of Nintendo's recent 3DS launch in the US.
GameStop Market Share of the US Retail Video Games Market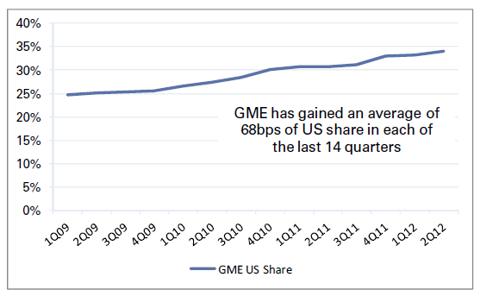 Market Concerns and Catalysts
The digital distribution of video games debate surrounding GME, remains of primary interest to stakeholders.
1. Cable / Telco cloud gaming. The biggest hurdle to cloud gaming is the participation of publishers. This includes live execution that is limited only to catalogue titles across publishers. However, GME expects technology implementation at the head end of telecommunications providers, as a viable option that in itself is not precluded from participating in, given its Spawn cloud gaming platform.
Microsoft's aggressive moves to attempt to introduce a fully fledged console as a cable set top box replacement via deals with Comcast and Verizon, sees this a potentially more meaningful development, one which could expand the addressable market of the most rich gaming experiences.
2. Tablet / Mobile. The handheld market has felt the impact of stealing away market share by tablet and mobile competition for some time. The recent 3DSXL launch is performing in line with muted expectations that created this impact. However, GME has not seen an impact on time spent with core high definition console platforms.
3. Next Generation Consoles. Nintendo and Sony have acknowledged no plan to shut off used game capability with its new console launches. Microsoft has not commented on the matter. It did insinuate the possibility that select titles in the next generation could be priced above its current retail price. The market expects little price action on the current XBox 360 from Microsoft until it unveils its new console specifications.
Downside risks in this segment likewise include faster-than-expected deterioration in World of Warcraft subscribers, delayed launch of Call of Duty Online and Destiny, and greater-than expected pullback in retail spend leading up to new console launches.
There is a significant level of uncertainty around the next-generation of gaming consoles. The market have speculated that next generation XBox consoles could launch without optical drives, relying solely on digital distribution through internet connectivity for game sales. For the next 2-3 years, these factors will not have a significant impact on GME given:
(1) Signs that physical media will be part of the devices,
(2) Long ramps of installed bases to meaningful levels (3-4 years post launch) and;
(3) To date, still limited consumer appetite when full digital download options are offered.
This year's largest video game launch, Diablo 3 (that sold over 10 million units in its launch quarter), was available for download the same day as the retail release and still sold more than half of its units at retail. This is despite the lack of storage limitations on PCs and used market for PC games, implying that there is still strong consumer preference for the time convenience of a ready to install disc versus a multi-hour download and ability to pay in cash.
Despite the market concerns for core console based games, the decline of the retail based video game business model is unlikely to occur for the next 2 years given:
(1) Limited hard drive space on consoles today;
(2) Mass adoption of the next generation of Microsoft or Sony consoles not until 2-3 years after its 2013 launch, if not possible, 2015-2016, and;
(3) Consumer preference for the salvage value of used games.
"Used" and "Digital" Game Categories Uncertainty
Digital distribution of next-generation games could materially impact GME. There is a significant level of uncertainty around the next-generation of gaming consoles, particularly given that Microsoft and Sony have yet to publicly acknowledge the widely reported rumors that they are in late stage development. Some have speculated that next generation consoles could launch without optical drives, relying solely on digital distribution through internet connectivity for game sales.
Wireless
GME's mobile segment looks promising. Given the iPhone 5 launch, there is an upside potential for the mobile segment. Management announced its earnings guidance to be $150-200 million in revenue from its new mobile segment, which includes sales from used iDevices, Android devices, Kindle devices, and related services. GME noted that it will be selling these devices in all North American stores. The mobile segment contributed an estimated $100 million in 2012 and forecasted to grow to $160 million in 2013.
Footprint and Acquisitions
To combat rapid digital changes and boost its digital efforts, GME spent approximately $100 million in acquisitions to buy two digital gaming companies last year, Spawn Labs and Impulse. GME has also sought out more tech-focused board members, such as Shane Kim, who joined GameStop's board after a 15-year stint in Microsoft's games unit. GME also plans to close down 250 unprofitable stores this year. Consequently, the company will open up 60 to 70 stores this year, which is fewer, compared to last year. It will also acquire 40 former GAME locations in France.
Total console video game industry retail revenue (hardware, software, and accessories) for 2012 in the US is down 22% from 2011. Hardware was hit the hardest which fell 28%, with software and accessories down 23% and 8%, respectively. The underlying data provide more clarity into the causes of the decline, and what it might mean for 2013. The three primary causes of the decline are:
(1) FY 2012 had 35% fewer new releases - 222 unique console titles versus 341 in 2011;
(2) AAA titles saw an even larger reduction, with 26 new console titles selling more than 1 million units in 2011, while only 14 new titles sold 1 million+ units in 2012 and;
(3) Developers and gamers largely abandoned the original Wii platform, as its revenues declined nearly 50% year-on-year.
Partially offsetting these declines, console gamers have spent more on each new release in 2012 than in 2011 - average revenue per new console title increased 20% in 2012 to $17.3 million from $14.4 million, excluding catalogue titles. In addition, HD games and First-Person Shooters remained more resilient than the industry as a whole, declining 14% and 12%, respectively.
The current generation hardware will continue to struggle in 2013. The November 2012 launch of Nintendo's Wii U will put added pressure on sales of the original Wii. The current year will also expect announcements of new Xbox and Playstation consoles by first half of 2013, with expected launches in the fourth quarter. There will be an anticipated price cuts for Xbox 360 and PS3 to accompany the announcement of its respective successors, which will help buoy unit sales in the face of slowing demand.
Given the expected announcement of consoles, there is potential pull-back in consumer spend on software, as gamers save up for the big-ticket new consoles, but large, annual franchises have proven resilient to this pre-launch air pocket historically. EA's Madden NFL franchise, for example, has shown growth in the launch year of new console product cycles for the last two cycles.