As a consultant for almost 20 years, my favorite related Dr. Seuss story is Sneetches on Beaches. You can watch the full video version here. While the simple moral is about discrimination, there are deeper and more entertaining morals about keeping up with the Jones and how consultant-types leverage that human desire to their profit.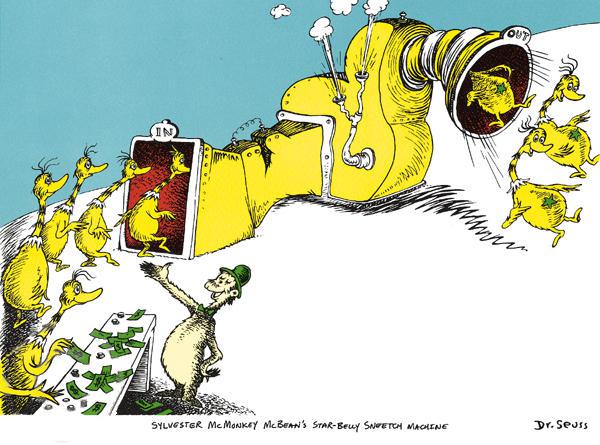 The same (deeper) morals can be applied to any job where its primary revenue generator is time, expenses and/or materials, basically a cost-plus model. The prime incentive for these consultant-types is to promote and maximize their time, expenses and materials. Then stamp, rinse, wash, repeat, since that is how they are compensated. If they can get your neighbor (or your competitor) to use their services, there is a good chance they can get you to use their services, since one of the basic human cognitive dissonances is to compare ourselves to others and to want what others have.
I worked as a consultant at Pacific Bell around the same time Scott Adams was creating Dilbert cartoons as an employee in the same office. Every day we would have our 'Dilbert moment':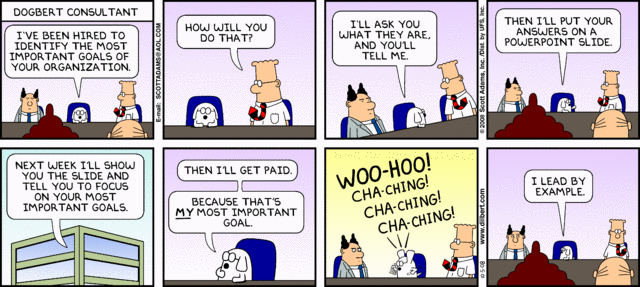 While management teams may not seem to fit into this category, if they are primarily compensated on salary and short-term (i.e., annual) bonus vs. heavily invested in their long-term equity alongside investors, then staying in their job for as long as possible and increasing their purview often become their primary incentives, vs. increasing shareholder value. One of the best ways to increase their purview, and thereby their salary and bonus, is to buy other companies, regardless of how it might affect long-term equity value.
Warren Buffett and Charlie Munger don't have many nice words for these consultant types, nor for management teams who don't have skin in the game with shareholders. One of my favorite Buffett quotes is, 'Never ask a barber if you need a haircut.' I first heard that Buffett quote while working as a consultant at a major electric utility owned by Berkshire Hathaway BRK.B, BRK.A.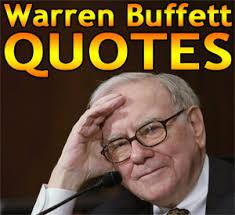 As a consultant, my company had done some successful time and materials based projects for the utility over the years before they were bought out by Berkshire Hathaway. After the buyout the utility had a major once-in-20-year project that they were ill equipped to perform themselves. They asked us to bid on the work. But unlike prior projects we were told we had to bid fixed price up front, with a bonus if we performed on time and per specifications, and a significant penalty if we took longer or if the final result was not satisfactory. It was a complex 2-year project with tons of moving parts, a third-party vendor, and many end-users in the front (trading/scheduling), middle (risk) and back (settlement/accounting) offices, including management reporting. Replacing and overhauling the scheduling, trading and risk management systems and processes at a major utility is no small task.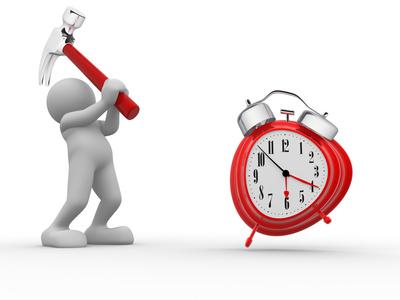 We told them fixed price was never done for projects like this due to the unknowns up front, and that we would have to raise our bid to the point of being uncompetitive to fix price it, in order to protect our risk. Their response? Their new owner, Berkshire Hathaway (Warren Buffett was quoted several times at this point), would only approve the budget for this project if it was contractually fixed price with the aforementioned delivery incentives and penalties. So we spent considerable time spec'ing out the project, interviewing users, and modeling existing systems. We built in appropriate risk avoidance amounts with some attractive upside if we did what we said we could do and a loss if we didn't deliver. We won the project. I wasn't sure whether to celebrate or quit before we got started.
The good news is that the utility was a good client, the vendor delivered (we were close partners), we delivered and the project ended up being positive, as measured by the client survey at the end and by the incentive payouts and profitability of the project.
I gained a new respect for Warren Buffett and Berkshire Hathaway. While the project certainly would have been bid lower up front if it were time and materials vs. fixed price, the final cost might have been more or less expensive. But if it had been done time and materials, there certainly would have been more surprises along the way, increased budgets, more 'issue resolution meetings', and the two parties would not have been as aligned to work through problems efficiently. The end result was better for all involved.
So don't be a Sneetch. Ensure your management team has real skin in the game (higher long-term equity with lower salary/bonus) along with your own investment. If you can, ensure your lawyer, consultant, etc., backs their promises up with real incentives and penalties that align their interests with your own. You are, after all, the one paying the bills, taking the risks, and calling the shots. Act like the owner you are.
If you liked this article you might like my Instablogs.
Disclosure: I/we have no positions in any stocks mentioned, and no plans to initiate any positions within the next 72 hours.
Additional disclosure: No consultants, lawyers or barbers were injured in creating this article. But Management Teams should always be held accountable for shareholder value creation or destruction.