I guess Failure was an Option.   Last night the Super committee announced that they had failed in their mandate to forge a deficit reduction deal necessary to avoid sequestration in 2013.  
Americans who have lost their faith in the political process are starting to ask some pretty tough questions.  
Can Congress govern in a political environment that seems to serve the needs of politicians rather than the citizens they were elected to represent?    
The full implications of this failure will take time to asses but Americans everywhere will want to know what this means for our military, the unemployed, our financial markets and yes the future of the democratic process?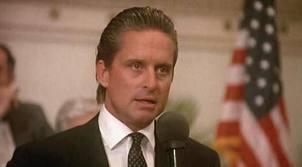 Maybe congressional rules need to change.  This is the second time this year that democrats and republicans have been unable to do their job and meet their own self-imposed deadlines.  Perhaps Gordon Gekko said it best when he was talking to the board of Teldar Paper in the movie "Wall Street". 
"You either get it right or you get eliminated."
Increasingly Americans disgusted with a dysfunctional government are preparing to vote for the other guy.  I believe incumbents at every level of government up for re-election in 2012 will face significant voter backlash and an attitude of:  
"I don't care who ends up in office as long as it isn't you. "
Breakdown and breakout patterns haven't been a lot of help this year.  Yesterday we undercut last support for this rally at 1187 on the SPX.  Perhaps that will be as fleeting as the 1100 breakdown in early October which lasted only a few hours and was the start of a monstrous rally to the upside.  The breakout at 1234 in mid October lasted just about 1 month.  The truth is the short term picture is really controlled by the news cycle.  The 150 and 200 day moving averages are still trending down and a concern.  We need to see those turn north to confirm my bullish call on the U.S. market.       
What are the implications for the financial markets?
I don't know of many money managers or individual investors that are long stocks because they had a high degree of confidence in the Super Committee outcome.  Nevertheless the almost certain failure Monday after a dismal weekend of posturing had the markets reeling right from the opening bell.  The Micro vs. Macro
(Why isn't the Market Down 3000 Points?)
battle continues to rage on as many companies continue to deliver in the face of a dismal macro environment here and abroad.  Our political leaders may be comfortable with failure but you can bet Americans ARE NOT!   
Disclosure:
I have no positions in any stocks mentioned, and no plans to initiate any positions within the next 72 hours.