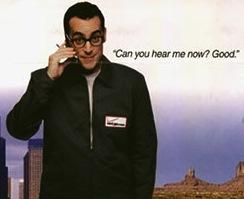 The following is an accurate account of the corporate arrogance we have all been subjected to when dealing with the Customer Dis-Service Department.  If any of the following sounds familiar, pass this on to your friends and have them pass it on to their friends.  The only way the royalty in the executive suite will ever get the message is when it hits them in the wallet.  They need to understand that we are "
MAD AS HELL AND WE AREN'T GOING TO TAKE THIS ANYMORE!" 
Background


As a portfolio manager I am always searching for investments that will make sense for our funds.  Dividends are en fuego today so I couldn't help but notice that Verizon
(NYSE:VZ)
had broken to a 52 week high recently.  While it wasn't coming up on my screens I decided to take a look as I have been a long term customer of VZ Wireless and have been using the FIOS internet product for the last few years.  I had heard so much about
FIOS TV
I decided to give it a try and switch from Cablevision
(NYSE:CVC)
.  "Invest in what you use", the saying goes.  You know the Peter Lynch School of portfolio management.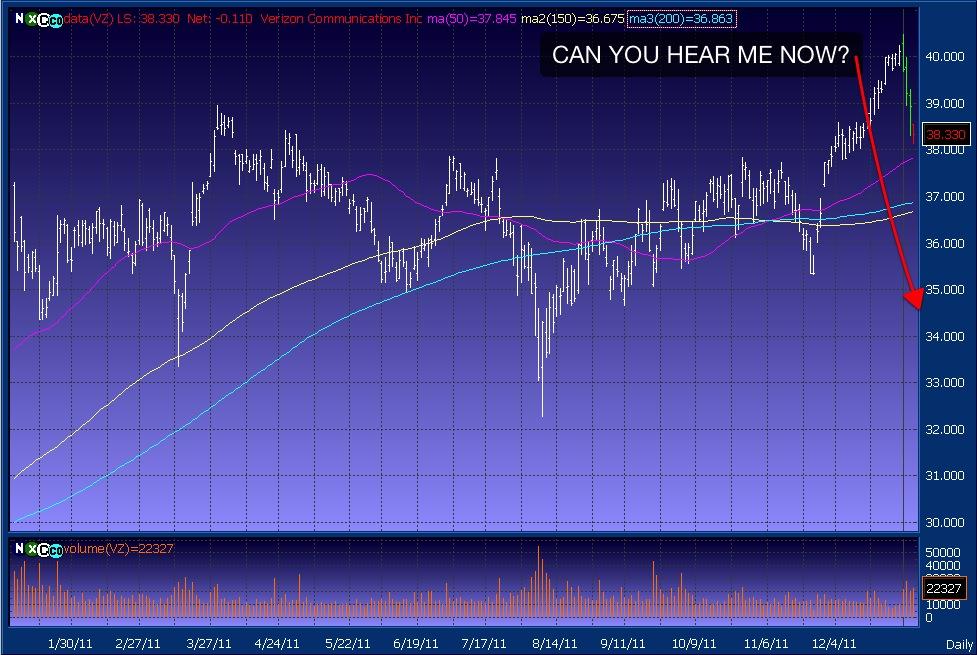 I called FIOS sales to upgrade my service and put into motion a series of events making me wish I had never heard the name.  Getting FIOS sales on the phone is quick and painless.  The hold time was less than 20 seconds.  After a quick 10 minute call I was scheduled for an appointment 10 days later on the Friday before New Year's between 1 and 5 PM.  
Let's fast forward to Thursday December 29th the day before installation.  I was in the city on an appointment and noticed a voicemail on my phone.  It was a message from Verizon telling me to call their customer service number to re-schedule.

The Battle Begins - Deciding not go to my next appointment I dialed Customer Service from the lobby.  43 minutes later I reached Betsy one of their representatives.  
Notice the difference here.  Twelve seconds to reach sales. Forty three minutes to reach Customer Service.  
According to Betsy installation was a go.  Her systems showed that workers would arrive between 1 and 5 PM the following day.  I asked her to please try and get confirmation.  Ten minutes later she came back and assured me the truck would arrive tomorrow.  Satisfied that all was OK I jumped on the train and headed back to Greenwich.  
When I got back to the office I decided to give them one last call just to be sure.  I fared a little better this time.  Twenty Eight minutes before human contact after an annoying battle dealing with a computer trying to direct me to the right department.  Then of course you get that wonderful music while you are on hold.  As a former musician it was torture listening to the musical drivel designed to force capitulation pushing you to hang up.  Suddenly the music stopped and there was silence.  I panicked.  I wasn't sure if I had been disconnected or just in another cue.  I found myself screaming "Is anyone there.  Can you hear me?  Can you hear me?  Finally a human voice.   Relieved just to talk to someone I go through the whole story with Latisha who went into her systems and confirmed once again that my appointment was in the system and to expect an on-time arrival.  
It's Friday 12 noon, the last trading day of the year but I decide to go home early and wait for the workers arrive.   I am not taking any chances.  At 3 PM with no truck in sight I get understandably nervous and call Customer Service.  Again another 40 minute hold before William gets on the line.  I told him the situation and he again confirmed that his systems said they would be there.  I asked if he would call dispatch and make sure.  After nearly another twenty minutes William informs me that he was very sorry but unfortunately they would not be able to come today.  
"I'm done"
; I said.  "William I am sorry I have endured this long enough.  I would like to cancel the installation and terminate my existing FIOS service.  I am sticking with Cablevision
(CVC)
.  It isn't great but at least they show up."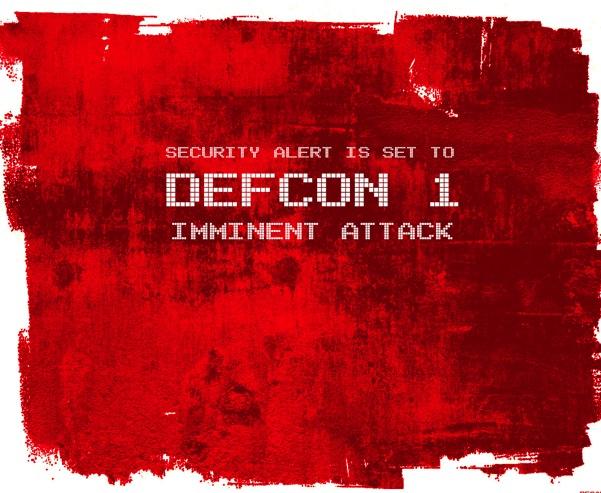 DEFCON 1
The word
CANCEL
triggered alarm bells.  It was like someone hit the Red Button at the Pentagon causing the entire organization to jump to DEFCON 1.  William informed me that he was putting me in touch with the
ELITE TEAM
.  This is Special Forces Unit at Verizon.  Apparently they have the ability to circumvent the system.  A few minutes later I was speaking to Eileen a member of the ELITE Unit.  I told her I am ready to cancel if I don't receive satisfaction.  She jumps into action and gets her Supervisor on the line.  
I am now 1 hour and 6 minutes into this call.  The Supervisor said she was going to contact dispatch directly and get confirmation they were coming.  Every five minutes she came back on the line and said she was still waiting.  After nearly twenty minutes I asked what was taking so long.  She said; "Mr. Nelson, the problem is we are in Buffalo and I am trying to contact dispatch in Westchester County New York."
"Excuse me.   Is it too windy for the smoke signals to be seen?  Hello.  You work for the phone company.  Don't they have one there?"
VERIZON ELITE UNIT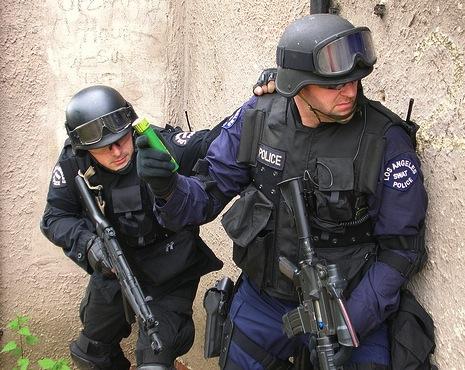 Unfortunately after 53 minutes of her going back and forth with dispatch she informed me that they would not be coming today.  She did however say that she felt she could get them there between 8 and 9 the following morning.  I sat silent for a minute stunned and in disbelief.  I couldn't believe that Verizon's top of the line
S.W.A.T.
team couldn't get one truck to my house.  Reluctantly I agreed.   However, I need some kind of confirmation.  Eileen says she will get me an Elite Overide Confirmation number.  You'd think we were trying to initiate the launch sequence for ICBM's.  After another 20 minutes on hold I receive 
Elite Override Confirmation 00G0KT
.  
While they were over 2 hours late the next morning they did finally arrive and make the installation.  I am telling you this because I am certain my story is not unique and that most of you reading have probably had a similar experience.  The customer service department of a large utility or service organization often resembles the Kremlin.  Level after level of mindless bureaucracy that seems intent on crushing your spirit.  
Focused on the Short Term

It is clear Verizon Management is running the firm with a short term view.  With cost reduction at the top of their list they have decided that cutting back on customer service is a quick way to improve the bottom line.  

I can only conclude management believes the customer is already committed and since products like this are sticky it takes a long time for an unhappy customer to throw in the towel and change back to cable.  

This type of arrogance at the top is tolerated as long as the stock continues to perform and management gets to cash in their stock options.  As investors we understand the importance of shareholder returns and meeting quarterly projections.  However,  this myopic approach to running a company strictly focused on the bottom line can sometimes lead management to lose sight of the most important people in the organization;


The very fact you can get a salesman on the phone in less than 20 seconds and it takes 40 minutes to reach Customer Service is a red flag.
 
Interestingly when you talk about this with customer service representatives they tell you they suffer from the same frustration as their customers.  They are mostly hard working individuals dedicated to doing a good job but are completely overwhelmed and don't have the man-power or systems to get the job done both at the service center and in the field.
MCD Long Term Chart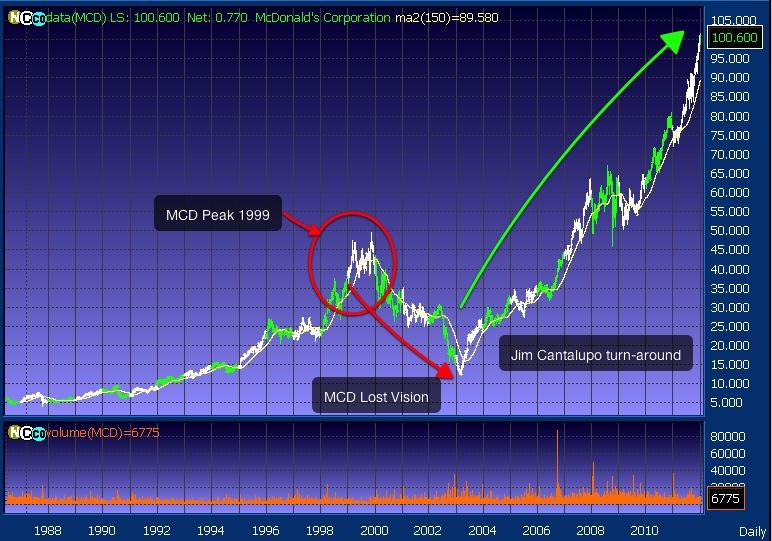 We have seen this story before  
Often the executive suite at a successful company will manage strictly for the short term and permit the slow decay of the organization and its image.  Today Verizon is culturally close to where McDonald's
(NYSE:MCD)
was in 1999.  After a meteoric rise McDonald's lost their vision and not only let their customers down but their franchisees as well.  As a result the stock declined from near 50 to 12 in just a few short years.    It took the strong leadership of Jim Cantalupo to put the company back on track and now sits 100% above its previous peak.
Verizon isn't a monopoly anymore but of course it is a lot more difficult to change your phone or TV service than it is to walk across the street and buy another hamburger.  Nevertheless time will eventually catch up with this management team as it always does.
The Problem
On paper Verizon looks decent enough.  A descent dividend, low single digit top line growth and double digit bottom line growth for the next couple of years.  So what's the problem for investors?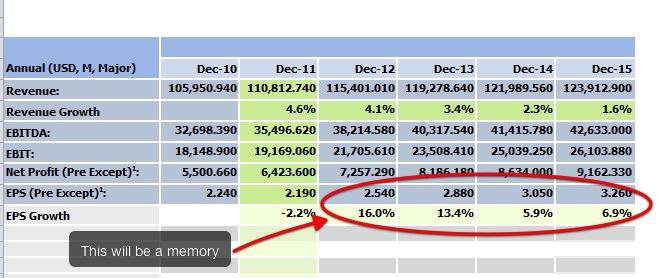 Those earnings projections analysts have posted will be a memory once management is forced to open their wallet and start making the investments necessary to improve the customer experience.  Remember customer satisfaction doesn't stop with the quality of the user experience.  Customer Service is a big part of the equation and on this measure
Verizon fails miserably.
As they are forced to make these concessions margins will contract unless they raise prices.  I think they will have a very difficult time with the later given today's cost conscious consumer.  
The dividend while secure will have difficulty growing.  The pay-out ratio is already 90% and if we get the margin contraction I suspect then that will start to rise forcing the dividend growth rate to 0%. 
In addition management recently pointed out at an industry conference that they would experience a 500-600 basis point decline in EBITDA margins at Verizon Wireless.  At best Verizon holders might make the dividend this year but I suspect the price will contract as management is forced to make necessary improvements.  
We Aren't Powerless 
Don't think you are powerless and can't force change.  Recently Verizon buckled under to customer outrage and retracted a planned $2 fee just to pay your bill.  It took less than 48 hours for management to capitulate and remove the insult.  Some are pointing to this embarrassment as the reason for Verizon CEO Lowell McAdam's cancellation of his keynote appearance at the upcoming International Consumer Electronics Show.  
SELL THE STOCK
You want to send Verizon management the ultimate message.  SELL THE STOCK and forward this message to your friends and have them forward it to their friends.  Trust me when the stock is sitting in the low 30's management will notice.  Shareholders will get angry but more importantly they can't cash in those stock options.  Trust me; that will get their attention.   
Hey, Verizon – Can You Hear Me Now!
David Nelson, CFA
Chief Strategist
Belpointe Asset Management
Disclosure:
I am long
MCD
.