UPDATE Tuesday 10PM EST 8 AUGUST 2011
We all know by now that our dear "Uncle Ben" came to the rescue again, as we started to 'price falter in major market composite stock indexes' once again against upside resistance currently formed by the precipitious WEV (Weekly EchoVectorVEST Vector) and MEV (Monthly EchoVectorVEST Vector) generated by this week's terribly weak market price action.  

In came 'Uncle Ben,' protecting his Feds requisite 'Weath Effect Management Solution' (his active solution to the lingering 'not a recession' that still feels so much 'like a recession' to so many Americans); a solution in which the Fed is so heavily vested:

Aggregate Stock Market Composite Price Levitation. 
Many believe the Fed continues to asked itself, "Why just print money (additional accounting units)' and have Uncle Sam inject them into the economy, when we (Uncle Ben) can also 'jack up the numerical (and spendable and circulatible) values already existing therein' across the (equities) board (that is, the board 'held by the 50% of Americans vested and established therein who also happen to be, and by far, most of the Americans who tend to 'vote, elect, decide, and manage' politically, economically, financially and institutionally 'on so many levels' within our SYSTEM, and who manage so many significant parts of America).  

So, 'why just print money' when you can get our dear 'Uncle Ben' to 'rally equity values across the board' with 'simple verbal injection?!'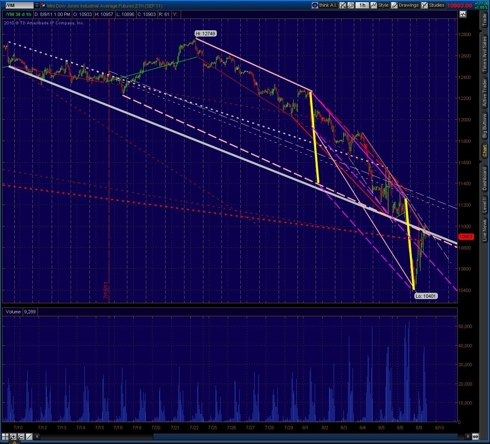 '
Interestingly, it might also be noted that, when an Institution (like the Fed), becomes so very vested in, and so banking on one particular and specific solution to a problem, that solution itself might then start to own the Institution in its own way (or at least start to own those within the Institution who are banking on that solutions success...

Within the Institution success becomes dependent upon that particlar solution seen as working.  Uncle Ben may have put himself and the Fed in the position of now needing to do what the market likes, so the market will then reward The Fed by bidding up composite prices, for the Fed's rendered compliances with what the market prefers, and is calling for.   
This may, or may not, be the best kind of solution box for the Fed to have put itself into.
Regardless, upon Uncle Ben's verbations today... short-term Market Mogels and coordinate participants were pleased enough with Uncle Ben & Co.'s verbal injection, responded by immediately bidding up stock prices, moving through the above mentioned resistance, and then ran the stock market right on up to the MDPP ST forecast top of the MEV.   (As mentioned likely this morning anyway.)

Thank you for this little extra verbal stimulus, Uncle Ben...  seemingly 'braking' many of 'those shorts' who were also seemingly 'working counter-valent to your management solution,' and then stimulating an effective ST 'short-sqeezing rally', (as the shorts buy also 'to cover' their shorts), was consistent with your solution goals.  (Buying pressure strongly in from both sides, and a nice leg up.)
The MDPP ST forecast top area of the MEV is taken from the MEVMBDsWT (MonthlyEchoVectorMonthlyBackDateWeek'sTop), and is illustrated by the grey-spaced line paralleling above the grey MEV line illustrated in the MDPP EasyGuideForecastChart (EGFC) presented above (at 1:30pmEST today).
And of course, all of this is not just generated within the MDPP Forecast Model and Alert Paradign; but, surely is also all genrated within the Fed's own 'massively capable crank' too.
Thanks Uncle Ben.  Especially from the Gold wonks too, I'm sure.
ProtectVEST and AdvanceVEST by EchoVectorVEST
Divisions of Motion Dynamics and Precision Pivots
Bradford Market Research and Analytics


"We're keeping watch for you"
PS.  Someone once sang, "Catch a wave and your sitting on top of the world... catch a wave... catch a wave."  So, let's see just how long and far this 'FED sent wave pushes' (in the wake of other economic realities) before it too recedes.  We may want to be ready to again reverse our surfboards when it does. (Or at least 'hedge insure our new advanced positions' (perhaps effectively hopping out of the water again at that good price capture for a while.)
Is the emporer wearing cloths?  Has the Head of the Financial Physics Levi really any enduringly 'effective cloth' here? 
ProtectVEST presently questions the soundness of banking on it.  There is more going on than predictable reactionary Fed verbage...
And yet, we are watching closely, because it's usually also very questionable to fight the Fed...  
But here and now it can also be argued that this particular 'Uncle Ben & Co. verbal action/disclosure is simply intended to slow down an otherwise seemingly dangerously accelerating composite stock price level deterioration here in the (present, Presidential?) near-term.  

And to not necessarily reverse anything else.

ProtectVEST by EchoVectorVEST
"We're keeping watch for you"