A Near-Term Vector Analysis of THE S&P 500 Futures Follows
Referring to quarterly, monthly and weekly support and resistance vectors is fundamental to this analysis. Refer to the following charts and narratives accompanying each chart to complete the whole analysis.
CHART OF THE MONTHLY ECHOVECTOR, AND THE CURRENT WEEKLY ECHOVECTOR (WITH THREE PRECEDING DAYS WEIGHT ON WEEKLY ECHOVECTOR HIGHLIGHTED).
How to read the chart:
* Monthly echovector in aquablue (last Friday to Friday a month earlier)
* Weekly echovectors in yellow (Friday, today, to prior Friday) and purple (Thursday to prior Thursday) and pink (Tuesday to prior Tuesday) and green (last Monday to prior Monday, with European session highlighted in yellow too)
* Current 3 day support vector in peach
MONTHLY CHART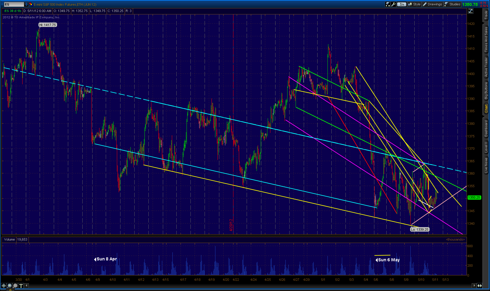 Below is a close-up of the current weekly echovectors at work today provided in the MONTHLY CHART above.
The yellow echovector speaks to Friday to Friday coordination and weight. Breaking the yellow spaced resistance vector formed by 7PM
Thursday evening support would be short term bullish, and could result in tests to the white vector level and possibly, in strong sentiment, test monthly resistance, the upper blue space vector level.
Looking at the 90 day, hourly (quarterly echovector) chart for these same values will shed great light on the probabilities in the preceding paragraph.
WEEKLY CHART
Below is the 90 day hourly (quarterly echovector to the hour in light grey) chart.
The key base echovector is for yesterday's high, and the 4AM opening in Europe this morning. as you can see, these are coordinate quarterly echovectors. The grey spaced vectors are coordinate forecast vectors extrapolated from the close of last quarter's coordinate Friday (today's quarterly echobackdate,or EBD). The quarterly vector EBD low is also highlighted and the extrapolated echovector shown. These are bias free forecast echovectors.
Highlighted also in red spaced vectors are the current quarterly echovectors based on the current weekly lows for this week and the week a quarter ago. The weekly closing echovector and the weekly low and the equivalent of today's quarterly EBD low are shown.
These red-space vectors are important vectors within the subtext of a downside bias. Testing these lows on a today would be relatively bearish in bias with respect to next week's trading.
QUARTERLY CHART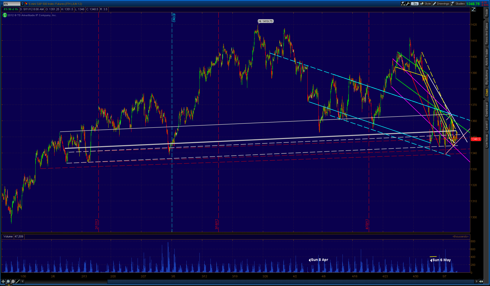 Disclosure: I am short SPY.