In building the value of a base insurance fund supply account (an account for resources used for hedging), derivative management and forecast strategies can be used.
Important precursors to building this account are the understanding and utilization of market echo-dynamics occurring within the particular options expiration week within distinct echo-quarter month sets. These particular weeks within these particular time-period sets often present potentially powerful opportunities for building and dramatically enhancing the value of insurance funding resources.
Following is a very current real-time-based presentation, illustration, analysis, and example of this opportunity unfolding in real time (in May 2012) .
This example presents the particular echovector technical forecast knowledge, analytics, and strategies involved in advanced derivative-based timing and positioning applications that can be utilized in building the overall value of a general portfolio insurance base fund supply accounts...
which may also often be used at these potentially critical and appropriately concomitant time-periods as the basis for congruent insurance (hedging) applications and strategies of general portfolio market level based value.
_________________________________________________________
There are three quarterly echo-month sets (as there are three months in each quarter), each with four quarterly echo-months (in each set).
The three quarterly echo-month sets are:
Jan-Apr-Jul-Oct
Feb-May-Aug-Nov
Mar-Jun-Sep-Dec
Of particularly interest right now is the set of Feb-May-Aug-Nov. These months follow the interesting 'earning season months' and echo-months set of Jan-Apr-Jul-Oct.
Feb-May-Aug-Nov have become known to be when the market transitions from being earnings announcement sensitive and focus to becoming sensitive to domestic macroeconomic data and international political economic events. However, there are a few key firms that do choose to announce in this set of months. CSCO is an example.
What is particularly interesting going into options expiration is the WED-THURS-FRI key timing symmetries that often occur in options expiration week during this month set.
This aids to short-term forecasting during this period, and makes these three days potentially very useful days in building reserves within an insurance payment source fund account (hedge proceeds fund) which can then be utilized to hedge overall portfolio value in assessed periods ahead.
This past week the analysis of futures was particularly useful in providing timely information and illustrations of this market phenomena.
Much information was written and published this week by me on the Dow futures and the S&P futures this to inform investors, managers, and traders of this phenomena, and to keep them ahead of it, in order to provide knowledge and to aid in the possibility of taking advantage of it.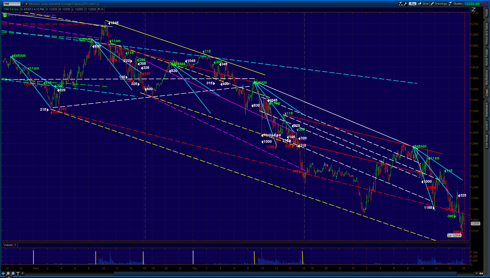 Also provided below is a coordinated chart of one of the viable and select 'short option 'rider' vehicles used in the model for insurance resource capture utilization.
The basic time-premium assuming buy-to-open positioning is highlighted.
(More advanced, active and nimble managers may select to invert the strategy, and invert the option charts that will be referenced here, and utilize a 'sell to open' short positioning strategy, to collect time premium rather than assume it. This presents additional risk management and risk-limiting protocols and measures to efficiently consider.)
SPY May 19 2012 132 PUT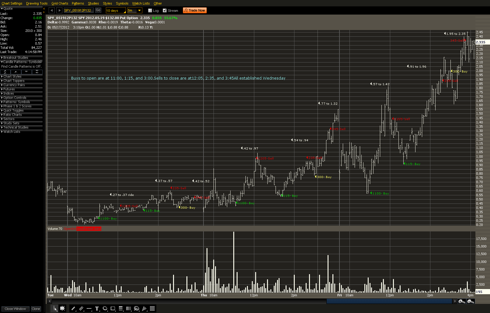 The contrasting capital expansion ratio multiples for the rider vehicle charted above, depending on whether a one move buy-hold-sell strategy covering all three days was implemented, or the 3 in/out moves per day on the basis of the precision generated forecast echotimepoints were implemented, vary dramatically.
The first case ratio yields an expansion multiple of $0.27 to $2.35 + a multiple of 8.7 times cost.
The second case ration, utilizing the 9 precision forecast moves over the 3 days, yields a multiple of 116.30, or 116.3 times cost.
Obviously the active advanced management process is significantly more capital growth-yield empowered.
Also, concomitantly usable, in inverse to the SPY May 19 132 PUTS during key application precision timed and triggered 'switching moments' (position adjustment times) is the SPY May 19 2012 132 CALL. The active advanced management inclusion of 'switching,' from open put to open call, to increase 'open derivative vestments' with respect to time lapsed, and therefore delta utilization and capture, increasing overall time-utilization and price delta capture benefit, would also increase effective capital growth gain and total action yield and gain within the total 3-day period, yet again, very dramatically.
The yield is in the discipline forecast and employed.
These charts suffice to evidence the power of precision analytics on an intra-day echo-back-date and echo-back-time symmetry transposition and vector analysis bases, particularly when utilizing highly powerful derivative investment instruments with their full capabilities and employed positionings implied by the forecast model output.