Staying Long Or Going Short After A 9 Percent Market Correction
The past three weeks in May have brought significant stress to investors, with the market selling off over 9 percent from its highs for the year which were achieved last month.
Many investors and analysts are now asking, "Should I continue to stay long in the market since the lows of last year, and March 2009, or should I be adjusting my market outlook and positioning for a further selloff? This is a particularly important question as we enter the often seasonally relatively weak summer period.
Market Concerns by Analysts Favoring A General Short Position
Many market analysts who currently favor insuring portfolios general equity exposures and possibly shorting the broad market primarily cite the following topics of concern for doing so:
1. Stock market margin levels had recently been near record highs: so far the month of May has been difficult on account margins. As stock prices continue to fall, margin calls could increase start to increase, putting yet further selling pressure on stocks. The possibility of significant de-leveraging and stock price deflation becomes of greater concern if this starts to happen and gains steam.
2. The ongoing commodity selloff seems to have started: a global selloff in commodities seems to have begun. Gold, silver, oil, and other commodity prices are lower and may also start to increase margin pressures within these markets. This could cascade into further and more dramatic selloffs in these markets.
3. The strength of the US dollar could matter: another important issue to US corporate profits is the strengthening US dollar. Some analyst view a stronger dollar now as potentially negatively impacting US international corporate profits. A strong dollar in such a view would not contribute to corporate profits nor positive corporate outlooks, and instead be bearish on stock prices. This is a questionable view, yet one that often circulates as legitimately causal in its influence.
4. World economic and international banking concerns are ever present: as presented in global headlines world economic stress, particularly within the European Union, and now also in high growth Asia, seem to be increasing. If and when this will start to effect US international corporations and their earnings has come into the spotlight. Some analyst are beginning to ask if estimates and guidance will be further adjusted downward sooner than is currently expected.
5. Technology initially had not sold down as badly as the rest of the market: technology, although also weakening, had not been selling off quite as strongly as the rest of the general market initially. This year the technology sector had emerged and was deemed by some analysts as the stock market's new resurgent 'market leader.' However, in the recent leg of May's general market selloff, technology has started to show signs of beginning to sell off more in line with the general market. Some analyst believe further weakening in this leading sector could continue to have a significant impact on general market price levels going lower.
Each of these significant factors and real-world market events and relationships seem to be overshadowing any particular stock's analysis, and their convergence has succeeded in driving aggregate stock price levels lower, with few major individual large cap securities unaffected.
Many analysts focusing on fundamental microanalysis of individual stocks only have become frustrated, and even caught off guard, by the severity and the suddenness of the downturn in the broad market the last three weeks.
Market Possibilities by Analyst Favoring A General Long Position
Market analysts who currently favor staying fundamentally long in the market primarily cite the following possibilities and reasons:
1. Significant Federal Reserve Bank intervention could occur: as the market weakens, an increasing call from some Wall Street for Fed intervention, such as a QE3, develops. The Fed has said it has no plans to intervene in the near-term, preferring to 'stay its course' which it has already layed out. And political election year neutrality, and indications of apparently firming US economic stability, lend to its ability to do so.
However, these analyst also understand the Fed has been highly influential in the markets the last 3 and a half years. And also trust the Fed to 'stay its course'... but only if the market does not begin to genuinely melt down.
2. Significant ECB intervention could occur: meanwhile, within the European Union, the ECB seems to be coming under additional pressure to act with another LTRO. Germany may try to stall this for a while, but if EU economies and markets continue to weaken, pressure on the ECB to act will also increase, and perhaps beyond Germany's current level of persuasion. To some analysts, an ECB intervention this summer seems much more likely than a Fed intervention because the US election cycle would still be ongoing and incomplete. The Fed can act in the fall after US elections.
3. We are now also reaching selloff levels in the bond market that usually involve short-term reversals. A reversal in bonds could augur well for stock prices in the near-term as well.
Both Views Have Merit
Both views presented have merit. Those analyst now favoring a general market short rightly emphasize the possibility of continuing and perhaps even growing market concerns and headwinds as mentioned in this article, while those analysts favoring remaining long rightly focus on the possibility of a powerful market catalyst potentially emerging by a responding Central Bank and its interventions, if the ECB and/or the Federal Reserve do in fact respond.
An Alternative Choice
The alternative to either remaining generally long or going generally short in the market after this 9 percent correction does exist. This alternative would be to 'lock in' and 'insure' remaining gains acquired since last summer, yet remain open to a reversal in the near-term downtrend and a reversal's advantages, by employing a general market straddle.
One way to employ such a straddle would be to utilize the SPY ETF and/or the DIA ETF. By setting up an advanced trade technology "On-Off-Though Target Price Switch" at (EG.) $130 on the SPY or at $123.5 on the DIA, with appropriate dynamic triggers and stops included, such a straddle can be employed.
To perform the short side of the straddle, set a short trigger below either of these mentioned target price switch levels (EG. $130 on the SPY and/or at $123.5 on the DIA) pre-program as a 'repeating short trigger switch' at the trigger level on reverse downtick action through the trigger price with stops set to activate on reverse uptick up-through action.
To perform the long side of the straddle, set a long trigger above either of these the target price switch levels ($130 on the SPY and/or at $123.5 on the DIA) pre-program as a 'repeating long trigger switch' at the trigger level on reverse uptick action through the trigger with stops set to activate on reverse downtick down-through action.
Now may be a very good time to employ this general market straddle, and this more advanced trade technology and active position management methodology...
especially when reviewing at the chart of the DIA ETF (reflecting the price action of the Dow 30 Industrials) over the past 4 years within this current Presidential Cycle...
DIA ETF DAILY OHLC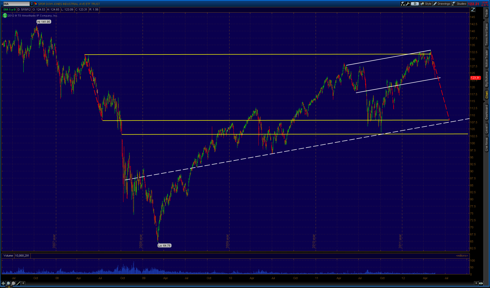 Disclosure: I am long SPY.
Additional disclosure: This is a virtual short-term day-trading position