Presented is a chart of the /YM mini-futures.
The chart illustrates a powerful forecast technology for those versed in vector physics and mathematics, Fourier transformations, and fractal geometries.
This illustrative and geometric presentation of the key vector extractions from the approach processes are offered to the discerning analyst.
The powerful forecast implications of this presentation will be left to the discerning reader... however the Market Alert Reiteration Title of this presentation should be implicatively obvious.
Please see the attached prior article of late May indicating prior first wave base constructing pivot support at $123 on the correlating DIA ETF, and its support and launch to the $128 levels.
Prior references to difficulties around the $127.5 area, from the $123 basin level, in this time-frame, will be provided again in forthcoming presentations as well.
/YM
2 MONTH HOURLY OHLC with Key Active Monthly Echovector and Adjusted EchoTimePoints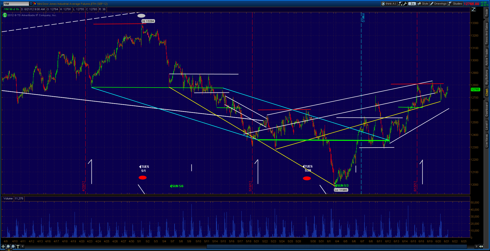 _____________________________________________________
A View To Technical Support From Six-Month, Three-Month, And One-Month EchoVector Analytics: And Possible Near-Term Opportunity Precision Trade Time Points
May 21, 2012 5:29 AM

EBD: EchoBackDate

EBTP: EchoBackTimePoint

EBW EchoBackWeek

Opportunity Precision Trade Time Point: A time-point indicated by the Model Analytics as a 'heightened possibility' entry point for positive open derivative short-term high-percentage results.

___________________________________________________________

Six-Month, (Bi-Quarterly) Echovector View and Key Support Basis:

Key Vector and EchoVector (EBD and EBTP) Analysis:

Significant coordinate support can be seen at the current level for the SPY along the six month echovector in the daily time frame view going all the way back to last summer's' initial downward waterfall momentum 2ND derivative peak... on the chart of the /ES below.

/ES Daily Action OHLC

___________________________________________________________

/ES 3-Month (Quarterly) Echovector Key Support EBW View and Basis:

Key Vector and EchoVector EBD and EBTP Analysis:

In the following chart the longer red-spaced line constitutes the Friday morning coordinate peak price levels and quarterly echovector. The parallel long yellow -spaced lines constitute this weeks forward projected high and low trading range coordinated to Friday morning's established peak echovector. Both the high and low rest above the premarket trading range in Asian trading and is likely to climb into this zone before early premarket trading in the US begins. Holding within the zone for the US opening can be considered a short-term bullish potential going forward into the week.

____________________________________________________________

/ES One-Month EBD and EBTP Key Coordination and Key Support View and Basis

Key Vector and Echovector EBD and EBTP Analysis:

See the heavy shorter blue-spaced line. It constitutes the monthly echovector equivalent to Friday morning's peak on the /ES. The shortened parallel red-spaced vectors constitute Monday morning (9am est hour) coordinate low monthly echovectors to Monday afternoon (2pm est hour) Tuesday Morning (9am est hour) coordinate low Monthly echovectors to Tuesday afternoon (2pm est hour). Note that the Tuesday afternoon 2pm est hour coordinate forecast echovector finds support on the Six-month white-spaced vector support line. This indicates monthly echovector bullishness in both vector and time forward (Monthly Echovector EchoBackDate Support converging at that time/price-point level and place. Higher time resolution and price action discernment within these subject and coordinate hourly time-points could prove useful.

Interestingly, Tuesday afternoon's quarterly echovector echobackdate and 2pm est echobacktimepoint also finds a Tuesday afternoon low/reversal timepoint within the 2pm hourly increment as well. Knowledge of higher resolution and more time-precise action within that echobackdate hour would also be beneficial here too.

This 2 pm est hourly period on Tuesday, according to the forecast model and methodology, may present, and be indicative of, a heightened likelihood that a 'significant profitable derivative long trade' may present itself in this precision period (going forward Tuesday afternoon), ceteris paribus.

This possibility, and potential precision pivot and/or potential support/price-lift and its opportunity can now also be 'prepared for,' as can the others indicated. Should the market hold up and trade close to these forecast 'handle ranges,' going into these 'key data-mined' and 'forecasted potential opportunity precision moments, prized moments and results could materialize for the astute, disciplined, and prepared day-trader.

Watch the weekly SPY calls at these key hours on these key days.

Themes: ETF Analysis, Major Composite Index, Market Outlook, Market Analysis, Technical Analysis, Cyclical Analysis, Price Analysis, Economy,Macro Outlook, Trading, Day Trading, Swing Trading, Investing, Dow Futures, S P Futures, Stock Market Education, Echovect
Back To Kevin Wilbur's Instablog HomePage »
Instablogs are blogs which are instantly set up and networked within the Seeking Alpha community. Instablog posts are not selected, edited or screened by Seeking Alpha editors, in contrast to contributors' articles.