This is the first of a series of weekly articles I intend to write on opportunities among the 80 ETFs I monitor. I consider the economic news, geopolitical effects, chart patterns and relative strength.
As has been the case for the past month, the market remained volatile last week. The week's economic statistics came in averaging a B+, With spending, manufacturing, housing, and jobs showing strength. The market, however, was not paying attention, preferring to focus on adjusting to the idea of higher interest rates. (Ironically, inflation is so low at the moment that the Fed is more worried about deflation.) Fed people were in the media trying to clarify Mr. Bernanke's comments, with only slight success.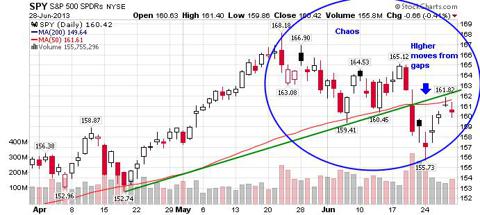 The circled area in SPY chart shows during the last month what I call a period of chaos. The sharp behavior difference from the prior weeks was triggered by uncertainty from the announcement. Also highly unusual is the string of doji and spinning top candlesticks last week. These are price patterns that indicate indecision. The week's gains came from large overnight gaps created by foreign investors and events and pre-market moves sometimes influenced by economic releases, in light volume. To me this suggests a very weak rebound. On the other hand, the VIX, which I interpret to mean that fear of a huge move from higher rates, is declining.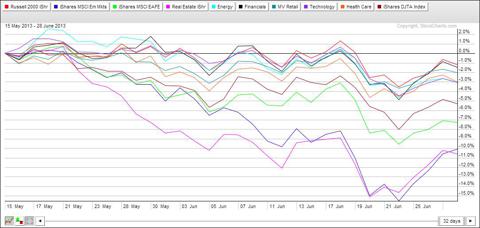 The Leaders chart, available at http://bit.ly/TvHtd8 is shows everything down when the slider is set to a 32-day period, and a rally that began last Monday. IWM is in a downtrend and every other category below it. Therefore, I'm cautious. IWM is currently at 97 and needs to rise to 99.5 before the chart will show an emerging uptrend. The strongest and weakest funds present different opportunities.
Real estate (NYSEARCA:IYR) and emerging markets (NYSEARCA:EEM) are both off 15% in the last month and have staged unconfirmed reversals, and outperformed the group last week. Their uptrends are not confirmed and will not be until the charts show a higher low. IYR is influenced by fears of interest rate increases
Both have come down so far that there are likely to be few sellers, and they appear to have established bottoms, but do not have confirmed uptrends. If more buying comes in they could spike higher. EEM is the more dangerous of the two, as it is influenced by geopolitics. IYR is merely influenced by domestic politics! EEM has the same chart pattern as IYR, but I know less about emerging markets and will stay away for now.
On the 20-day hourly chart, IYR has been flat for two days and has an imperfect cup-and-handle formation. I will buy if it breaks higher, and place an AUG 68 put to trigger below 65.40. This is a bet that the Fed will keep QE3 in place somewhat longer, and that REITs will adjust to tighter money conditions in an improving real estate market.
Another weak ETF I monitor is homebuilders (NYSEARCA:XHB). This is a volatile stock that was rattled by the Fed announcements. Higher mortgage rates have not yet held new homes back, and I'll bet that the Fed will try to keep them from doing so. I may buy if XHB breaks over 30.
I will be very cautious until I see less volatility and a strong uptrend in SPY and IWM.
I generally use the following rules to trade ETF's:
1. If the Russell 2000 (NYSEARCA:IWM) is not in an uptrend, I am very cautious, keeping tight stops and holding only a few positions that are bucking the wider market.
2. When IWM is in an uptrend, I buy it and any major ETF's that have higher relative strength readings.
3. I decide before buying how much I am willing to let each position lose, and place stops appropriately, considering support and resistance.
4. In most cases, the stop consists of buying one put per 100 shares, 1-2 months out, 1-2 strikes above the stop price. This is a temporary measure to observe whether the trend is a short-term scare or a full reversal. They can help prevent a premature stop in a volatile market, but trading them too often or holding on too long will limit profit.
5. If the trend resumes, I remove the put. If it fails, I sell the ETF and put and go back to rule 1.
Have a great week!
Disclosure: I have no positions in any stocks mentioned, but may initiate a long position in IYR over the next 72 hours.