Market Blog 7/8
The economy rumbled along this week with another mix of statistics that came in (in my judgment) about average at a C. The only sentiment metric was the Bloomberg Consumer Comfort index, which I rate at a B, and it is showing overall a 5½- year high.
A calming is spreading over the market, and I define it by the action during the last nine days, during which the VIX fell from 21.9 to 14.9, a 32% drop. In the 15 range, my subjective view of the VIX is "normal." There is the usual nervousness, (Europe, Asia, interest rates) but the edge is bullish, at least in regard to the U.S. market.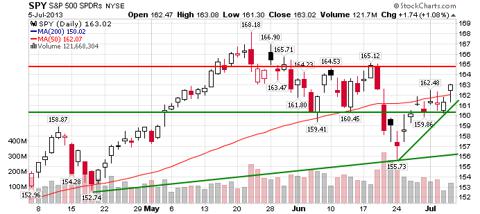 The SPY chart shows a pattern of nervousness between June 24 and July 2. The market opens with a higher gap, the U.S. market takes it down, and rallies back to near the close. The gains took place in foreign markets and the U.S. pre-market. This pattern changed on July 3 when the market opened lower and rallied through the day, even though it was pre-holiday. The relatively good employment report on Friday was met with initial pessimism, but finished with a powerful rally to a nine-day high. During this wild day, on relatively low volume, the Dow rose 144, fell 134, and rallied back by 167 to a net gain of +147.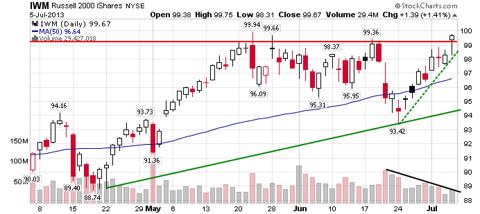 Last week I noted the strength of small caps (NYSEARCA:IWM). The wider candlestick bodies and less gapping indicate greater buyer confidence. The IWM is rising in a secondary trend at a rate of 152% per year. The hammer candlestick on Friday is at resistance formed by a double-top. Although volume during this rally has been falling, normally a bearish sign, we have to discount the July 4th holiday and normal declining summer volume. If IWM rallies from here, I am a buyer, and I will pick up ETF's on my list that beat its performance.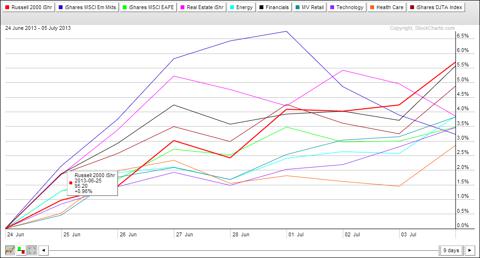 This week, I set the slider on the relative strength chart to 9 days, to gauge what is leading the rally. As was the case last week the small cap ETF (IWM) was strongest, with financials (NYSEARCA:XLF) close behind, followed by transportation (BATS:IYT).
Last week, I pointed out that the real estate IYR was so far down that the sector is probably oversold. IYR popped higher on July 2. I got in and quickly got out when the rally quickly died. If the threat of interest rates abates and the oversold assumption is correct, this fund, down 13% in 5 weeks, could stage a rally. Although they are going up, rates are still at historic lows and, in an improving economy, I think people will pay them.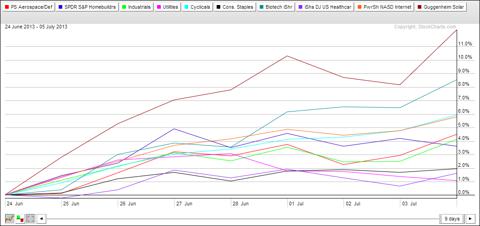 The sector chart, also over 9 days, contains funds that have attracted attention across 10 sectors. Although quite risky, solar (NYSEARCA:TAN) is by far the leader, rising 12% over the period. I jumped into CSIQ during the week. Biotech (NASDAQ:IBB) rose 8.5%, and is on my watch list for next week. Both funds best IWM. Cyclicals (NYSEARCA:XLY) and Internet (NASDAQ:PNQI) are also worth watching.
Egypt turmoil does not appear to be too heavy a weight on this market, but nervousness about interest rates may keep down a rally a bit longer. I'll follow the IWM breakout and buy the stocks mentioned if they rally.
Have a great week!