ETF Analysis And Projections, July 22
Please Note: Blog posts are not selected, edited or screened by Seeking Alpha editors.
Blog 7/22
This blog seeks to deliver a "best guess" on whether to be in or out of the market, the optimum group of ETF's to own, and when and why positions have been sold, on the theory that avoiding large losses lets you participate profitably in an underlying bull market. The analysis includes the interaction of news and prices and volatility, which create positive or negative sentiment.
News and Economic Summary
Retail sales were down slightly, but this was a short-term weekly report; the Fed Beige Book reports higher sales last month. Manufacturing, especially durables, was up, recovering from a multi-month spring dip. Foreign markets are recovering. Inventories suggest future production increases. Inflation forecasts from businesses are at about 2.8% for the next year, an amount that should give the Fed leeway to tighten slowly.
The housing market index surged 16 points since April, to 57, a 39% gain. Mortgage rates, while historically low, surged to over 4%, above consensus expectations, and fell off a bit this week, resulting in refinance applications falling to a 2-year low. Purchase applications are up modestly by 1%. The 30-year conforming was 4.68%. Housing reports have been conflicting recently.
Jobs claims are at last month's rates, and continuing claims are up slightly. These changes were too small to affect the market.
Fed Impact
Bernanke's remarks and Fed announcements still have the most impact on the markets. The Beige Report characterized the economy as growing at a gradual pace with overall inflation low and the labor market still soft. Bernanke talked the market up during congressional testimony. Nevertheless, conditions suggest that the Fed can maintain current easy money policies if it so chooses.
Sentiment
Gas prices are up, possibly contributing to lower numbers in the Bloomberg Consumer Comfort Report. Leading indicators were down; however the VIX, closing down at 12.5 is saying the markets are calm. My guess is that sentiment is sufficiently positive to propel the markets higher.
The Charts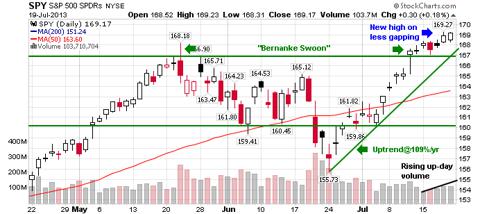 The S&P 500 officially put an end to "the Bernanke swoon"-the period of uncertainty caused by the Fed attempt to tell the markets that it might "taper." Traders seem satisfied that they will only taper a little. Last week the SPY rose steadily along a 109%/year trendline, moved mostly by Bernanke testimony on Wednesday and Thursday, reacting positively to some earnings, and overcoming a dip on Friday when Microsoft and Google issued negative reports. The gapping of the previous three weeks is much reduced, indicating decreasing fear, as echoed in the VIX, which closed at 12.5, a 4-week low.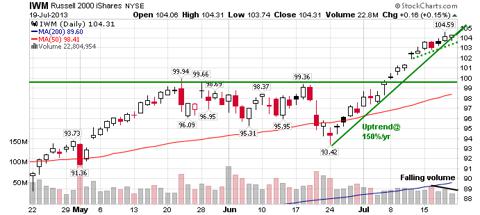 IWM is my bellwether, because 2000 small cap stocks are more immune to interest rate jitters and foreign influences. They are telling us that the broad market is buying steadily, supporting a 150%/yr uptrend. I will watch the break to a lower-sloped uptrend on slightly lower volume for signs of a tired market.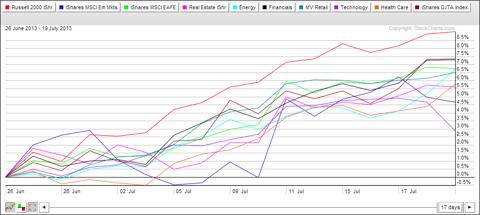 The core sectors chart shows everything below IWM, which gained 8.5% in the last 17 days, followed by transportation (IYT) and financials (XLF). Tech (XLK, lavender) took a notable hit when MSFT and GOOG announced non-stellar earnings. HPQ also got hit on the presumption that fewer Windows shipments means fewer PC's shipped. Healthcare (XLV) accelerated, as did energy (XLE). Real estate (IYR) is performing well, as it recovers from a 15% drop.
Sector Relative Strength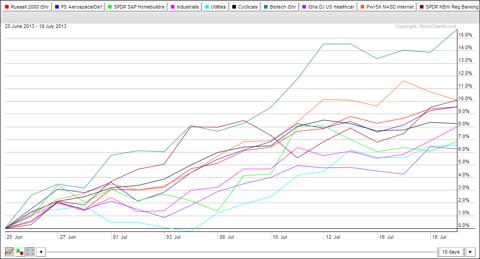 I eliminated TAN, the top performing ETF because it is volatile, and I wanted to use this chart to identify other ETF's beating IWM (red). Biotech (IBB) surged 16% in the past 18 days. Internet (PNQI) has been strong but fell off late in the week. What caught my attention is regional banking (KRE), which is on a strong uptrend and broke out of the Bernanke swoon with renewed vigor. Another interesting line is industrial companies (XLI) which may have reacted to good earnings from GE and Honeywell.
Actions this Week
My XLK stop triggered causing the purchase of an Aug 32 put that reduce position delta to 31/100 shares. If there is no recovery next week, I'll close out both positions. I bought biotech (BBH) and added to my healthcare (XLV) position. I sold HPQ to free cash for other purchases.
I currently hold BBH, XLV, IWM, IYT, IYR, and XLK
Guess on Short Term Market
Higher interest rates will benefit many economic sectors in the short run, as long as they are not crimping manufacturing growth. The market is not dropping on bad earnings and economic reports. We'll see whether the Fed attempts to push mortgage rates lower in the short term. While the market may go through a spasm on a Fed tightening, I don't expect the overall uptrend derived from a recovering economy to reverse in the next few months. I think Bernanke is trying to ease stimulus at the same rate as the economy generates its own internal stimulus.
I expect to buy KRE next week if it rises.
Have a great week!
Seeking Alpha's Disclosure: Past performance is no guarantee of future results. No recommendation or advice is being given as to whether any investment is suitable for a particular investor. Any views or opinions expressed above may not reflect those of Seeking Alpha as a whole. Seeking Alpha is not a licensed securities dealer, broker or US investment adviser or investment bank. Our analysts are third party authors that include both professional investors and individual investors who may not be licensed or certified by any institute or regulatory body.