Blog 8/26 Market-Moving Economic News
Once again, the market verified that it is tied to Fed actions and thoughts of actions and is ignoring economic data. This is likely to continue until the September meeting, around which there is likely to be extreme volatility.
Most of the sparse economic data this week was neutral. Spending in stores was up and down in separate reports. Manufacturing activity is up only slightly, but not enough to influence markets. Other economic indicators were flat. In the FOMC minutes, the Fed expressed worries about slow inflation and high unemployment. Low inflation means that reducing the money supply could create a downturn. The Fed indicated that unwinding will be gradual with moderate changes. The markets fell and then rebounded on the news.
The housing market is turning down, with the refinance index having dropped 62% since the May peak, when tapering was announced. The 30-year fixed rate jumped 12 basis points to 4.68 percent last week. Rising rates caused existing home sales to jump in July, as investors "panicked" over rate rises. Prices, however, rose .7% in June, and are up 13% annualized. Having been sparked by rates, the sales rate is not expected to hold. In contrast, new home sales plunged to 394,000 from a 450,000 annual rate, the lowest since October. The last two months have had double-digit declines. Median prices are the lowest since January.
Average new and continuing employment claims are flat. Continuing drops in unemployment increase the probability of tapering.
Sentiment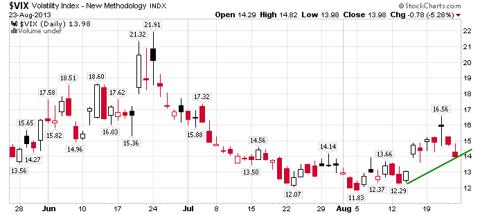 The Bloomberg Consumer Comfort Index fell last week to the lowest level in two months, as more consumers reported the economy getting worse than getting better. Leading indicators were up. The VIX popped on Wednesday's Fed activity, but settled back above recent lows.
The Market (S&P 500)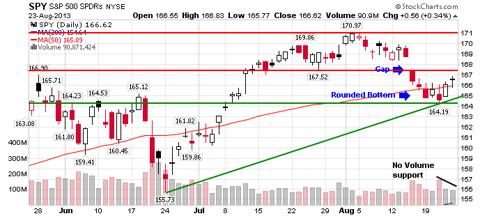 The S&P 500 (NYSEARCA:SPY) has taken a bullish turn. The rounded bottom is a bullish formation that indicates new buying coming in after a low is established. If the SPY breaks resistance at about 167, it could pop through the gap to the 170 area. We will need to see volume increase. The index will probably stall at the 171 area.
Friday's "spinning top" candlestick indicates that the market sold off after opening and rallied back, another bullish sign. The small caps (NYSEARCA:IWM) have a similar pattern.
Core Relative Strength (XLK, IYR)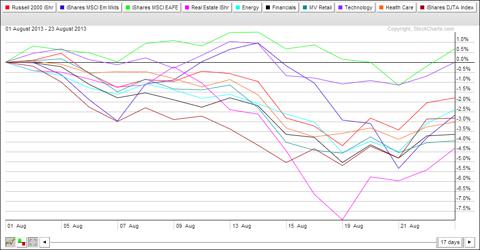 Among my core ETF's foreign stocks (NYSEARCA:EFA) were strongest over the last 17 days, closely followed by technology (NYSEARCA:XLK). Note also the strong gain in emerging markets (NYSEARCA:EEM) on the last two days. Also, after its huge losses, real estate (NYSEARCA:IYR) staged a rally and was the strongest ETF of those I follow on Friday. Retail (NYSEARCA:RTH) is weak, as are the financials (NYSEARCA:XLF). Health care/pharma (NYSEARCA:XLV) is slowly coming back.
Sector Relative Strength (IBB, PNQI)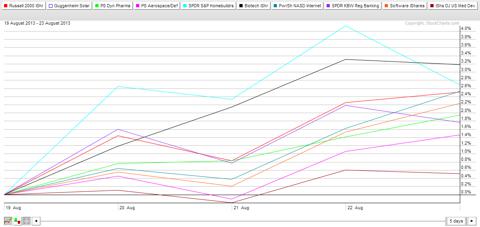 In this chart, I looked at breakouts over the last 5 days. Most other sectors are quite weak; however biotech (NASDAQ:IBB) is coming back and Internet (NASDAQ:PNQI) staged a 2-day rally. I am ignoring homebuilders (NYSEARCA:XHB) because they had a negative reaction to the negative new homes report on Friday.
Other Sectors (EWZ, OIH)
Because new rallies often bring new leadership, I widened my review and found that another sector showing strength is some specific emerging markets. Brazil (NYSEARCA:EWZ) had a strong rally. Another sector to watch is oil services sector (NYSEARCA:OIH).
Trades Last Week
Bought small positions in XLV, FDN (Internet), XLK, PPA, IWM, IYR, IBB
Closed shorts on IWM and IYR, and INTC
Guess on the near-term market
This is a stock picker's market, with some sectors very strong, while others, such as banking languish. Any rally could end quickly if the Fed says something. The economy is slowing, and I find only speculation as to whether it will grow faster. (Back in January, forecasts said that the economy would be gaining now.)
I am being careful, making only small bets and, in most cases waiting until I see trends develop. Until we get another dip and recovery, the current trends won't be confirmed. IYR is extremely sensitive to interest rates and, along with most other real estate stocks, moves inversely to the 10-year treasury index. If you believe the TNX will continue to rise, stay out of IYR. (I have no clue as to its future direction. It seems to move on speculation on tapering.)
Watch the Employment Situation report on September 6 and the next FOMC meeting on September 18. With Congress back on the job threatening to shut down the government and not raise the debt ceiling, I expect September to be a messy, volatile month.