Weekly Market Blog for 9/9
Market Moving News, Summary of 23 articles on 9/6
Gallup's monthly survey of personal spending was higher and supported by retail spending reports. Chain stores showed weakness, but prior reports on higher internet sales may be a factor.
Manufacturing had mixed reports, but new orders and production numbers were up and inventories were lower. Housing and refinancing improved slightly on lower mortgage rates. July construction was stronger. The trade deficit worsened, but remained low. The Fed Beige Book reflected previously noted reports and suggested that tapering could start with the September 18 policy meeting.
In the jobs area, weakness in exports caused a spike in industrial layoffs. The Federal Employment situation report came in negative, spurring a no-tapering rally on Friday. Payroll jobs were relatively flat with lower numbers and revisions. While wages were up, a major negative was a 312,000 drop in the labor force, indicating that people are not looking for jobs, which reduces the unemployment rate. Weekly and continuing claims were both down.
In my view, the economic news was neutral, and the market is hyper sensitive to speculation on the Fed and on Syria.
Sentiment Reports and Metrics
Gallup's consumer confidence index was slightly more negative last month and the Bloomberg Consumer Comfort Index hit a five-month low.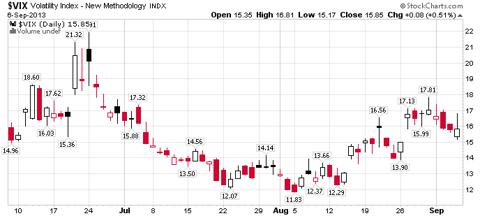 The VIX spiked last Friday to almost 18, but came down during the week as immediate fears of the Syria attack abated, except for the brief downward pulse on Friday caused by a Putin remark.
The Market (S&P500)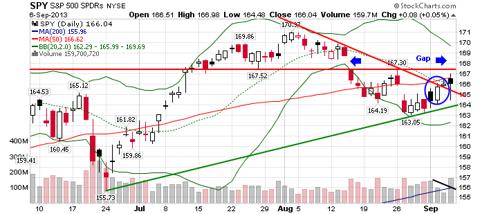 The S&P is showing bullish indications, albeit on moderate volume. (The volatility and volume spike on Friday were caused by Putin.) Without the scare, the SPY would likely have gone over 167. If it can clear that level, we could see a rise to 169, the area of a prior gap. Note also that the Bollinger bands are beginning to pinch down, which adds weight to the possibility of a jump higher across the gap.
Core Relative Strength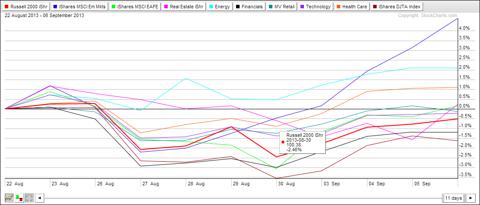 The core ETF list shows strength in emerging markets (NYSEARCA:EEM), energy (NYSEARCA:XLE) and healthcare (NYSEARCA:XLV) on an 11-day chart.
Sector Relative Strength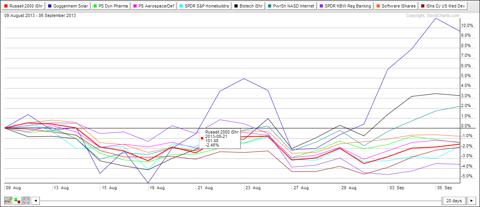 Looking at the major sectors on a 20-day chart, solar again tops the list, but remains too volatile for my taste. Following is biotech (IBB, BBH) and Internet (NASDAQ:PNQI).
36-ETF Ranking Highlights
Combining these charts, which cover 19 ETF's, with a survey of an additional 18 ETF's, I came up with the following list of those that most exceed the performance of small caps (NYSEARCA:IWM) over the last 20 days:
Natural Gas (NYSEARCA:UNG)-in a strong trend, but dropped sharply on Thursday. Being a commodity, I don't usually own UNG.
Coal (NYSEARCA:KOL)-This ETF is of U.S. coal companies, which are experiencing a rebound, possibly due to increasing exports, but I stay away from the sector because U.S. usage is declining.
Gaming (NYSEARCA:BJK)-in a 43%/year uptrend.
Internet (PNQI)-just came off a base, breaking out to new highs.
Emerging Markets (EEM)-Rose on Friday to the level of a prior double-top. I've shied away from this due to war worries; however, they may be unfounded. The group is led by Brazil (NYSEARCA:EWZ), which has a similar chart. If it breaks out I may buy EWZ.
Healthcare/Pharma (XLV)-although labeled as healthcare, XLV is heavily loaded with pharmaceuticals, such as PFE, MRK, GILD and AMGN, but also has JNJ and UNH among the top ten holdings. It usually plods steadily higher. The pure healthcare play, IHS, is moving sideways at the moment.
Semiconductors (NYSEARCA:SMH)-Semis had a sharp rally last week. I am watching the group and following Intel (NASDAQ:INTC), which is beginning a new product cycle.
Trades Last Week
I bought SMH, more XLK, more XLV, IBB, and LNKD. My positions are still small, because I think the Syria saga could bring down the market at any time.
Guess on Next Week
When left alone by geopolitics, this market seems to have an upward bias. The jobs report is a major influencer that in normal times pushes the market higher if good. But the market is more reactive to Fed moves, so Friday's bad jobs report, meant less "tapering" and thus a higher market.
It looks like Congress will debate, but not decide on Syria next week, so I'll guess that the upward bias holds. If the threat if an attack is lifted, by a sudden presidential decision not to pursue that course, we could see a jump higher. Conversely, as is typical of recent wars, an attack will drop the market briefly, until the scope of it is realized some of the unknowns are cleared up, after which business as usual will resume.
My positions will continue to be small, until the war threat abates and the Fed actually tapers, taking out some of the drama over what might happen.